I got a request for a mint recipe, and wouldn't you know I happened to have a sad-looking, 5-day old bunch of mint in the fridge. Why let it just wilt away when there are cookie possibilities?
This bunch of mint had quite an exciting week last week. On Monday it went into a bliss ball recipe for an exciting collaborative cookbook project! #VeganFriendsCookbook On Tuesday it went into this cucumber mint smoothie that I posted on Instagram (recipe courtesy of Curls'n'Chard). And on Saturday the slightly limp remains went into these gluten and oil free Mint Chocolate Chip Cookies!
The texture can only be described as pillowy…or cake-like. Pillowy or cake-like, one of those two words. Unless you want to call them chocolate mint bliss, I'm okay with that too.
I bumped up the mint flavor with a teaspoon of mint extract. I don't usually like minty desserts that are only made with fresh mint. They taste a little too…leafy for me. I want that cool kick of mint that a little bit of mint extract is VERY good at delivering! Mint extract is the epitome of "A little bit goes a long way".
Fun fact: Did you know that if you stick your finger in the mint extract (accidentally of course) it will experience that chilly sensation too. The same thing works on your foot if you spill it all over the floor and then step in it (this time is really was accidental).
Because making cookies is a very difficult, precise process…a video:
Print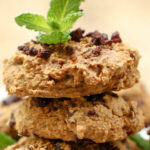 Mint Chocolate Chip Cookies (GF + oil-free)
Prep Time:

10 minutes

Cook Time:

10 minutes

Total Time:

20 minutes

Yield:

1

6

1

x
---
2 cups

oat flour

2

tsps baking powder

2/3 cup

coconut sugar

1

ripe banana

1/2 cup

non-dairy milk

1/3 cup

fresh mint leaves

1 tsp

mint extract

1

batch of HCLF Chocolate Bits (or

1/3 cup

vegan chocolate chips)
---
Instructions
Preheat the oven to 350F.
Blend the banana, coconut sugar, non-dairy milk, mint leaves, and mint extract until smooth.
In a large bowl, mix together the flour and baking powder.
Add the wet mixture and stir to combine.
Gently fold in the Chocolate Bits. If it seems to liquidy to spoon onto the pan, let it sit for 5 minutes or so. The oat flour will absorb water and thicken the batter.
Spoon onto a cookie sheet. Top with an extra sprinkle of Chocolate Bits to make them look pretty. Press them in lightly
Bake for 10 minutes at 350F or until the bottom edges are just starting to brown.
Cool, then devour!
---
What's your favorite way to use fresh mint?