With a soft fluffy gluten-free texture and sweet Medjool date cinnamon ribbon throughout, this vegan cinnamon swirl loaf is the best easy cozy baking recipe!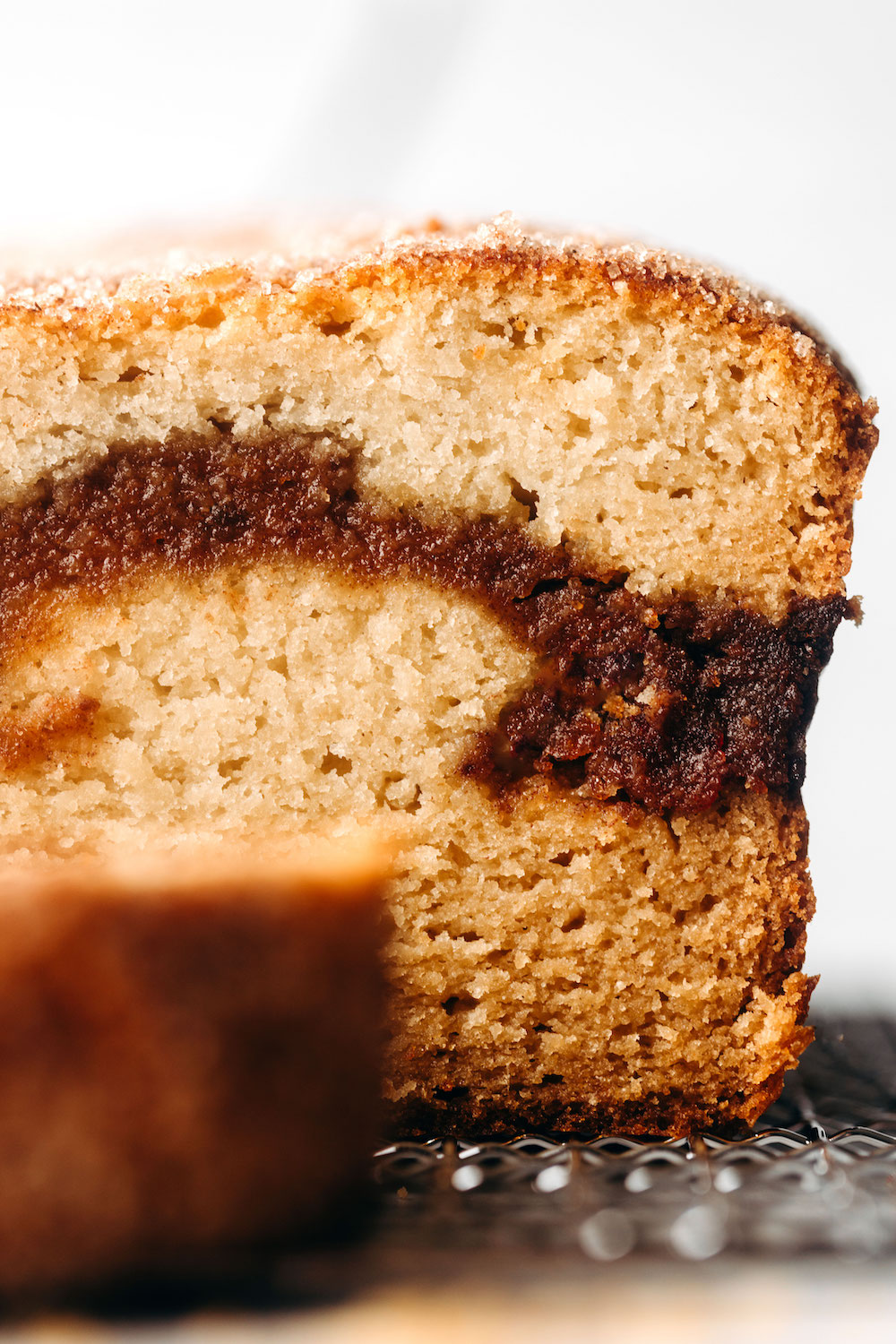 ---
As a girl who grew up in a home where boxed brownies were the best brownies and "chocolate cake" only meant devil's food cake mix, I sadly didn't discover the Cinnamon Swirl Quick Bread mix until much too late in life. I think I only experienced the boxed version once before I came to realize that homemade is really where it's at and sneaking in healthier swaps lets you have your cake and feel better after too. But I definitely didn't forget the magic of a fluffy loaf cake with a thick layer of cinnamon sweetness in the middle and maybe a glaze drizzle, so that cinna-classic is what we're recreating today!
Making The Fluffiest Cinnamon Quick Bread
So of course we're sneaking some healthier swaps in every which way we can while still creating the sweetest, fluffiest cinnamon loaf cake imaginable. The batter itself is vegan and gluten-free with a few simple swaps, but the most uniquely delicious part of this recipe is the Medjool date filling. After testing and tasting this recipe, I truly think Medjool dates were born to be a cinnamon swirl it works SO WELL. Texture, taste, gooey sweetness – all of it!
The Vegan Gluten-Free Cake Batter
To keep this cake vegan and gluten-free, we are using a combination of two flours for fluffiness, dairy-free yogurt and coconut oil for moisture without the butter, and agave or maple syrup for unrefined sugar sweetness. You will need:
Gluten-free flour. The main flour in this cake, I personally did use a blend that contains xanthan gum for those who might be wondering. But just gluten-free flour alone in an egg-free recipe can often come out gummy, so to prevent that we are pairing with…
Almond flour. Just a little bit makes a BIG difference in the texture of this cake, don't skip it.
Baking powder, baking soda, salt. The other dry ingredient essentials.
Coconut oil. Or any neutral flavored oil.
Dairy-free yogurt. I personally used a plain unsweetened coconut variety, vanilla would be fine too. Dairy-free sour cream would work too, just soften first.
Agave. I wanted to keep the color of the cake light to contrast that deep cinnamon swirl, so I opted for agave instead of coconut sugar or Medool dates to sweeten the cake. Any liquid sweetener will work – maple syrup, honey, etc.
Almond milk + apple cider vinegar. Or milk of choice + acv or lemon juice to create "vegan buttermilk".
Vanilla extract. Of course, an essential.
The Medjool Date Cinnamon Swirl
Now this is my favorite part, the sweet-cinnamon filling. When you slice that first slice and see that generous, gooey, delicious caramel-y swirl…MMMM! I've made many a treat with Natural Delights Medjool Dates, but I've never used them quite like this and I. Am. Obsessed. You will need:
Natural Delights Medool Dates. The best Medjool dates you can buy, and the sweet sticky base of this cinnamon swirl. Natural Delights Medjool dates are always so fresh and squishy, but if your dates are dry I would recommend soaking them for 5-10 minutes first. I used their classic Whole variety this time, but make sure you pit them before using.
Water. To blend the Medool dates into an almost-smooth paste (doesn't have to be perfect).
Coconut oil. Instead of all water, I added in a bit of coconut oil too for richness. But you can sub with more water.
Almond flour. This is what gives the filling that slightly grainy consistency that streusel usually has from an abundance of brown sugar, but without the sugar!
Cinnamon. Of course this is a KEY ingredient, and lots of it.
Optional Toppings
This cake is perfect all on its own, that swirl is really the only thing you need. But if you want to jazz it up with a topping, you have two easy options: cinnamon sugar sprinkle OR vanilla glaze. For the cinnamon sugar – simply combine 2 tablespoons of coarse sugar + 1 teaspoon cinnamon, mix, and sprinkle all over the top of the loaf before baking. For the vanilla glaze – whisk up 1 cup powdered sugar + 2 tablespoons milk of choice + 1/2 teaspoon vanilla, and drizzle on top of the cooled loaf before slicing. Or for a sugar-free glaze melt 1/2 cup raw coconut butter (not cream), stir until smooth, then drizzle just like a glaze.
More Yummy Loaf Bread Recipes You'll Love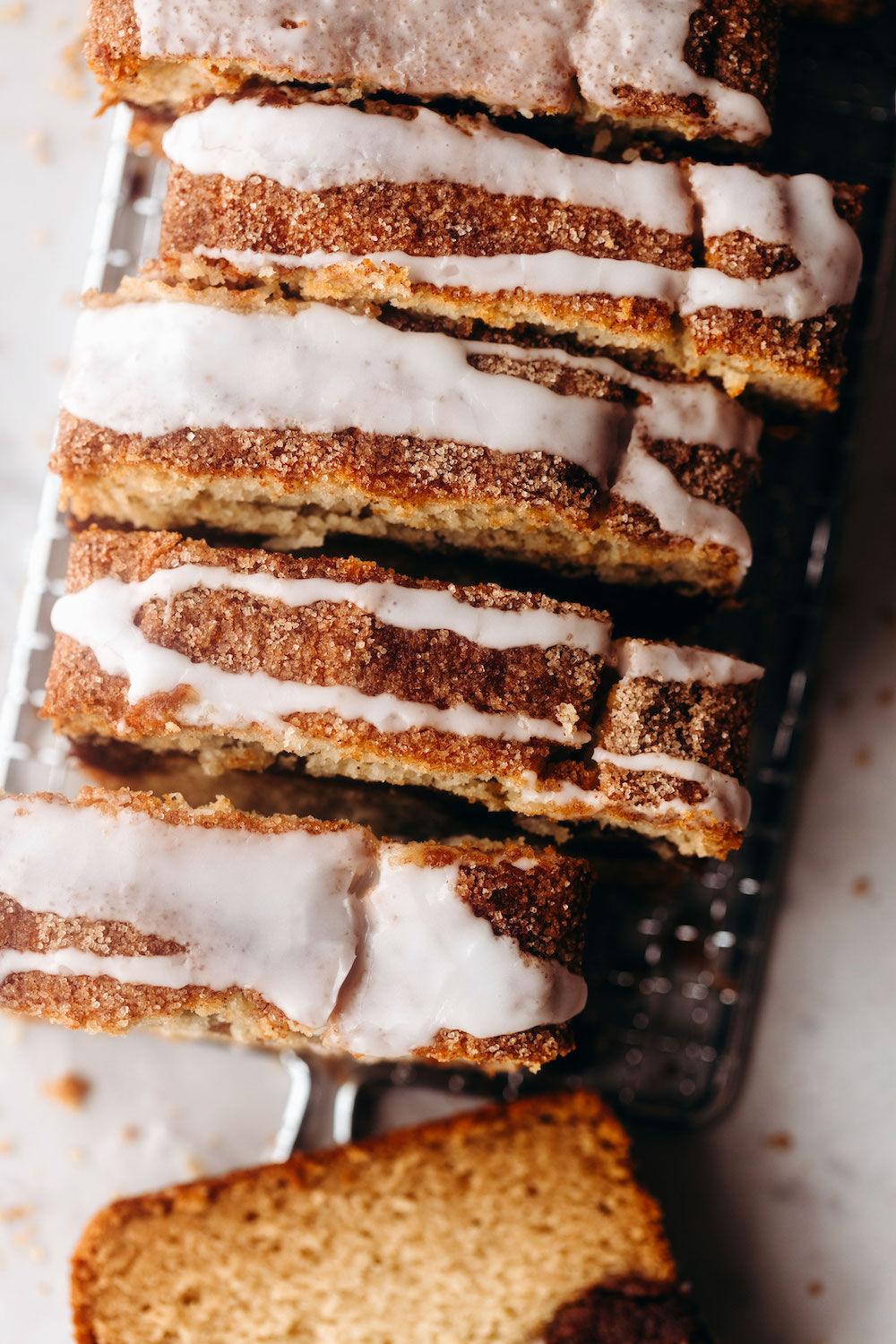 Print
CLICK BELOW TO PIN