Feeling breakfast adventurous? How about Avocado Pancakes made with oat or almond flour and tons of delicious fluffy sweet flavor despite their funky color!

On a scale of 1-10 how okay are you with green pancakes?
Could you be persuaded a little more in the 10 direction if I told you they…
-Don't taste green. At all.
-Don't actually contain vegetables. Zero.
-Don't contain banana (like almost every other vegan pancake ever).
-Get their green from the same source as guac.
-Are so easy and fluffyamazing and just waiting to be made and maple-drowned by YOU.
Are we at like a 4.5 now?
There has to be room in your heart and breakfast line-up for one more that doesn't look quite like the rest. Not a shade of brown, not chip-speckled, not pumpkin spiced. But gorgeously green like spinach smoothies and avo toast and eggs + ham if your childhood bookshelf was anything like mine.
Because if you are still here reading this blog after all these years and wacky unique recipes I've thrown at you, then I know you are one awesomely open-minded human.
Does that heartfelt compliment get us to a 6 by chance?
It's been a hot minute since the last pancake recipe around here, and those fluffy applesauce ones were getting pretttttty lonely. There have been a few waffles in between, but waffles aren't basic like pancakes.
Waffles – Oh hey look at me with my own special appliance that you have to clean with a q-tip and store the other 358 days of the year. But look at my crispy edges!
Pancakes – Pan, spatula, done. Minimalist breakfast-ing like a pro.
No better time to jump back into the pancake game than now. Smoothies are starting to feel weird. Oatmeal is about to have it's moment. And these pancakes have a little something in common with both.
So yes, as hinted at (and blatantly stated in the title) these pancakes are made with avocado. It's a superstar ingredient in banana-free smoothies, and works just as wonderfully in banana-free pancakes.
I tested an oat flour version and an almond flour + tapioca starch version. (Hence the two sets of photos happening here.) The oat flour batch turned out fluffier and cooked more easily and evenly too. The almond + tapioca batch was a bit less fluffy and harder to flip, but tasted sweeter and richer. And almond flour definitely wins on prettiest shade of green, just an fyi for Instagram purposes. Because if you try them you must tag me so I can witness the green fluffiness and be inspired by your topping choices and get all jazz hands emoji excited with you. It's gonna be great.
But if fluff is deeply important to you – as it should be – and color is too, you can add a spoonful or two of your favorite greens powder or even matcha to amp up that avocado color. Who ever said life is all about tradeoffs? Not the AVOCADO PANCAKE LIFE.
So if you have a well-stocked pantry and all-inclusive diet , I'd recommend the oat version for overall ease. If you are throwing a grain-free green pancake party than go for almond. Whatever it may be, take your pick and pancake away my friend.
So where are we now on the scale?
One being still deeply skeptical and ten being all about it. Hopefully I have been able to alleviate some of your skepticism, and perhaps pique your curiosity? I will be anxiously awaiting your input, so fingers crossed there is an already squishy avocado in your kitchen right now!
Print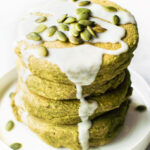 ---
Description
Feeling breakfast adventurous? How about Avocado Pancakes made with oat or almond flour and tons of delicious fluffy sweet flavor despite their funky color!
---
1/2

of a ripe avocado (about

60g

)

1/2

(120g) cup non-dairy milk

1 tbsp

lemon juice

1

–

2

tbsp maple syrup ((or sweetener of choice))

1 tsp

vanilla extract

1 tbsp

baking powder
Pinch of salt

1 1/4

(125g) cup oat flour ((see notes for grain-free option))
Optional: 1 tsp greens powder or matcha powder ((for color))
---
Instructions
Add all the ingredients to a blender in the order listed.
Blend until well combined. Don't over-blend. It should be very thick.
Heat a non-stick pan over medium-low heat.
Scoop 1-2 spoonfuls of batter into the pan and spread into a circle, not too thin.
Cook for 3-4 minutes on each side or until a spatula easily slides underneath to flip. If the center of your pancakes isn't cooking through all the way, lower the temp and leave them for longer on each side.
Repeat until all the batter is used up.
Top with maple syrup, coconut butter, fruit, or whatever you like. Enjoy!
---
Notes
To make these grain-free, swap the oat flour for 1.5 cups almond flour (150g) + 2 tbsp tapioca starch (35g). This version is a little trickier to cook, I recommend lower heat for longer and be sure to spray the pan as they stick more easily.
CLICK BELOW TO PIN
SaveSave