Blueberry latte breakfast jars! Cold brew chia pudding swirled with a TWO ingredient (banana-free) smoothie. Just the quick, healthy, yummy thing for your morning!
THIS POST IS SPONSORED BY VITAMIX.
---
Once upon a time in my favorite coffee shop (a.k.a. my second home) I tried a uniquely wonderful drink called a blueberry latte. House made blueberry syrup mixed with almond milk to create the prettiest purple milk, then topped with a shot of espresso. I wish you could've seen the swirling purple-ish appearance (jk you can, of course I took a photo), but what was even more enchanting was the flavor.
Blueberry + coffee – unexpected but YES.
It was one of those duh-why-haven't-I-tried-this-before? moments.
Peanut butter, chocolate, matcha, cinnamon, coffee…is there anything blueberries don't get along with just swimmingly?
This, however, is not a blueberry latte. The coffee is on the bottom not the top. The blueberry is a SUPER simple creamy smoothie not syrup-sweetened milk. There are chia seeds and non-dairy yogurt for plant-based protein. This is not just a beverage but a nutritiously gotcha covered breakfast. This is a Blueberry Latte Breakfast Smoothie Jar.
And this is why you are going to love it:
Easy. Only 7 ingredients for all those layers.
Spoon and straw required, which means we got textures.
Prep ahead-able.
Makes 2 for you and you tomorrow.
And coffee + blueberry. You gotta try it!
I'm not one to usually go on about the health aspects of a recipe since I think the word healthy is very subjective. I mostly focus on the easy and yummy aspects, but there are a few things I love about this recipe from a nutrition standpoint too.
This is a thick and creamy smoothie, but it's not loaded with tons of bananas or frozen cauliflower – neither of which make my stomach very happy. And besides a bit of maple syrup in the chia pudding, it's only berry-sweetened. So perfect if you are looking for lower-sugar or banana-free smoothies. Also perfect if you are looking for the EASIEST SMOOTHIE RECIPE OF YOUR LIFE.
Yogurt + frozen blueberries. That's it. Just two ingredients. It's simple and perfectly sweet and so creamy after the Vitamix works it's magic. Add more frozen berries to make it thicker, or less to make it thinner. Or any frozen fruit, don't let me stop you.
We all need a go-to blueb smoothie recipe in our lives, but what really makes this breakfast jar special is the cold brew chia pudding. Yes it is just as good as it sounds, good enough to be it's own recipe/snack. Cold brew mixed with almond milk and a touch of maple syrup, plus my clever blender method for optimal chia distribution – oh yes!
Not a coffee fan? I've got three other chia pudding flavors to choose from, all of which would be delicious with blueberry smoothie on top.
You may have noticed the word blender popping up a lot by now, and if you know me you know I mean Vitamix.
Creamiest way to make a smoothie? In the Vitamix.
Best way to make chia pudding? In the Vitamix.
For this recipe I used the Vitamix E310. If you just want a basic blender that can blend anything but without all the bells and fancy schmancy touchscreen/built-in timer/probably-has-a-brain whistles, this is your blender. My favorite part? The 48oz container it comes with. Not too big for blending a single-serving smoothie, but not too small for blending a raw cheesecake either. This model is on the more affordable side too.
Heads up! Vitamix is running a special promo right now in honor of National Smoothie Day this week – blender containers for just $50 with the purchase of a new blender + FREE shipping. All the details HERE.
This is not a smoothie. It's not chia pudding. It's not a latte.
It is all of the above, and it is where your spoon needs to be.
Print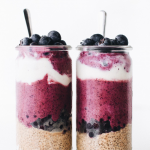 Blueberry Latte Breakfast Smoothie Jars
Prep Time: 10 minutes
Cook Time: 8 hours (chilling time)
Total Time: 8 hours 10 minutes
Yield: 2 jars 1x
Category: breakfast
Method: no bake
Cuisine: american
---
Description
Blueberry latte breakfast jars! Cold brew chia pudding swirled with a TWO ingredient (banana-free) smoothie. Just the quick healthy thing for your morning!
---
Cold Brew Chia Pudding
1/2 cup (120g) non-dairy milk (I used almond milk, but coconut milk would make it extra creamy)
1/2 cup (120g) cold brew coffee (or brewed and cooled coffee)
1/4 cup (40g) chia seeds 
1 tbsp maple syrup
Blueberry Smoothie
1 cup (240g) non-dairy yogurt (I used cashew yogurt)
1 1/2 cups (210g) frozen blueberries
1 tsp vanilla extract (optional)
---
Instructions
Combine all the chia pudding ingredients in the blender. Blend briefly on low speed..
Pulse 1-2 times every few minutes until the seeds stay evenly distributed and don't settle to the bottom.
Transfer to a jar and refrigerate overnight.
The next day, blend the yogurt, frozen berries, and vanilla (if using). Adjust with more berries to make it thicker if desired.
Spoon the chia pudding into jars. Top with the blueberry smoothie and additional yogurt and berries.
Enjoy!
---
---
Nutrition
Serving Size: 1 jar
Calories: 291
Sugar: 16g
Fat: 14g
Saturated Fat: 2g
Carbohydrates: 38g
Fiber: 13g
Protein: 7g
Keywords: healthy, easy, recipe, vegan, dairy free, chia pudding
CLICK BELOW TO PIN
Thank you Vitamix for sponsoring this post!
SaveSave
SaveSave
SaveSave
SaveSave