No baking, no churning, no spoon required for this easy dessert recipe–these vegan and paleo cookie dough ice cream sandwiches are a healthy summer treat!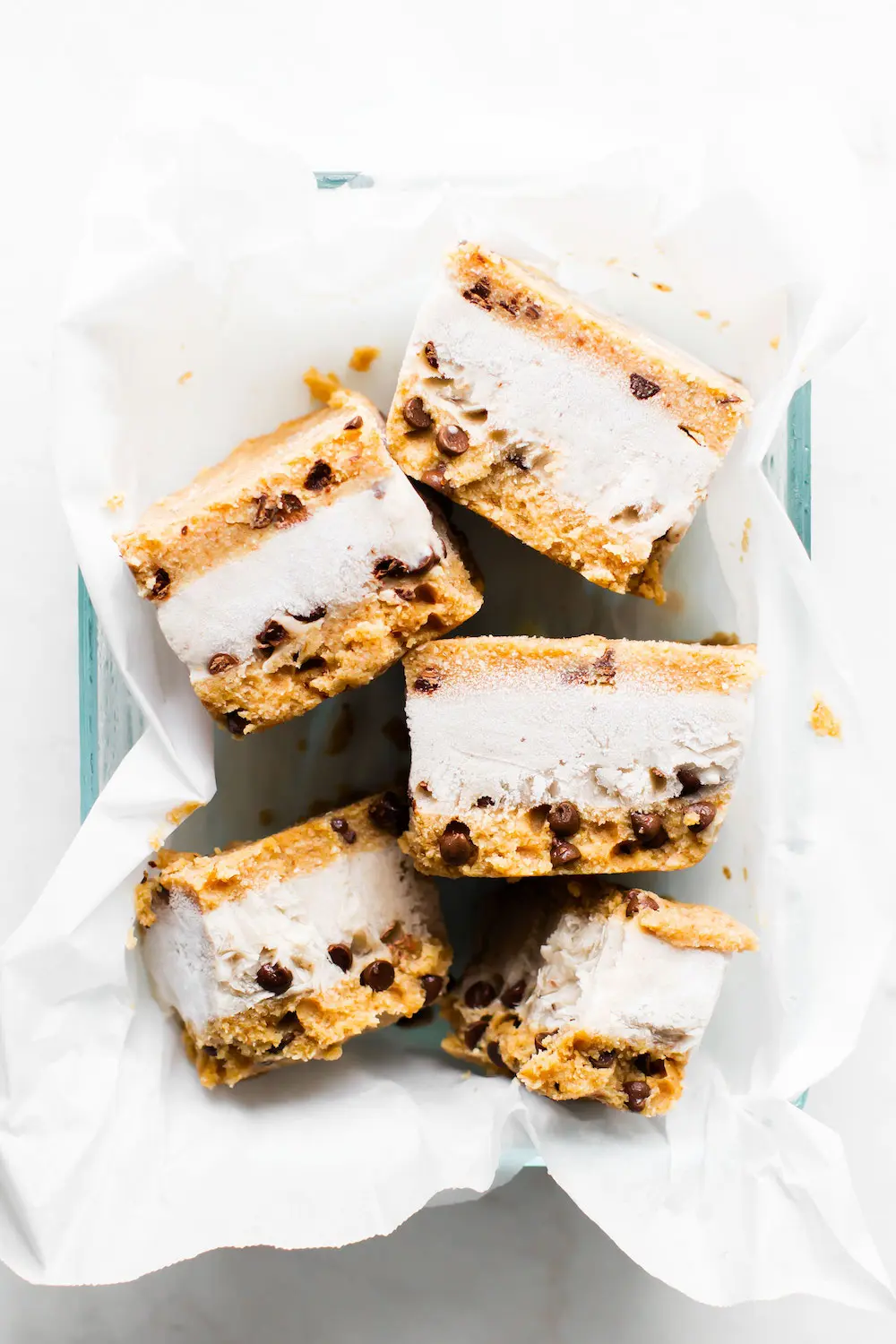 There have been ice cream pops. And ice cream floats. Ice cream bowls. Ice cream in an instant. Ice cream, some patience required. Ice cream with chunks. Ice cream with sprinkles. And even ice cream that fell from the cone to floor and never made it to the blog. R.I.P chocolate chip strawberry swirl in a sugar cone.
And the frozen recipe family expands again! Because I'm certainly not done craving pretty much exclusively cold and creamy things, and hopefully you're not either.
Today's foray into a so-far-unexplored-on-the blog-this-year ice cream form is in collaboration with the always amazing Leah from Love Me, Feed Me. Because she's been all about the chilly treats lately too with some crazydelicious pop flavors, not to mention much more on trend than I am since apparently I missed the #popsicleweek memo.
But who's really surprised? Not me.
Enough about how I live under a rock oblivious to all the hashtag things though.
The truly pressing, deeply concerning matter on my mind today: If these are ice cream sandwiches, but ice cream betweeen two round baked cookies is also an ice cream sandwich, and "ice cream bars" are pretty much popsicles going by another name…WHY?
Because if you ask me, everything about this square-shaped layered ice cream situation screams "Call me an ice cream bar!" Yet it's technically an ice cream sandwich. But this is coming from the girl who used to order a build-your-own triple layer froyo parfait with cookie dough and vanilla ice cream for all three layers every single time, so what do I know.
Sidenote: Is it weird to anyone else to think that froyo wasn't always self-serve? That not that long ago there wasn't the option to sample any/every flavor by awkwardly licking it out of a tiny white condiment cup? And you couldn't concoct a hideous can't-make-up-my-mind mess with a little bit of 5 different flavors, 7 different toppings, caramel AND fudge sauce, and a single piece of that chocolate chunk thing you can't identify but skeptically placed on top anyways just because you can? Times have changed, we pick ice cream toppings by most delicious for the weight, and most of us suck at swirling froyo.
But back to vanilla + cookie dough…
Yep, I was boring like that. Or maybe genius like that – why mess with a good thing, right? Because cookie dough + vanilla ice cream is a very good thing. A thing I will never get tired of. A thing that has the perfect texture contrast of chewy and creamy and chippy. A thing that was worth forgoing all the other soft serve flavors and ignoring the rest of the topping options for. A thing I just turned from layered treat requiring an extra-long spoon into hand-held mostly healthy dessert sandwich.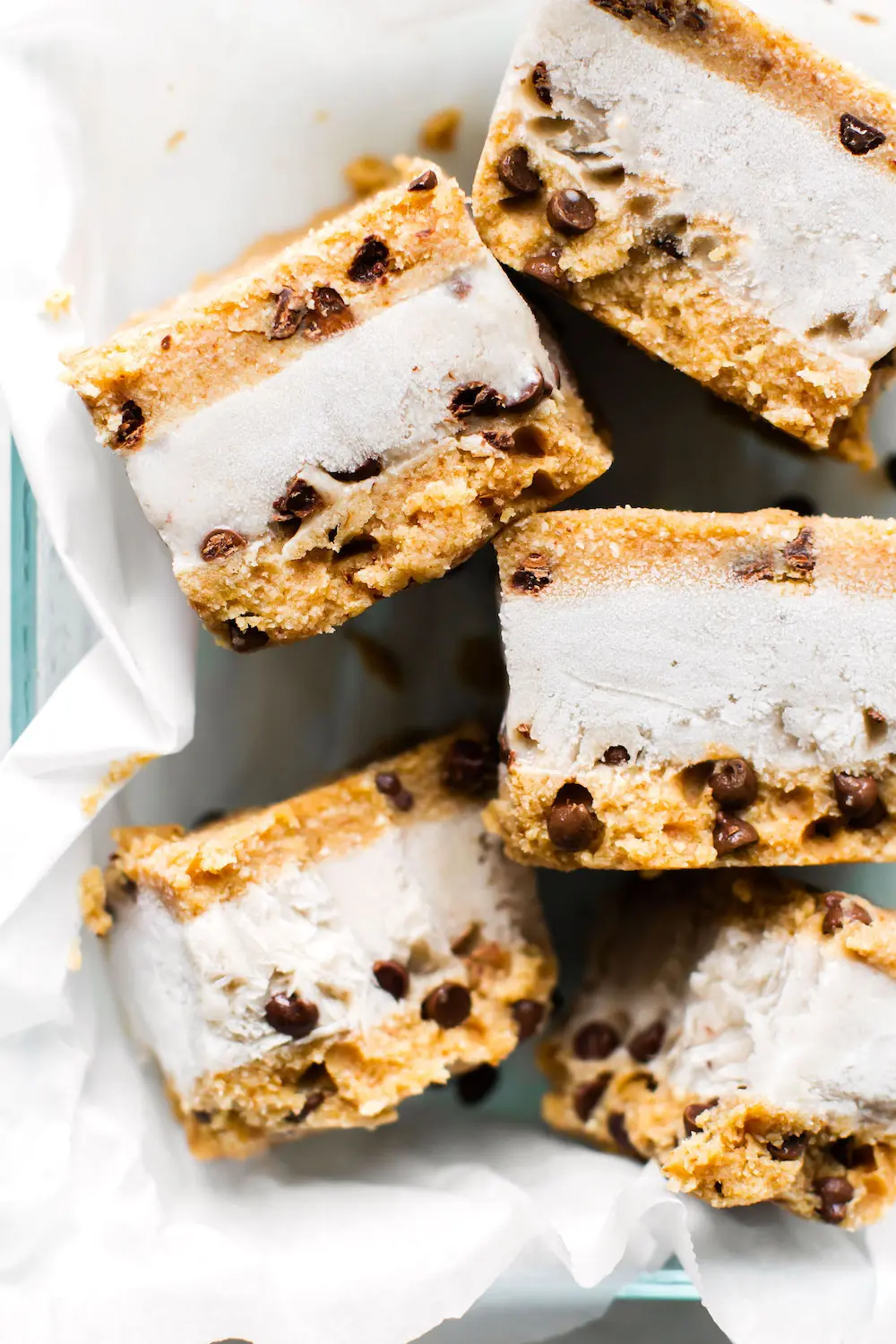 Cookie dough. Baking cookies, waiting for them too cool, making the ice cream, and then having to scoop and smush each one individually sounded like a lot more effort than I cared to exert for my ice cream dessert-ing. So I simplified and streamlined the process.
No bake cookie DOUGH instead of cookies with only 3 essential + 2 optional ingredients. It just happens to be vegan, date-sweetened, and paleo too (a.k.a. make extra because it's a scrumdiddlyumptious little treat all it's own!)
No cooling time because no baking. Which means no heating up the entire house when it's already a zillion degrees outside either, because your AC bill is very important to me.
And if you press it all into a pan, freeze, then cut into individual bars sandwiches you get 8 perfect servings but only have to smush once.
Ice cream. Now you could sandwich any kind of vanilla ice cream between those two layers of chocolate chip dough. I personally created a nice cream + coconut milk ice cream hybrid for the filling because it's the perfect balance of creamy and fruity-sweet.
It's just as simple as it sounds – frozen bananas blended with full-fat coconut milk and then stirred a few times as it's freezing to prevent icy-ness. Because it will be quite liquid-y after blending, you want to give it a couple of hours head start on freezing before trying to add the top layer of cookie. Makes the whole stirring thing a lot easier too.
And if you've made it this far, firstly welcome to the True Ice Cream Sandwich Lovers Club. But secondly, you must see the epic ice cream sandwich-ing Leah is sharing today. So go, go, go → HERE for Ginger Rhubarb Mini Donut Ice Cream Sandwiches!
Happy sweet simple cookie dough / ice cream / cookie dough layering to you!
Print
Cookie Dough Ice Cream Sandwiches
Author:

Yield:

8

sandwiches

1

x

Category:

dessert

Method:

freezer

Cuisine:

american
---
Description
No baking, no churning, no spoon required for this easy dessert recipe–these vegan and paleo cookie dough ice cream sandwiches are a healthy summer treat!
---
Cookie Dough
1 cup

date paste

2/3 cup

coconut flour

1 tsp

vanilla extract
Pinch of salt

1/4 cup

chocolate chips
Ice Cream
3

–

4

frozen bananas

1

can full-fat coconut milk
Optional: more chocolate chips
---
Instructions
Combine all the cookie dough ingredients. Mix. It should just barely hold together, if it's too dry add more date paste.
Divide into 2 equal parts.
Press half of the dough into the bottom of an 8×5″ pan (or a loaf pan or even a tupperware container) lined with parchment paper.
Blend the frozen bananas and coconut milk until smooth. Add the chocolate chips (if using) and blend briefly to combine.
Pour on top of the cookie dough.
Freeze for 2 hours, stirring every 30 minutes to prevent ice crystals.
Press the other half of the cookie dough into a rectangle.
Once the ice cream is firm enough, add the top layer of cookie dough and gently press.
Freeze overnight (or at least 8 hours).
Once frozen, slice into bars and enjoy! Keep in the freezer.
---
Nutrition
Serving Size:

1 ice cream sandwich

Calories:

247

Sugar:

27g

Fat:

9g

Saturated Fat:

7g

Carbohydrates:

40g

Fiber:

7g

Protein:

4g
Keywords: no bake, frozen, dessert, easy, vegan, dairy-free, nice cream
Pin It
SaveSave
SaveSave