Creamy dairy-free ice cream (made in the blender!), scooped on top of cookie dough stuffed cones, dipped in chocolate, with a cherry on top!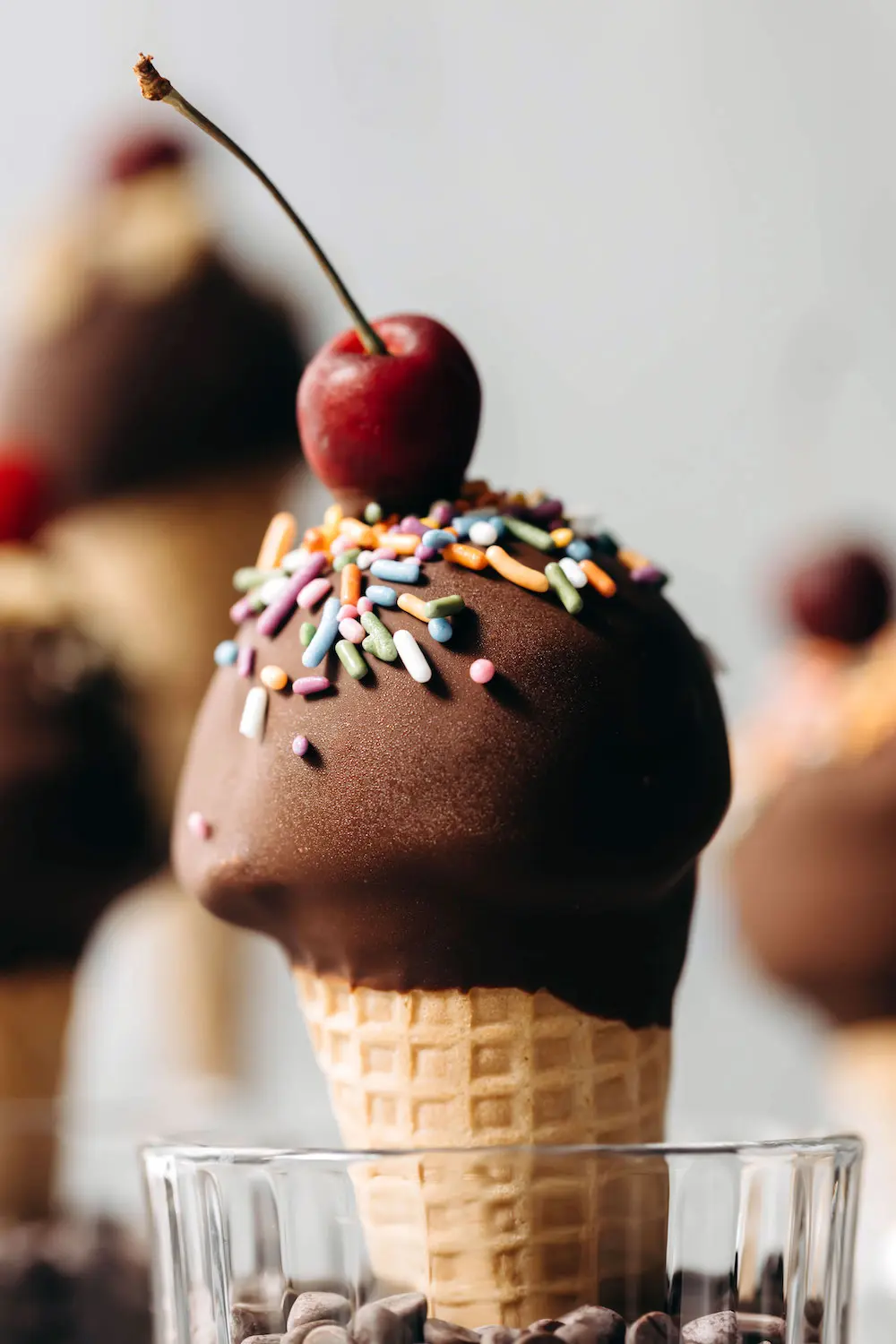 ---
Is this a somewhat needlessly extravagantly extra way to consume ice cream? Absolutely. Would I advise skipping the DIY ice cream blending or the cookie dough cone stuffing or the upside down chocolate dipping or the rainbow sprinkling? Absolutely not!
Just a little heads up before we get into the sundae cone specifics, there is no graceful way to eat these. Whether you bite from the top to get maximum sprinkles and end up with ice cream on your chin and chocolate shards everywhere, or bite from the side to get maximum cookie dough and end up with chocolate on your nose and cone shards all over, or throw the whole thing in a bowl and break it apart with a spoon…it's an embrace the mess kind of first bite moment.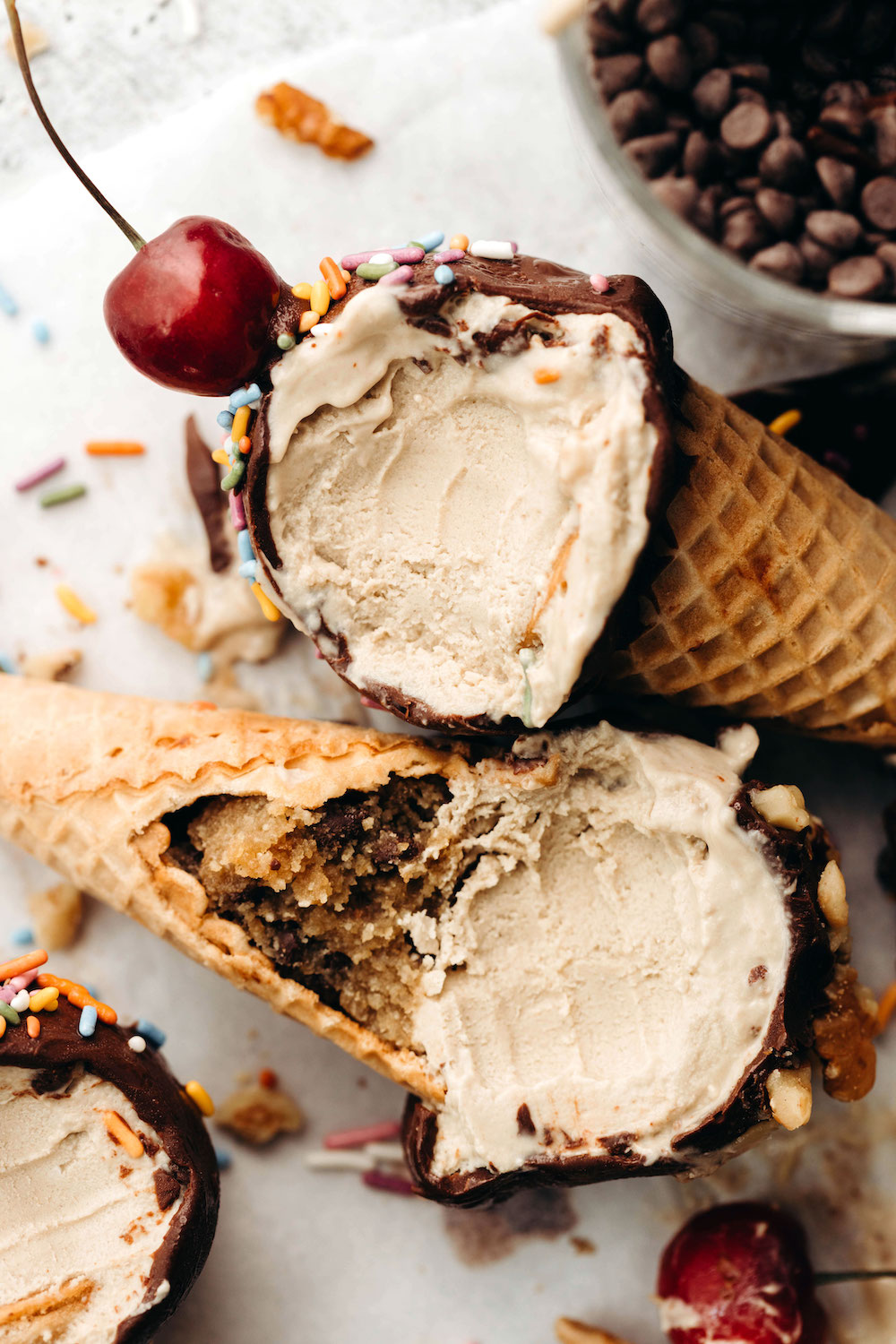 Cookie Dough Sundae Cone Components
Cone, cookie dough, ice cream, chocolate, toppings, OH MY. Let's break it all down…
The Cookie Dough Stuffed Cones
Store-bought cone, that part is not homemade, don't get crazy. Sugar cones are idea here, waffle would be too big (unless you REALLY love cookie dough) and cake cone would be too small (not enough cookie dough) and not crispy enough. These are my go-to gluten-free sugar cones, super sturdy and tasty.
Now the chocolate chip cookie dough we are making, of course. I have a couple recipes for you, one with oat flour and one with almond flour. I personally opted for the almond flour version in my cones, but they are very similar in texture and taste. Especially if you add copious amounts of mini choc chips (recommended!)
Stuff your cones (really pack it into that point) almost to the top, you want maybe a half inch of space left so the ice cream has somewhere to nestle. And then employ small jars or cups to hold them upright, and chill while you prep the ice cream.
The No-Churn SunButter Ice Cream
SunButter and ice cream – two of my favorite food things in the whole wide world combined. Makes me very happy. Will make you very happy. Whether you construct this entire cone situation or not, at least try this frozen creamy blender-made goodness.
Just like my other blender ice creams, it all begins with my favorite no-churn hack: frozen coconut cream ice cubes. Once those freeze overnight, we are blending with:
lots of SunButter (for dreamy creaminess and flavor!)
maple syrup (a little sweetness, not too much)
vanilla extract
salt
more coconut milk (as you need to get the blender moving)
optional: cocoa powder if you want chocolate ice cream instead
It takes a little patience and a lot of stopping and stirring to get it all to blend smooth, but it will be thick and creamy and magical and worth it. The thickness and richness of SunButter makes it less melty than other blender ice creams, and just so. dang. yummy. I used Organic SunButter here, it's unsweetened and perfect for baking/blending.
Since we are going for perfect dippable scoops, you will need to re-freeze briefly so the ice cream is firm enough to hold its scoop on top of a cone. One to two hours. Then scoop on top of the cookie dough cones, and freeze for 4-6 hours so the ice cream is firm enough to flip and not fall off.
Chocolate Dipped + Toppings
Now comes the fun, almost-ready-to-eat part! Melt semi-sweet chocolate chips in a tall/narrow glass. Working quickly, flip/dip each cone ice cream side first into the chocolate to cover all of the ice cream and a little bit of cone. Still working quickly, add sprinkles or chopped nuts (or whatever toppings you want) and a cherry on top. The chocolate will set very quickly, so you gotta hustle a little bit if you want that cherry to stick.
A Few Tips
Let the coconut milk cubes soften slightly before making the ice cream, otherwise your blender may get stuck. Also if you add the SunButter to the blender first it will help prevent that.
Be very patient with the ice cream scoop freezing step. Overnight is honestly ideal if you have the time, but you don't want to lose a scoop into the chocolate. The ice cream needs to be totally solid and stuck to that cone.
Empty spice jars are the perfect size to hold your cones upright, glass is best so it has a little more weight and won't tip over.
Embrace the messiness of making and eating!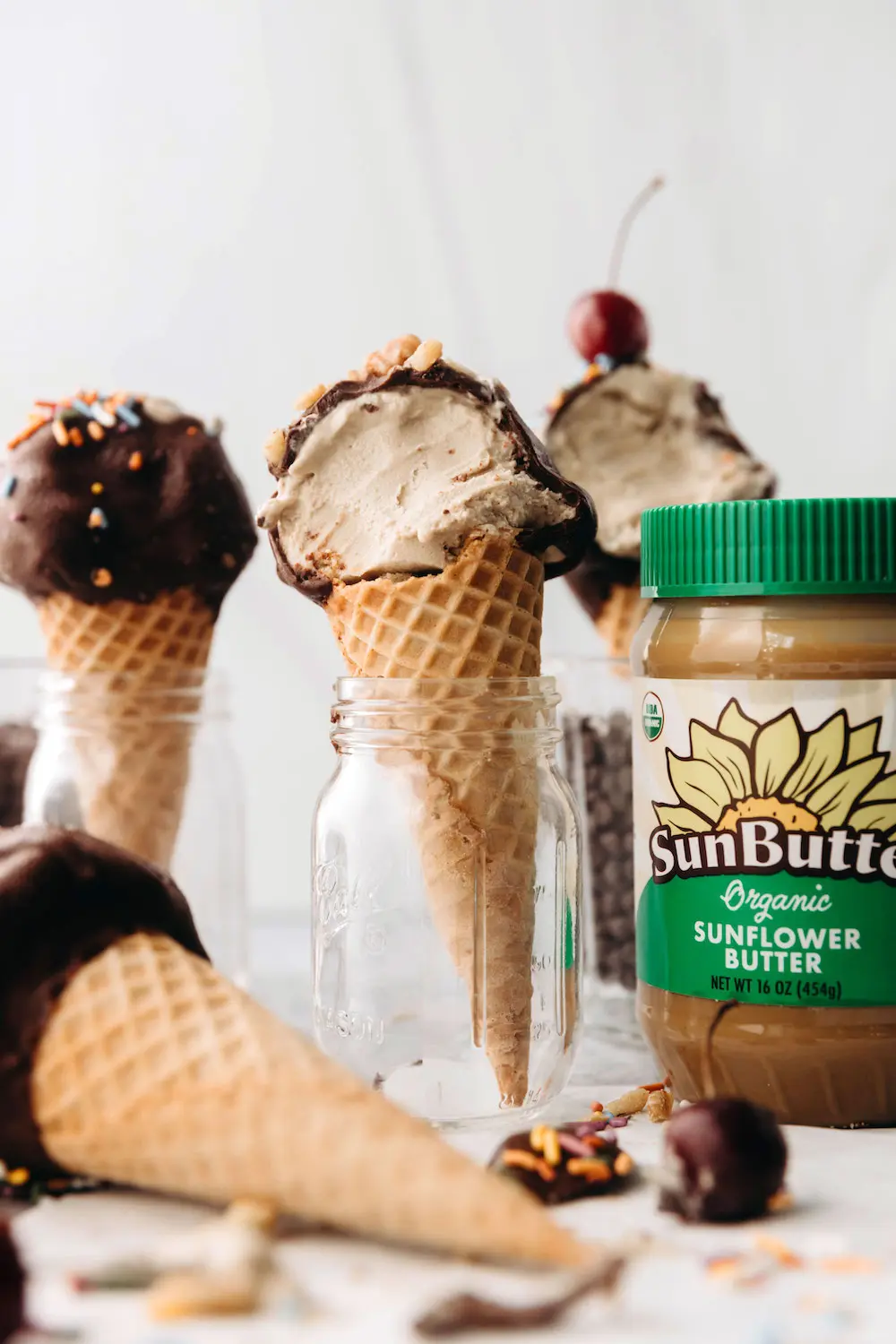 More Frozen Dessert Recipes You'll Love
Print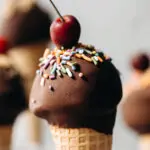 Cookie Dough Ice Cream Sundae Cones
Author:
Prep Time: 30 minutes
Chilling Time: 12 hours
Total Time: 12 hours 30 minutes
Yield: 6 servings 1x
Category: ice cream
Method: frozen
Cuisine: american
---
Description
Creamy dairy-free ice cream (made in the blender!), scooped on top of cookie dough stuffed cones, dipped in chocolate, with a cherry on top!
---
Ice Cream
2 15oz can coconut cream (or full fat coconut milk)
1 cup (250g) Organic SunButter
1/4 cup (90g) maple syrup
1 tsp vanilla extract
1/2 tsp salt
More coconut milk to blend
Cookie Dough
3/4 cup (90g) almond flour
2 tbsp (35g) Organic SunButter
2 tbsp (40g) maple syrup
1–2 tbsp almond milk
1/2 tsp vanilla extract
1/4 tsp salt
1/4 cup (60g) chocolate chips (chopped or mini work best)
1 cup semi-sweet chocolate chips (melted)
Cherries, walnuts, sprinkles, etc.
---
Instructions
Ice Cream
Shake the coconut milk/cream cans before opening. Pour into an ice cube tray (or mini muffin pan, silicone is best). Freeze overnight.
The following day, blend the cubes with SunButter, maple syrup, vanilla, and salt. Use the tamper and add a little extra coconut milk as needed to get it smooth.
Pour into a loaf pan. Freeze 1-2 hours to firm to a scoop-able consistency.
Cookie Dough
Mix all the ingredients together in a bowl until clumpy and sticky.
Stuff a spoonful or two of cookie dough into each of the sugar cones. You don't quite want to fill them to the top, but press it in firmly to fill the entire base of the cone.
To assemble
Place a scoop of ice cream on top of each cone (use cups or jars to hold each cone upright). Re-freeze for 4 hours (or overnight).
Dip the ice cream end of each cone in the melted chocolate, then quickly flip and top with walnuts/sprinkles and a cherry on top before the chocolate hardens.
Enjoy!
---
Keywords: vegan, dairy-free, summer, easy, ice cream, chocolate, no churn, blender, nut free
CLICK BELOW TO PIN