The best light fluffy quinoa pancakes! So easy—just 6 ingredients and made in the blender. If you've never tried quinoa flour, start with this breakfast!
Quinoa pancakes are happening and they are lighter and fluffier than any oat pancake you've ever had (pretty sure). Easier than you are even imagining (promise). Come in an unexpected golden hue (um…science?). Here to help you win at weekend brunch.
And just like that my new go-to pancake recipe was born. They are so incredibly GOOD, and you do not need a single egg or banana or whisk to make them. Major favorite breakfast potential happening here, friends.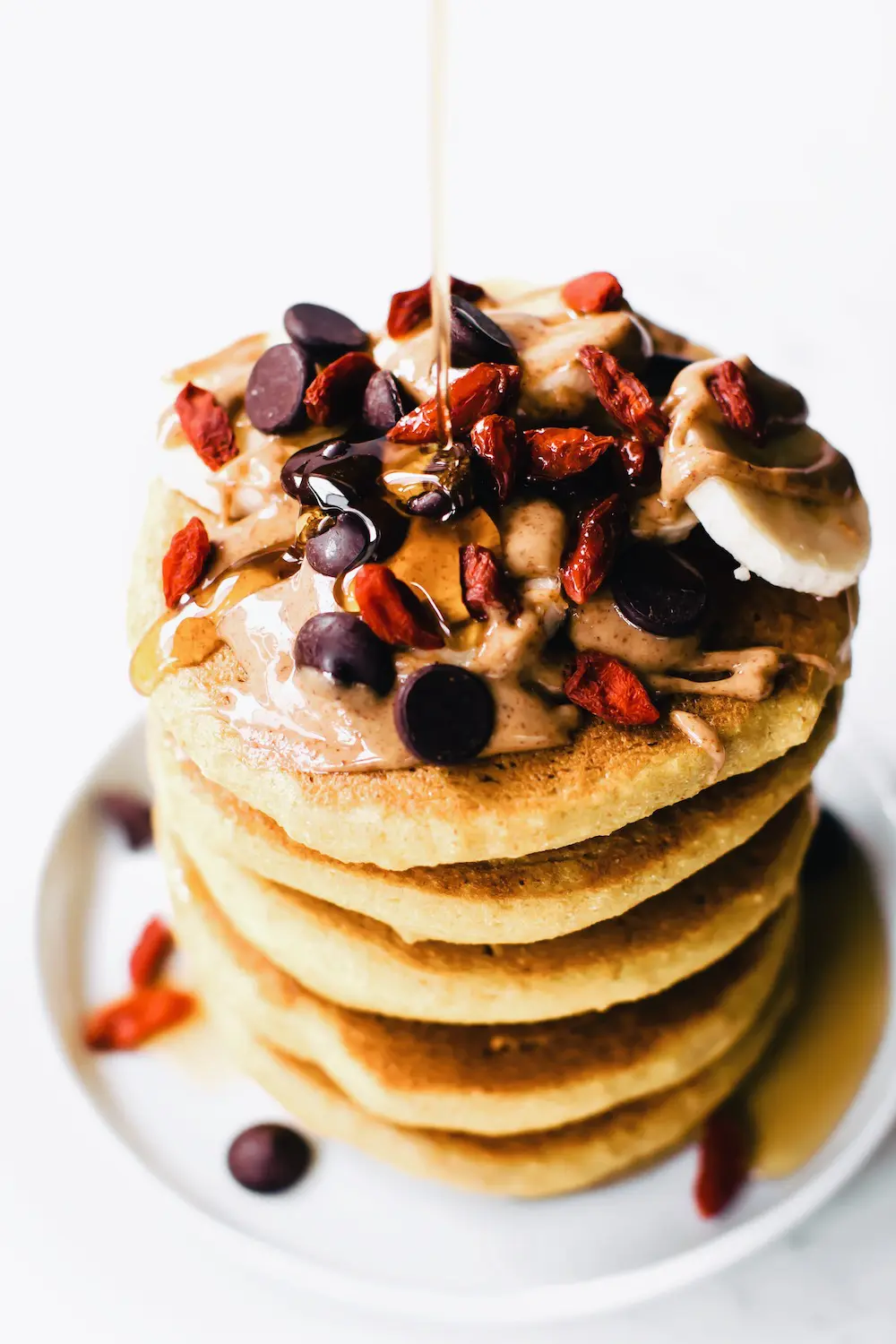 I spent a lot of years hating quinoa. But guys! Something has changed. I'm not sure if it's me or quinoa, but it's kinda really exciting. They say tastebuds change every seven years or whatever, right? Well I have been very not into mushrooms and loving quinoa lately, so I think my seven years just happened.
So if you are on the fence about quinoa, I want you to know that it's possible to grow to love it. Or if you are thinking: Oh geez, not another flour! (I see you, I see you my fellow pantry-overflowing friend), give me five bullet points to convince you…
Not actually a grain but a SEED. A gluten-free seed.
Plant-based protein, hooray.
Works all by itself—no starches or flax/chia egg needed.
You can make your own in the blender.
It makes for the most effortlessly puffy pancakes you ever did see.
And this is only maybe my third time working with quinoa flour, so we can experience this figuring out phase together.
Thick fluffy pancakes can go one of two ways: 1) voluminous throughout and soft/springy but not mushy or 2) fluffy around the perimeter but gummy in the middle. Don't take this the wrong way, but oat flour pancakes tend to fall into the latter category. Especially vegan ones. Especially especially vegan banana ones.
Look, I love this ol' oat pancake recipe as much as many of you do, but they require a bit of care and patience to get just right. But quinoa pancakes? Practically foolproof. Cook evenly, flip easily, springy structure, stack majestically, soak up maple syrup at the optimal rate. Just all around killing it at being breakfast.
And you know when you are making oat pancakes and the batter is twelve times thicker by pancake #5 than it was at pancake #1? Long-time oat pancake preparers, I know you know what I'm talking about. But quinoa pancakes? None of that. So much easier to clean the blender afterwards too.
A note on quinoa flour! I made my own with these quinoa flakes in my Vitamix. You can also buy it already in flour form. Or you can grind your own from uncooked quinoa, although I am pretty sure it's best to toast it first as per this tutorial.
I wanted to share—I've been ordering a lot from Thrive Market recently, because those quinoa flakes, for example, are about half the price compared to Amazon or a health food store. If you order a lot of these kinds of healthier food things too, it might be worth checking out HERE (affiliate link).
I feel like it's silly but important to note that these pancakes do taste like quinoa. So if you don't like quinoa, this is probably not the recipe for you.
On purpose I kept this recipe very basic. Because in pancake speak basic translates to mega versatile. Oh the things you could add: blueberries chocolate chips, apples, cinnamon, cacao powder, peanut butter, or just all the toppings.
If light + fluffy + pancake is what you are after, quinoa flour might just be your new bestie. Try them and let me know if your mind is blown by this breakfast magic too!
Print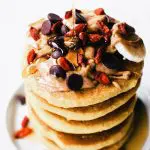 Fluffy Quinoa Pancakes
Yield: 8 pancakes 1x
Category: breakfast
Cuisine: american
---
Description
The best light fluffy quinoa pancakes! So easy—just 6 ingredients and made in the blender. If you've never tried quinoa flour, start with this breakfast!
---
1/2 cup (130g) unsweetened applesauce
1/2 cup (120g) non-dairy milk
1 tbsp lemon juice
1 tsp baking soda
2 tbsp maple syrup (optional)
1 1/2 cup (185g) quinoa flour (see notes for making your own)
---
Instructions
Add all the ingredients to a blender.
Blend on low until combine, stopping to stir as necessary. Don't over-blend.
Heat a non-stick pan over medium heat (I recommend spraying it lightly just to make sure they don't stick).
Drop about 1/4 cup of batter into the pan and spread into a circle.
Cook for 2-3 minutes over medium heat or until you can easily slide a spatula underneath. Flip and cook for 2-3 minutes on the second side. Remove from the pan.
Repeat until all the batter is used up. I got about 8 medium sized pancakes.
Add toppings of choice (fruit, nuts, seeds, chocolate chips, nut butter, maple syrup, etc.) and enjoy!
---
Notes
To make your own quinoa flour, either grind quinoa flakes in a high speed blender or toast and grind whole raw quinoa. Video tutorial HERE For an oat flour version, try THIS recipe instead.
Keywords: breakfast, easy, vegan, protein, gluten-free
CLICK BELOW TO PIN
SaveSave
SaveSaveSaveSave
SaveSave
SaveSave
SaveSave
SaveSave
SaveSave