Soft, chewy, and richly spiced – these Ginger Molasses Cookies with coconut flour, applesauce, almond butter, and a hint of lemon are a healthier holiday treat!

So currently my mind is feeling sorta like: ionlyhaveamonthtobakealltheholidaythingsahhhhhh!
Gingerbread or peppermint? Cookie or fudge? Chocolate covered or frosted with sprinkles? There are so many magical and merry treats I want to get to I feel like I don't even know where to start. With thanksgiving and all things pumpkin, we have a two (more like four, I'm sure I saw something pumpkin in August) to ease into it and get to every orange idea on the list. But December first is TOMORROW. How friends, how?
I am working on putting the brakes on my gotta-do-it-all brain chatter and just take things one cookie/fruitcake/truffle at a time. Just hone in on the good stuff, the classics, the treats we all really want most. This recipe is both the first cookie and first ginger-y one of the season, and I am in love with how they turned out. I won't tell you about the part where in my head they went from cookies > blondies > cake > back to cookies. Hush now little brain, slow down and have a Ginger Molasses Cookie.
You know those oversized cookies in the bakery case that always hook you with their soft-baked, sugar-sparkling, GIMME GIMME good looks? The ones that make you think: No one needs a cookie this big, but I deserve one for standing in this line and being a generally badass human. That's what's happening here but at home. As much as I love a good hockey puck sized cookie, I have a tendency to make my homemade cookies more of a reasonable tablespoonful-of-dough size. Not sure why, perhaps you can relate?
Well not this time. This time I made them unnecessarily large – I only got six cookies out of a batch that should've made a dozen. But there is something extra joyful about a jumbo cookie warm and fresh out of YOUR very own kitchen. The fact that they are so soft and tender and heavily spiced amps up the joy factor big time too, of course. And you get to revel in the yummy spiced scents while they bake – um yankee candle who?
If you are making them for a cookie swap or Christmasy occasion involving lots of other people, you may want to size down a bit. But if you are baking them for yourself as an early December treat to set the holly jolly mood of the month, enjoy every one of those six satisfyingly-sized cookies from Bakery: Your Oven.
So if you are feeling the holiday overwhelm already too, just know these crackly-topped cookies have your back and your easy baking interest at heart ♡
Print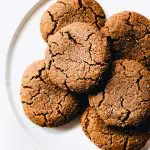 Soft-Baked Ginger Molasses Cookies
Prep Time:

10 minutes

Cook Time:

12 minutes

Total Time:

22 minutes

Yield:

6

jumbo cookies

1

x
---
Description
Soft, chewy, and richly spiced – these Ginger Molasses Cookies with coconut flour, applesauce, almond butter, and a hint of lemon are a healthier holiday treat!
---
1/2 cup

(

130g

) almond butter (*)

1/2 cup

(

130g

) unsweetened applesauce

1/3 cup

(

50g

) coconut sugar

1/4 cup

(

80g

) blackstrap molasses

1 tbsp

lemon juice

1 tsp

baking soda

1 tsp

ground ginger

1 tsp

ground cinnamon

1 tsp

vanilla extract

1/8 tsp

salt

1/2 cup

(

60g

) coconut flour (**)

1/2 cup

(

60g

) tapioca starch (***)
Optional: cane sugar (for sprinkling on top to make them sparkle)
---
Instructions
Preheat the oven to 350F.
In a mixing bowl, combine the almond butter, applesauce, coconut sugar, and molasses. Beat using an electric mixer until well combined.
Add the lemon juice, spices, vanilla, baking soda, and salt. Mix.
Add the coconut flour and tapioca starch. Mix to form a thick dough. It should be very sticky, but manageable enough to roll into balls. If not (varies with thickness/oily-ness of nut butter usually), add 1-2 more tbsp of coconut flour.
Break off large sections of dough and roll into balls. Arrange on a cookie sheet lined with parchment paper. I got 6 large cookies, but you could probably get 10-12 normal sized ones.
Sprinkle with sugar (if using) and press lightly to flatten.
Bake for approximately 12 minutes at 350F or until the tops are crackly and the bottom edges just starting to darken.
Remove from the oven and cool for at least 10 minutes before removing from the pan. Enjoy!
---
Notes
*You can use any nut/seed butter, but I do not recommend peanut butter as the taste is overpowering.
**For an oat option, replace the coconut flour and tapioca starch with 2 cups (240g) oat flour. The batter will not be roll-able, but don't add more flour or they will be dry and bland. Just spoon the batter on the pan like drop cookies. They are slightly less sweet, so you can add more coconut sugar if desired.
***You can sub cornstarch or arrowroot starch.
CLICK BELOW TO PIN
SaveSave