Moist fluffy cake, the creamiest frosting, party-perfect dessert decadence on a fork – this Gluten-Free Vegan Chocolate Cake is NOT messing around!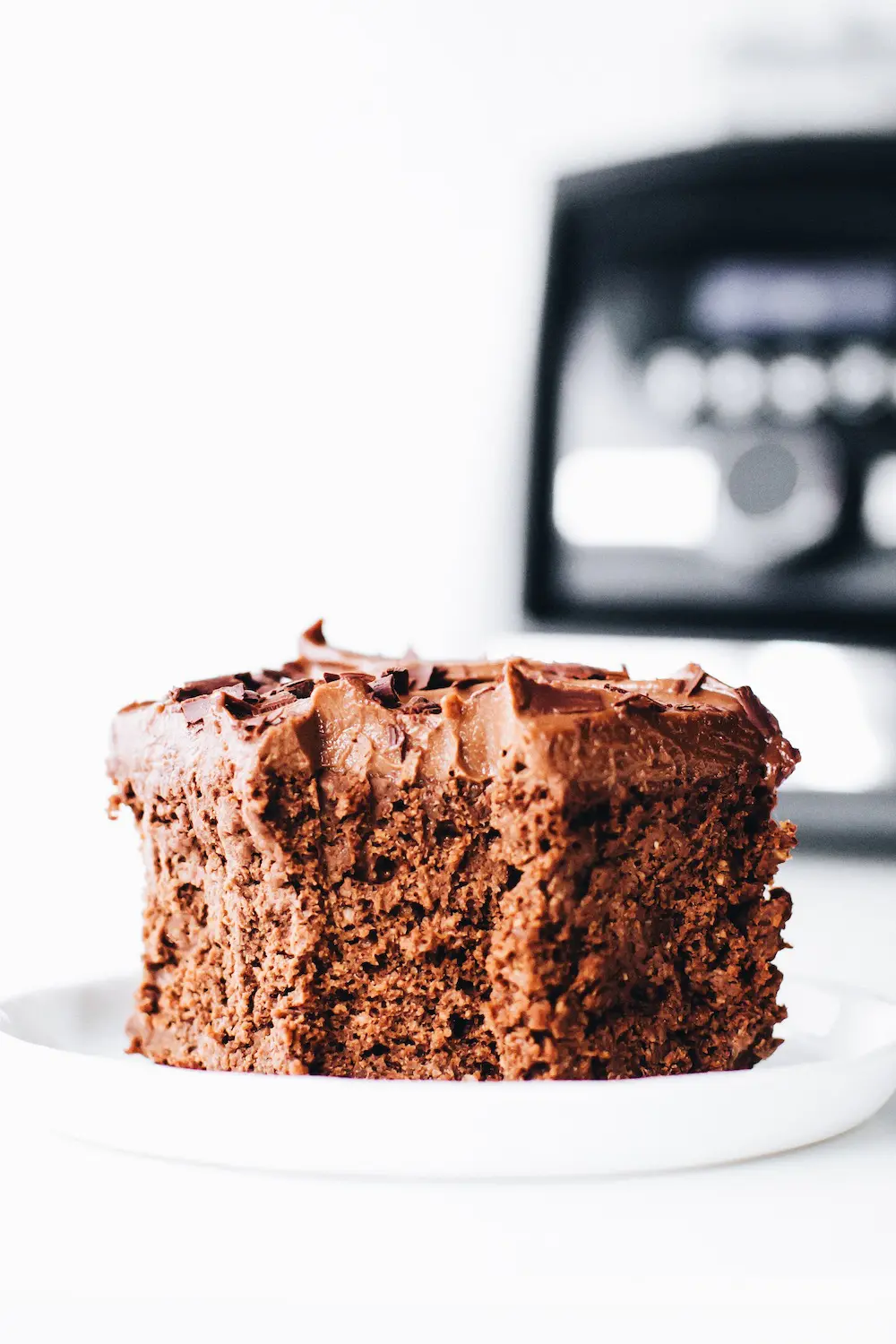 THIS POST IS SPONSORED BY VITAMIX.
---
Vegan Chocolate Cake from scratch!
Not from a box. Not from fruits and seeds and other not-typically-found-in-cake ingredients. Believe me, I love a good slice of funfetti just as much as I love a hippie raw hemp date cupcake with sweet potato frosting too. But we all need a solid, serve to anyone, healthier than it looks, homemade chocolate cake recipe in our back pocket. For birthdays and holidays and rainy saturdays and all the I-just-want-cake occasions.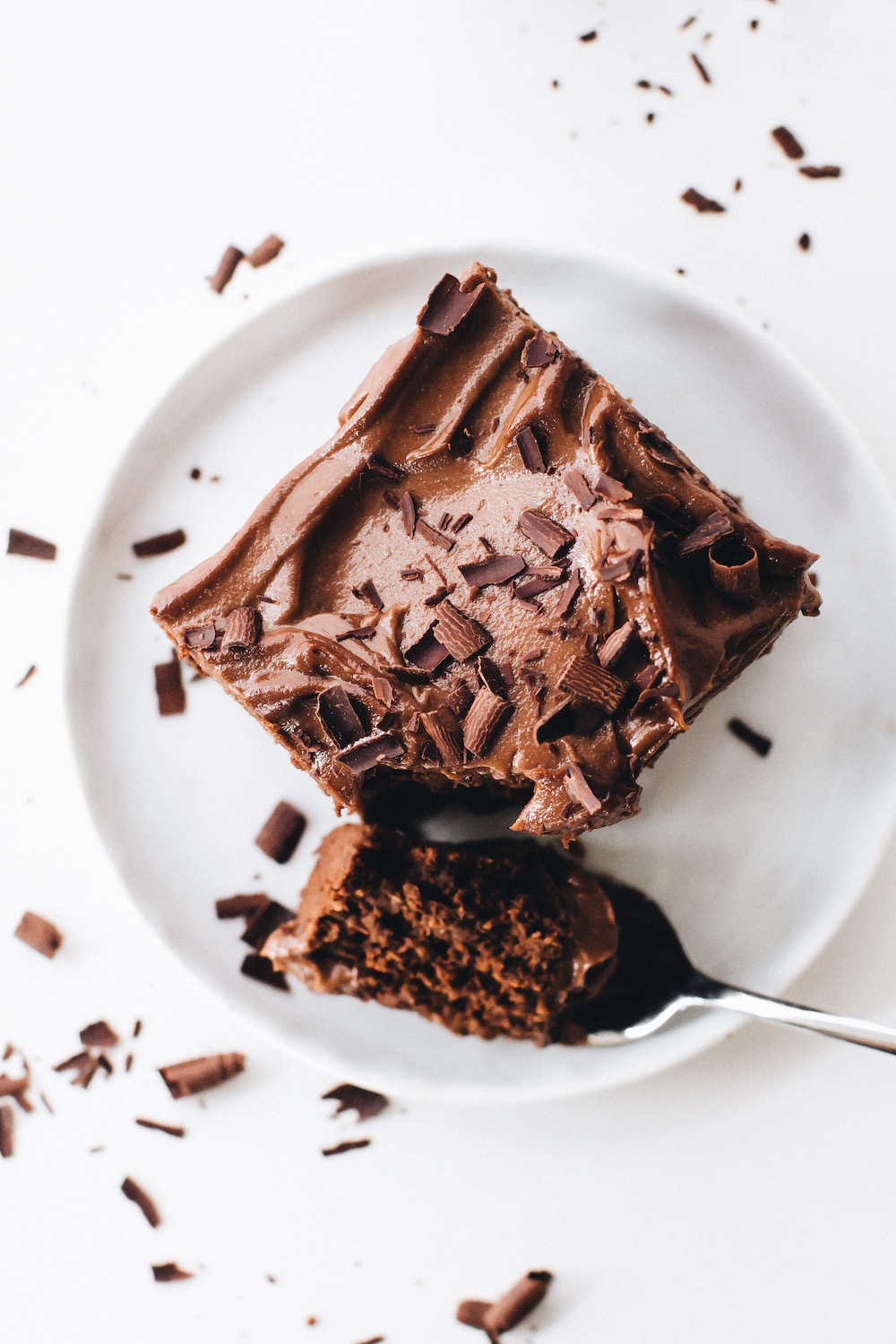 This recipe is pretty damn close to classic. As close as vegan, gluten-free, oil-free, and developed by me is going to get. Not too hard to make. Not too healthy. Birthday level impressive, but still one bowl + one blender approachable. The cake is moist, the crumb is light, the frosting is trying to steal the show with its creamydreamy richness. It's decadent with a hint of wholesome. If baking balance was a perfect bite of frosted cake, it'd be this one.
I know, I know. Homemade cake, homemade frosting, homemade chocolate curls on top, not eating all the frosting with a spoon while the cake is cooling – this sounds like a lot of work. But we don't need the all-purpose flour in the cake or the butter in the "buttercream" or two bowls and three whisks because we have something better than all of that combined. The Vitamix!
This amazing machine is our co-worker the entire way through the cake-making process. And just about everything else I do in the kitchen ever, but that's another story of kitchen appliance obsession. For now CHOCOLATE CAKE…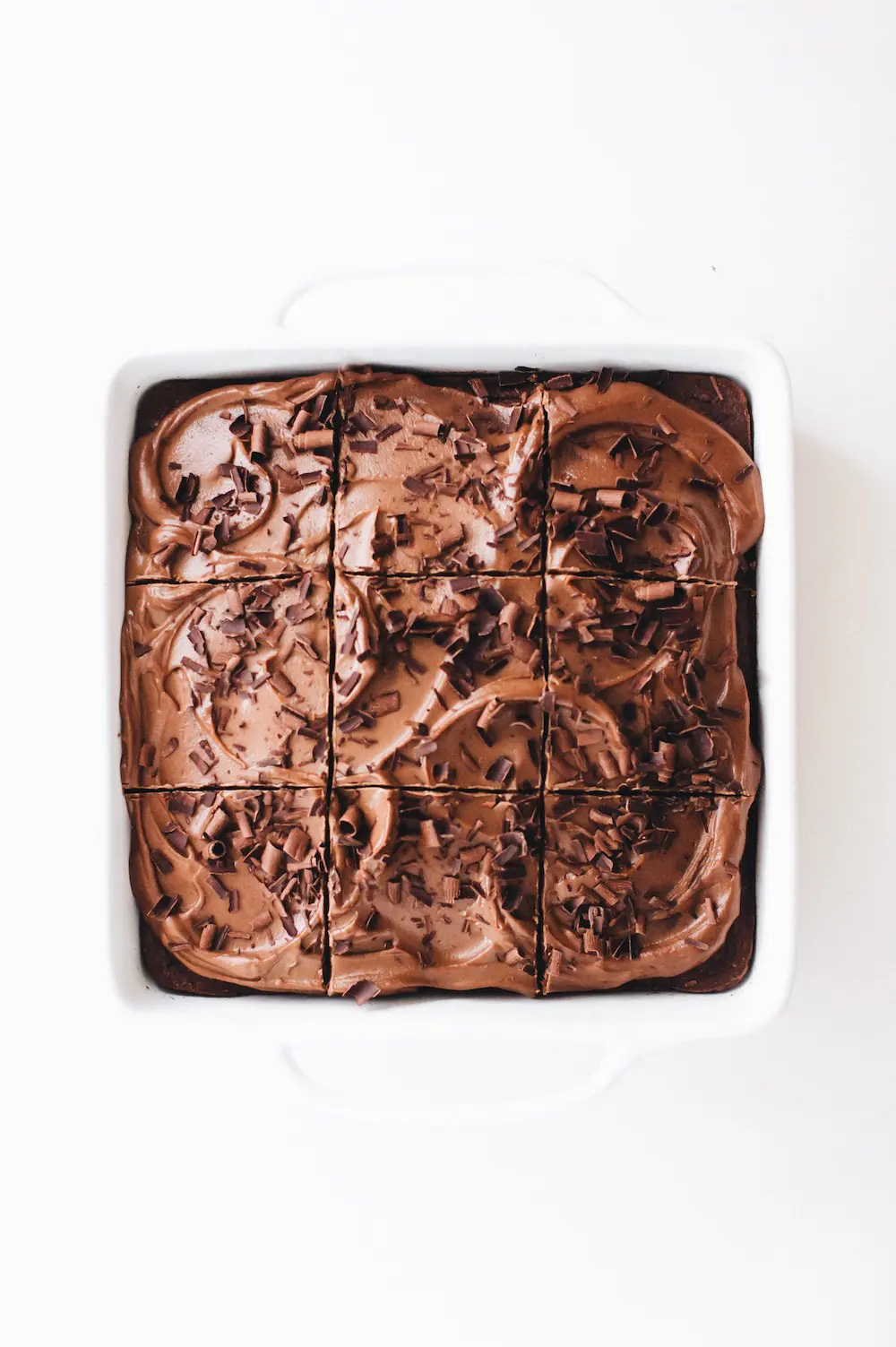 This recipe starts out wholesome – everybody's favorite breakfast food turned flour. Oats + the Vitamix + 30 seconds and DONE. Don't be afraid to kick the blender up to high speed here, you want the oat flour extra fine for optimal light cakey texture.
Combine with the rest of the dry ingredients – cocoa or cacao powder, tapioca starch, baking powder, baking soda, and salt. If we were being on our best baker behavior we would sift. But laziness is real, I don't own a sifter, and whisking them works almost as well.
Next comes the wet ingredients – almond butter, applesauce, almond milk, apple cider vinegar, vanilla extract, and coffee extract (optional but highly suggested for extra rich chocolatey flavor!). We could mix by hand, but why would we in a world where the Vitamix exists and can do that better and faster for us.
I am using the Vitamix A3500 in this recipe and video, btw!
Now the frosting – this is where the Vitamix really shines. You won't get nearly as creamy a cashew-based frosting without it. Soaking the cashews overnight and using the tamper to keep it blending but not too thin are both key too. You can use almond milk to blend the frosting, but better yet is coconut oil so it will set like buttercream. Coconut milk or cream could work too.
This might be my favorite part. The decadence is REAL.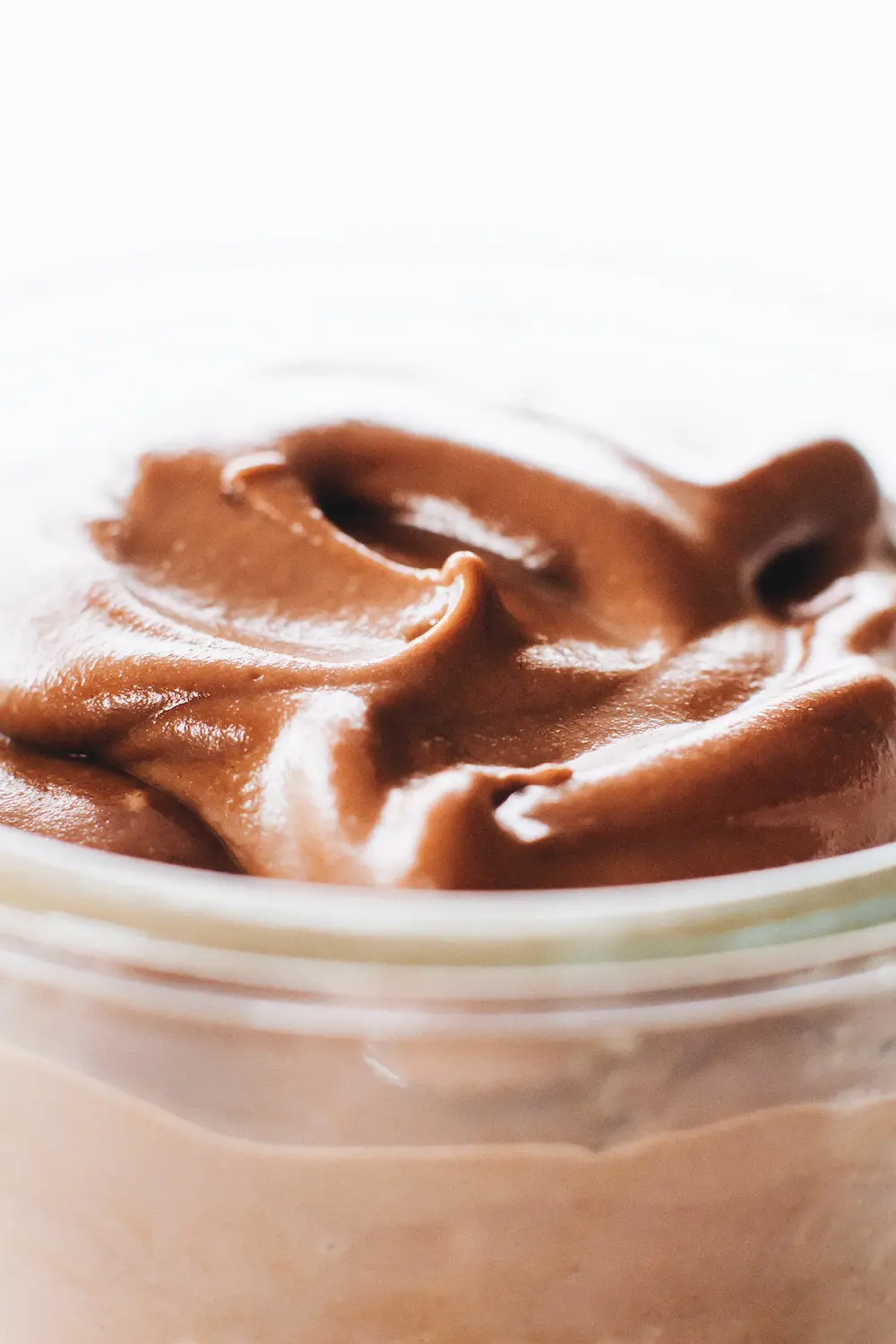 Frosting meet (cooled!) cake. This is a good moment…
Chocolate shavings meet frosting. This is an even better moment…
But the BEST moment is the first bite moment. As your fork finds it's way around those fragments of dark chocolate, through that thick layer of cashew-y cocoa heaven (a.k.a. frosting) on top, and sinks into a couple fluffy inches of seriously GOOD chocolate cake.
You need to experience this moment for yourself.
Print
Vegan Chocolate Cake
Prep Time: 20
Cook Time: 35
Total Time: 55 minutes
Yield: 12 pieces 1x
Category: dessert
Method: baking
Cuisine: american
---
Description
Moist fluffy cake, the creamiest frosting, party-perfect dessert decadence on a fork – this Gluten-Free Vegan Chocolate Cake is NOT messing around!
---
Cake
2 cups(240g) oat flour*
1 cup (80g) cacao powder
3/4 cup (90g) tapioca starch**
1 tsp baking powder
1/2 tsp baking soda
1/2 tsp salt
1 1/2 cup (360g) almond milk
1/2 cup (130g) almond butter
3/4 cup (105g) coconut sugar
1 1/2 cup (360g) applesauce
1 tbsp apple cider vinegar
1 tsp vanilla extract
1 tsp coffee extract (optional)
Frosting
1 1/2 cup (180g) raw cashews soaked overnight
1/4 cup (80g) maple syrup
1/4 cup (20g) cacao powder
1/4 cup(50g) coconut oil***
1 tsp vanilla extract
1/2 tsp salt
---
Instructions
For the cake:
Preheat the oven to 350F.
Combine the oat flour, cocoa powder, tapioca starch, baking powder, baking soda, and salt. Sift or whisk until no lumps remain.
In a blender combine the almond butter, coconut sugar, applesauce, non-dairy milk, apple cider vinegar, vanilla extract, and coffee extract.
Add the wet ingredients to the dry and stir to combine. Don't over mix.
Pour into a 9-inch cake pan (round or square).
Bake for 30-35 minutes at 350F or until a toothpick inserted into the center comes out clean.
Remove from the oven and cool completely.
For the frosting:
Comine all the ingredients in a high speed blender.
Blend on high until smooth, using the tamper and/or stopping to scrape down the sides as necessary. Try not to add extra liquid, but you can add 1-2 tbsp nondairy milk if necessary.
Refrigerate until firm and spreadable (at least 2 hours).
Once the cake is cool, frost, top with chocolate shavings, and enjoy!
It's best fresh, but you can keep leftovers in an airtight container in the fridge for up to a week.
---
Notes
*Store-bought or make your own by grinding oats (rolled, quick, or steel cut) in a high speed blender until fine.
**You can substitute with arrowroot or cornstarch.
***You can use non-dairy milk instead, but it won't be as creamy or set the same way.
Looking for a fruit-sweetened chocolate cake? Try THIS recipe.
---
Nutrition
Serving Size: 1 piece (with frosting)
Calories: 389
Sugar: 20
Fat: 20
Carbohydrates: 50
Fiber: 6
Protein: 9
Keywords: chocolate, birthday, cake, vegan, gluten-free, oil-free
SaveSaveSaveSaveSaveSaveSaveSaveSaveSave
SaveSave
SaveSave
SaveSave
SaveSave
SaveSave
SaveSave
1
Grind oat flour from rolled oats
2
Whisk oat flour, cocoa powder, tapioca flour, baking soda, and salt
3
Blend almond milk, almond butter, coconut sugar, applesauce, vinegar, vanilla
4
Bake for 30-35 minutes at 350F
5
Blend frosting ingredients and frost cooled cake