I don't eat packaged bars often, but when I do it's a Larabar. Larabars have the shortest ingredient list all those wrapped-up rectangles that fall into the category of 'energy bars', so they are my bar of choice if I'm going to have a store-bought bar. But homemade copycat Larabars are my true bar of choice if I have 5 minutes, a food processor, and a lot of dates.
If the Banana Bread Larabar and the Peanut Butter Cookie Larabar were to have a baby, it would be these Banana Peanut Butter Copycat Larabars. And since they're homemade I can do a little customizing to make them Feasting on Fruit style, which means no nuts + more fruit + cinnamon!
Print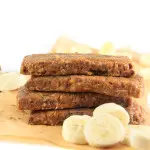 Banana Peanut Butter Copycat Larabars
Prep Time: 10 minutes
Total Time: 10 minutes
Yield: 5 bars 1x
---
1 cup pitted medjool dates
1 cup dried bananas (unsweetened and unsulfured if possible, I used these)
3 tbsps powdered peanut butter
1/2 tsp cinnamon
---
Instructions
Combine all the ingredients in a food processor.
Process until it forms a ball.
Press into a 9×4″ loaf pan lined with wax or parchment paper.
Refrigerate for at least 4 hours.
Remove for the pan and slice into bars.
Keep in the refrigerator.
---