This Peanut Butter Banana Bundt Cake is like banana bread but lighter, filled with nutty peanut flavor and a salted caramel peanut butter glaze on top!
If chocolate found out this was happening, I'd be in trouble. Chocolate with banana – amazing. Chocolate with peanut butter – magical. But just this once let's let banana and peanut butter collaborate on a cake without chocolate getting in the way.
Look, I love a good brownie as much as the next person. But even mini chocolate chips seem to steal the flavor show of whatever you bake them into. And with sweetness from extra ripe bananas, nuttiness from creamy peanut butter, and decadence from the salted caramel peanut glaze on top, we want to keep ALL the flavor for ourselves.

This recipe is like banana bread, but it is not banana bread. Because…
we are blending the bananas instead of mashing for a more consistent texture
the crumb is lighter and softer
the flavor is richer, more dessert than snack (but still can be both, of course!)
it's baked in a bundt pan, not a loaf
SALTED. CARAMEL. GLAZE.
If you can't tell I really love that glaze. Like really really really love.
But I have strong feelings for the cake too. The peanut butter flavor is not subtle…in a very good way. The bananas get even sweeter from baking, and combined with coconut sugar things quite caramel-y. And neither overpowers the other – they just harmonize perfectly!
If you want to add chocolate chips I won't stop you (who would do such a thing?), but I urge you to try at least the first batch without. I think you'll find banana and peanut butter to have some serious solo game of their own.
Happy bundt baking to you!
WATCH HOW TO
Print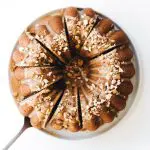 Peanut Butter Banana Bundt Cake
Author:
Prep Time: 00:15
Cook Time: 00:45
Total Time: 1 hour
Yield: 12 slices 1x
Category: cakes
Method: baking
Cuisine: american
---
Description
This Peanut Butter Banana Bundt Cake is like banana bread but lighter, filled with nutty peanut flavor and a salted caramel peanut butter glaze on top!
---
Cake
3 medium bananas (250g)*
2 flax eggs (2 tbsp ground flax + 4 tbsp water)
1/2 cup (70g) coconut sugar
1/2 cup (125g) peanut butter
1 cup (240g) nondairy milk
2 cups (250g) oat flour
1 1/2 cups (165g) almond flour
1 tbsp baking powder
1 tsp cinnamon
1/2 tsp salt
Peanut Butter Glaze
1/4 cup (60g) peanut butter
1/4 cup (40g) maple syrup
1/4 cup (50g) coconut oil, melted
1/2 tsp salt
1 tsp vanilla extract
---
Instructions
Preheat the oven to 350ºF.
Prepare flax eggs and set aside to gel for 5-10 minutes.
Mash or blend the bananas.
Mix together the banana, flax eggs, coconut sugar, peanut butter, and nondairy milk.
In a separate bowl, combine the oat flour, almond flour, baking powder, cinnamon, and salt. Whisk to eliminate any clumps.
Add the wet ingredients to the dry, and mix to form a batter.
Pour into a bundt pan** (mine was 10 cup but 8-cup would be fine too) that has been generously sprayed with nonstick spray.
Bake for 40-45 minutes at 350ºF.
Remove from the oven. Cool for 10 minutes. Flip onto a cooling rack to cool completely.
Whisk together the glaze ingredients until smooth. If it's too thick, microwave for 5-10 seconds.
Spoon glaze onto cooled cake, and sprinkle with chopped roasted peanuts.
Enjoy! Keep leftovers covered in the refrigerator for up to a week.
---
Notes
*About 1 cup after mashing. You can either mash with a fork, or blend to a puree if you don't want any chunks.
**If you don't have a bundt pan, cupcakes/muffins would be the best alternative. They will bake for slightly less time (about 30-35 minutes). You could try baking it in a regular cake pan, but I don't recommend a loaf pan for this recipe.
---
Nutrition
Serving Size: 1 slice
Calories: 283
Sugar: 13g
Fat: 14g
Saturated Fat: 2g
Carbohydrates: 32g
Fiber: 4g
Protein: 8g
Keywords: vegan, gluten free, banana, cake, bread, dessert, glaze, caramel, snack, healthy
CLICK BELOW TO PIN