Monkey bread and brownie collide in this sticky sweet loaf of Chocolate Monkey Bread without sugar or grains for a healthier-than-it-looks fudgy dessert feast!
If monkey's could bake they would be all over this recipe.
But alas, the no ovens in the jungle issue. I'm not even sure monkeys like chocolate, but I do know that humans do. And fudgy finger-sticky desserts. And decadent treats you'd never guess are sweetened with dates. And extra chocolate chips thrown in just because. Or at least this human does, and I'm pretty sure I'm not alone.
Once upon a time I made a little mug of monkey bread…
Wait. Let's rewind this story time a little further. Once upon a time before the aforementioned time I tasted monkey bread. Cue obsession and asking my mom to make it for me weekly and devouring so many little sticky balls of cinnamon dough because it is the most magical stuff. If you've never had it before, its basically pull-apart bread made up of soft spheres of sweet dough held together with gloriously gooey caramelized sugar and cinnamon. Words can barely do it justice, but trust me it's amazeBALLS.
Typically there is nothing gluten-free about it and not a stick of butter spared, but with the help of my fave fruit I made this healthy single-serve version a while back. While absolutely delicious, I've been plotting both a full-size and a chocolate version ever since. The full-size cinnamon version still hasn't happened yet, but don't mind me while I zip straight on by to the chocolatey take.
In coming up with this version, I did more than just multiply and chocolate-ify. I also swapped oat flour for almond and changed up the ratio of flour to starch for a couple of reasons…
1) I have been eating mostly grain-free lately in my own life and wanted this monkey bread to match.
2) Almond flour makes everything extra moist and for an oil-free recipe like this that's important. Oil-free batters – easy. Oil-free doughs thick enough to roll into balls that won't be dry as a dessert post-baking – trickier. Much trickier.
Almond flour + tapioca starch. Almond flour is awesome for moisture and grainless-ness, but when it comes to texture and binding it requires some assistance. As I recently learned from these muffins, tapioca starch is the perfect thing to pair with it. The tapioca starch is what holds the balls of dough together and acts as the gluten-like glue. Too much can turn things gummy, but just enough creates the perfect doughy texture without messing up the crumb.
Medjool dates. This recipe is completely date-sweetened from the dough to the gooey chocolate in between. Well except the chocolate chips, but those are optional anyways. Medjool dates blended with non-dairy milk make up the base of this blender dough, and dates + water + cacao powder is all that's in the fudgy coating.
Baking pan. Monkey bread is traditionally baked in a ring or bundt pan, but I do not own one. Plus they tend to be humongous and you would need practically an entire date farm of your own just to make enough batter to fill it. Instead I used a loaf pan and it worked perfectly. One that is slightly on the smaller side (8×4 inches) is best so you can get two full layers of dough balls, but any will work.
Monkey mound making. Typically monkey bread is made by rolling the balls of dough in cinnamon sugar, layering them into the pan, and then pouring the caramel mixture over top. But since we're working with a refined sugar-free fruity fudge mixture we have to adapt the process. To evenly coat all the dough, it works best to roll each ball in the chocolate before layering them in the pan.
So it will go a little something like roll → dunk→ coat → pan → try not to lick fingers between every dough ball. And then sprinkle with chocolate chips if you know what's good for ya.
Then just pop it in the oven for 40, and prepare yourself for the fudgy pan of lumpy chocolate joy you are about to be treated to!
Ready to tap into your inner chocolate-obsessed messy melty monkey side?
Print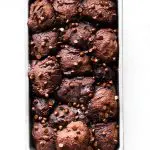 Chocolate Monkey Bread
Prep Time: 20 minutes
Cook Time: 40 minutes
Total Time: 60 minutes
Yield: 8 people 1x
Category: dessert
Method: baking
Cuisine: american
---
Description
Monkey bread and brownie collide in this sticky sweet loaf of Chocolate Monkey Bread without sugar or grains for a healthier-than-it-looks fudgy dessert feast!
---
Dough
1 cup medjool dates ((about 12))
2/3 cup non-dairy milk
1 1/2 cup almond flour
1 1/4 cup tapioca starch
1/3 cup cacao powder ((or cocoa powder))
2 tsps baking powder
1 tsp baking soda
2 tsp apple cider vinegar ((or lemon juice))
Pinch of sea salt
Chocolate Coating
8 medjool dates
1/4 cup cacao powder ((or cocoa powder))
2/3 cup water
Optional: 1/4 cup chocolate chips
---
Instructions
Preheat the oven to 350F.
In a blender, combine the dates and non-dairy milk. Blend until smooth.
Add the rest of the ingredients for the dough. Blend until thoroughly combined stopping to scrape down the sides as necessary.
Roll into small balls (1″ diameter or so).
Rinse the blender. Blend the ingredients for the coating until smooth.
Dip each ball of dough into the coating mixture and use a spoon to cover with a thin layer. Transfer to a loaf pan that has been lined with parchment paper or lightly greased.
Sprinkle the chocolate chips on top.
Bake for approximately 40 minutes at 350F.
Remove from the oven. Cool for at least 15 minutes. Spoon out or pull apart to serve. Enjoy!
Keywords: baking, chocolate, paleo, vegan, dessert
Pin It
SaveSaveSaveSaveSaveSaveSaveSaveSaveSaveSaveSaveSaveSaveSaveSaveSaveSaveSaveSaveSaveSave
SaveSave