A truly MAGICAL gooey nutty chocolate treat – chocolate cookie crust, peanut butter on top, lots of chocolate chips, and NO sweetened condensed milk!

All this time magic cookie bars have gotten away with calling themselves magic while containing zero peanut butter. It's disgraceful.
I fully own up to being a part of the problem, but these Chocolate PEANUT BUTTER Magic Bars and I are here to make things right. Because gooey peanut butter bars crammed with chocolate chips sitting atop a chunky brownie(ish) crust are the ultimate peace offering. Always. Can you think of any situations to the contrary…? Nope, me neither.
As already yum as that title sounds, there is extra between-the-lines yum that makes this scenario even better. Because I don't make my magic bars with sweetened condensed milk, I make them with bananas. Sounds very non-interchangeable I know, but trust me it works here. And you know what else WORKS? Chocolate plus peanut butter plus banana – yep, the whole yummy fam is together again.
The crust. Let's talk about this NOT un-chunky chocolate crust. I tested two versions: 1) with coconut flour (let's not talk about it) 2) with oat flour (ahh, much better). I think coconut flour is confused on the difference between desert and dessert.
The oat crust is thick and chewy and chocolatey. FYI it's less thick if you eat a lot of the dough while mixing (why tradeoffs, whyyyyyy?). And it's made with just four simple in-your-pantry ingredients.
But here's the thing. We've made enough magic bar variations at this point that you have options:
Oat flour crust. The version pictured in this post. Peanut butter flavor included.
Almond flour crust. Very rich and buttery. No peanut flavor. Like this but chocolate.
Date nut crust. No flour and fruit-sweetened. Like this but with peanuts and chocolate.
Coconut flour crust. No.
My favorite is the almond flour one…surprise, surprise. Almond flour why must you be so good for everything except my budget? I included details for how to make each in the recipe notes.
Once the crust is done and pressed and waiting, the rest is easy.
The PB magic. You will need ripe bananas. And peanut butter. And chocolate chips. And peanuts. And WHAT IS WITH THE WINTER BANANA RIPENING RATE?
It takes practically a full day per brown speckle-y spot. What do they think we are, patient or something? So you should buy them right now today otherwise you won't be making these until 2019.
Into the blender goes those (finally) ripe bananas along with peanut butter and a generous pinch of salt if your PB is unsalted. Same goes for the crust – just salt this whole situation up because both chocolate and peanut butter are MUCH better that way. Have you ever looked at the sodium content on a Reese's cup? Me either, hang on…okay it's actually not that high. Wait…did I just discover a potential area for improvement in America's favorite candy? *insert astonished face emoji*
Anyways! Bananas > peanut butter > blend it up. You can use powdered peanut butter here, I tested it. But I think we both know which will be dessert-ier. But I cannot vouch for what will happen if you use frozen bananas instead of fresh
Pour that peanut butter banana "soup" mixture on top of the crust BEFORE sprinkling on the chocolate chips and chopped peanuts. And if the chopped peanuts somehow MAGICally turned into more chocolate chips (or chocolate chunks, yassss!) it would not be a bad day.
Peanut free? If you don't do peanuts, replace all the peanut butter with almond butter and all the chopped peanuts with chopped almonds. Or any nut/nut butter. Chocolate Peanut Almond Butter Magic Bars comin atcha! Forget I even mentioned peanuts (34 times), and enjoy my peanut free friend.
While I did include some lower fat options and fruit-sweetening ideas for ya too, this isn't a breakfast bar. This is a dessert bar. A magic dessert bar. So I say be generous with your chocolate chip scattering, plop in the real deal peanut butter, and just cherish them in all their indulgently gooey PB&C glory.
Print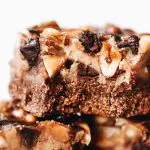 Chocolate Peanut Butter Magic Bars
Prep Time:

15 minutes

Cook Time:

40 minutes

Total Time:

55 minutes

Yield:

6

bars

1

x

Category:

dessert

Method:

baking

Cuisine:

american
---
Description
A truly MAGICAL gooey nutty chocolate treat – chocolate cookie crust, peanut butter on top, lots of chocolate chips, and NO sweetened condensed milk!
---
Crust (see notes for grain/sugar free options)
2/3 cup

(

80g

) oat flour

1/3 cup

(

35g

) cacao powder

1/3 cup

(

90g

) peanut butter (or any nut/seed butter)

1/4 cup

(

90g

) maple syrup

3

–

4

tbsp water
Peanut Butter Layer
3

large bananas (

325g

)

1/4 cup

(

65g

) peanut butter (can sub powdered peanut butter

25g

)

1/2 cup

(

60g

) chopped peanuts

3/4 cup

(

120g

) chocolate chips
---
Instructions
Preheat the oven to 350F.
For the crust, combine all the ingredients in a bowl and mix. If it's too dry/crumbly (depends on how thick/runny your nut butter is) add water slowly until you have a sticky dough.
Press into a glass baking dish or loaf pan lined with parchment paper. Set aside.
In a blender, combine the bananas and peanut butter (or powdered peanut butter). Blend until smooth.
Pour on top of the crust.
Sprinkle the chocolate chips and chopped peanuts on top. Press them in until fully submerged.
Bake for approximately 40 minutes at 350F.
Remove from the oven and cool, then refrigerate overnight.
The following day, slice into squares and enjoy! Keep leftovers in the fridge.
---
Notes
For a grain-free crust: Mix together 1 1/4 cup almond flour (150g) + 1/4 cup cacao powder (25g) + 2-3 tbsp maple syrup For a date-sweetened crust: Combine in a blender of food processor 1 1/2 cup peanuts (180g) + 8 pitted medjool dates (150g) + 1/4 cup cacao powder (25g)
Keywords: dessert, chocolate, easy, vegan, gluten-free, peanut butter
CLICK BELOW TO PIN
SaveSave
SaveSave
SaveSave
SaveSave
SaveSave