Crunchy triple seed granola without refined sugar or oil – made with medjool dates, almond butter, oats, cinnamon, and a mix of hemp, pumpkin, and flax seeds!

---
The number of times I've told people that title is not possible. That dates won't work for granola. That you need a syrup or sugar to avoid creating mush-nola. That using an odd number of seeds is bad luck. But I have to tell you – you my lovely blog commenters, Instagram messagers, diehard date-sweeteners, crunchy granola-loving readers – I was wrong.
And THANK GOODNESS.
Sometimes even when logic/facts/past experience tell me something won't work, I still have to try it anyways. Like carrying 27 bags of groceries from my car to my apartment. Or tossing my socks into the washer from half a room away. Or sharing a pint of ice cream. Or leaving for the yoga class that starts in 7 minutes when the studio is 10 minutes away. Deep down I am still that six year old who had to touch the pot on the stove for myself to find out it was really hot. Because every once in a while the sock does make it in, and that 2% chance keeps me trying all the other times.
Maybe you relate to this stubborn, irrational optimism. But relate or not, it is why this granola came to be. I know you can't make date paste without water. I know water is not a good ingredient for granola. But I tried anyways. And with some bake time/temperature tweaking, and the grace of the granola gods on my side…IT WORKED. It actually really deliciously worked. Never give up on your dreams, kids.
This recipe is sweetened with only medjool dates. And this recipes is oil-free. But this recipe is not the quickest granola recipe ever. There is nothing 5-minutes-set-it-and-forget-it about this recipe. Add an extra 40 to that and some stirring TLC though, and you will have the scrumptious, clustery, refined sugar-free granola of your smoothie bowl topping dreams.
For this granola, you're gonna need:
Medjool dates. Obviously. And obviously I am using the sweet and always squishy-fresh ones from Natural Delights, my favorite. They do need to be fairly soft for this recipe, so soak if necessary.
Water. Because dates aren't going to turn into paste all by themselves.
Almond butter. Or any nut/seed butter, but this is very necessary for crunch factor. I tested with both 1/4 cup and 1/2 cup and both are crunchy, but of course more = yummier.
Vanilla, cinnamon, and salt.
Rolled oats. You could try it with quinoa flakes too if oats aren't your jam. Haven't tried it, just an idea.
Seeds. I used a mix of hemp, pumpkin, and flax seeds. You could switch it up with chia seeds or sesame seeds or sunflower seeds. Nuts are a-okay too.
Blend. Mix. Spread. Bake. Stir. Bake. Stir. Bake. Stir. EAT!
What kind of granola eater are you: Snack dry by the handful? In a bowl with berries, milk, spoon, the whole cereal setup? On top of yogurt? On top of smoothie bowls? On top of froyo (hi, hello, YUM!) Other…?
I'd love to know. And lemme know what you think of this date-sweetened version too, either below or on Instagram.
So I stand corrected – date sweetened granola is in fact very possible. But I know you forgive me because granola people are good-hearted people ♥
Print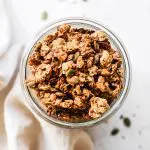 Date-Sweetened 3 Seed Granola
Prep Time: 10 minutes
Cook Time: 45 minutes
Total Time: 55 minutes
Category: snack
Method: baking
Cuisine: american
---
Description
Crunchy triple seed granola without refined sugar or oil – made with medjool dates, almond butter, oats, cinnamon, and a mix of hemp, pumpkin, and flax seeds!
---
10–12 pitted (200g) medjool dates (*)
1/2 cup (110g) water
1/4–1/2 cup (65-130g) almond butter (**)
1 tsp cinnamon
1 tsp vanilla extract
1/8 tsp salt
2 1/2 cups (250g) rolled oats
1/2 cup (65g) hemp seeds
1/2 cup (75g) pumpkin seeds
1/2 cup (65g) flax seeds
---
Instructions
Preheat the oven to 300F.
In a high speed blender, combine the medjool dates, water, almond butter, cinnamon, vanilla, and salt.
Blend until smooth and thick. If it's a little chunky that's okay, but do not add more water.
In a large mixing bowl, combine the oats and seeds.
Add the date mixture to the dry ingredients, and mix until evenly coated.
Line 2 baking pans with parchment paper. Spread out the granola evenly between the pans.
Bake for 20 minutes at 300F. Stir moving the outside bits to the inside and vice versa.
Bake for another 20-25 minutes checking and stirring every 10 minutes so the edges don't burn. It should be golden and dry/crisp when done.
Remove from the oven and cool for at least 15 minutes. It will get crispier as it cools.
Store in an airtight container or jar.
---
Notes
*They should be quite squishy/soft, if not soak them for 30 minutes first. **More is yummier, but it will be crunchy and delicious either way! You can sub any nut/seed butter.
Keywords: snack, breakfast, vegan, gluten-free, oat, sugar free
CLICK BELOW TO PIN
Thank you Natural Delights for sponsoring this post!
SaveSave
SaveSaveSaveSave
SaveSave
SaveSave
SaveSave
SaveSave
SaveSave
SaveSaveSaveSave
SaveSave
SaveSave
SaveSave