Crispy edges, chewy oat center, perfect sweet-spice balance–whip up a batch of these Chunky Oatmeal Vegan Gingersnap Cookies for snacking or holiday sharing!
And here I go contributing to the out-of-control Christmas cookie population problem I was just talking about. But the edges were so crispy and the center so chewy and the spice-sweet balance so perfect, I couldn't help it! And next week when I may or may not post yet another cookie recipe I promise I'll come with another semi-believable excuse.
Okay so maybe I did just get a little too caught up in the cookie-obsessed Christmas spirit. But since these cookies happened it would be rude of me not to share, don't you agree?
There have been ginger things. There have been cookie things. But I just couldn't let the month go by without putting the two together into one sweet-spiced splendid cookie bite! These Chunky Oatmeal Gingersnap Cookies are like the cute, nubbly cousin to last year's roll out gingerbread cookies. Nowhere near as Christmas elegant, but perfect for holiday nibbling nonetheless. And somehow using actual oats instead of oat flour makes them feel borderline breakfast appropriate, so that's a bonus.
The difference between gingerbread cookies vs. gingersnaps seems to be a slight and uncertain thing. I always thought a gingersnap was supposed to be thin and very crispy while a gingerbread cookie had more of a soft center and chewy texture. But google "gingersnaps" and you will see the word "chewy" mixed into many of the recipe titles. Chewy and simultaneously snappy?? Those things seem mutually cookie exclusive to me.
In my gingersnap research, there was mention of soft inside with crispy edges. There was mention of a cakey cookies and crispy cookies and chewy cookies and crunchy cookies (and why are there so many C words to describe cookies?) One website even said "either soft & chewy or crisp & crunchy". Make up your mind cookies!
Another mystery–is it gingersnaps or a gingersnap cookies? Is the word cookie necessary or implied? So many questions…
One thing that is not even the least bit controversial about gingersnap cookies is that they need spice and lots of it! Mostly ginger, but some cinnamon and cloves too. For these gingersnap cookies, I used both fresh and ground ginger. So that means these are technically gingergingersnap cookies. But most importantly it means they are deliciously spiced and so very flavorful!
I still can't tell you definitively what the texture of a gingersnap is supposed to be, but I can tell you all about the chunky-meets-chewy texture that is going on in these cookies. Chunky crusty edges, soft center–yep, I'm playing it safe with a little bit of both textural sides.
Based on my Oil-Free Crispy Oatmeal Raisin Cookies, these cookies also get their crispy oatmeal edges from maple syrup instead of oil. Agave would work as well or even date or coconut syrup, but maple syrup tends to crystallize the best and the flavor mixes perfectly with all that spice.
I used quick oats instead of the classic rolled, just for something different. Rolled will work too, just be sure not to use oat flour or they will be chewy, cake-like cookies. When you are spooning the batter onto the cookie sheet it will seem very crumbly and not-dough like, almost like you are making granola. Just be sure to firmly press it into a ball, flatten if you like, and I promise it will bake together into a sturdy scrumptious cookie!
Print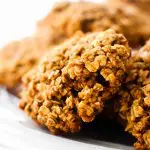 Chunky Oatmeal Gingersnap Cookies
Prep Time:

15 minutes

Cook Time:

15 minutes

Total Time:

30 minutes

Yield:

16

cookies

1

x
---
Description
Crispy edges, chewy oat center, perfect sweet-spice balance–whip up a batch of these vegan gluten-free Chunky Oatmeal Gingersnap Cookies for snacking or holiday sharing!
---
1 ½ cup

quick or rolled oats

¼ cup

oat flour

1 tsp

cinnamon

½ tsp

ginger

1 tbsp

fresh ginger (grated)

¼ tsp

cloves

1 tsp

vanilla extract

½ tsp

baking powder

½ cup

maple syrup

2 tbsp

molasses
---
Instructions
Preheat the oven to 350F.
Combine all the dry ingredients and spices in a large mixing bowl. Stir to combine.
Add the vanilla, molasses, and maple syrup. Mix well.
Spoon one tablespoon of batter at a time onto a baking pan lined with parchment paper. Press each firmly into a mound and flatten slightly into a cookie shape. Continue until all the batter is used up, you will likely need two pans.
Bake for 15 mins at 350F.
Let them cool for at least 10 minutes before removing from the pan and eating.
They will keep in an airtight container in the fridge for up to a week.
---
Click To Pin
SaveSave