Oatmeal raisin cookies are one of those foods that blurs the line between breakfast and dessert. The oats are telling my mind breakfast. The sweetness says dessert. It's too close too call, we'll have to eat Oil-Free Oatmeal Raisin Cookies all day long!
Have you ever put cornflakes in your oatmeal cookies? I know they are supposed to be OATmeal cookies, but cookies are more exciting with flakes in on the fun. The textural mishmash of the oats and the cornflakes, it's good stuff I tell you. Plus it just fits with the breakfast theme.
Cornflake oatmeal cookies have been a thing in my house since forever. I love the extra level of crunch they add. I used One Degree Organic's Ancient Maize Flakes in these cookies because that is my favorite flake cereal. I love all the cereals One Degree Organic makes (don't even get me started on the cacao crisps <3) because they are non-GMO and organic and sweetened with coconut sugar and vegan and sprouted and just amazing! But of course any cornflakes or really any flake cereal will work fine.
This is the first cookie recipe I've posted around here that is not soft like a pillow. Nope these have those crispy corners that cookie dreams are made of. No oil needed though, not in a world where maple syrup exists. This oil-free crispification method is kind of a spin off on my Maple Mulberry Brittle. If we can make breakable brittle then we can easily make crispy cookies.
And if you are one of those people who despises raisins in cookies for always tricking you into thinking they are chocolate chips then just skip the confusion and actually substitute chocolate chips. This crispy oatmeal cookie base doesn't care what you mix in!
>>> Click Below To Pin <<<
Print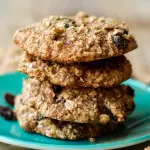 Oil-Free Crispy Oatmeal Raisin Cookies (Vegan + GF)
Prep Time:

10 minutes

Cook Time:

15 minutes

Total Time:

25 minutes
---
1 cup

rolled oats

1 cup

cornflakes * (I used One Degree Organic's Ancient Maize Flakes)

1/4 cup

oat flour

1/2 tsp

baking powder

1 tsp

cinnamon

1/2 cup

maple syrup

1/4 cup

raisins
---
Instructions
Preheat the oven to 350F.
Combine everything except for the raisins in a food processor. Process till well combined.
Stir in the raisins.
Line a baking sheet with parchment paper. Drop the batter onto the pan 1 tablespoon at a time. Do not crowd them as they will spread while baking.
Bake for 15 mins at 350F.
Let them cool for about 10 minutes before removing from the pan and enjoying!
Keep in the fridge for up to 5 days.
---
Notes
*You can use any flake cereal here, or even something like brown rice crisps. Or you can substitute the cereal with more rolled oats, about 1/2 cup.
Sweet raisins, spiced cookie, crispy edges--the perfect oil-free #vegan oatmeal cookie!
Click To Tweet