I end most every night on something sweet. What that something is varies. Sometimes it's homemade, sometimes it's store-bought, usually it's chocolatey–I go through phases. But lately it's been Banana Choc Breakfast Bars from Marfigs Munchies Chocolate Riot ebook.
See here and here and here and there were a bunch of other batches that didn't get their picture taken.
I know they are technically breakfast bars, but dessert and breakfast are always swapping places in my world. Ice cream for breakfast and breakfast bars for dessert–that's why I love healthy fruit-based foods.
To be honest, my love for these bars has reached obsession level. Like eat the whole batch in two days obsession level. But hey it's mostly just fruit and oats and cacao, so I have no problem with that. Well there was that one time I ate them all in one day…not recommended unless you really space it out.
Anyways, these bars are the bomb! I love the chewy base paired with the creamy cold top. So I experimented with that same basic concept but different flavors, and came up with these Cinnamon Streusel Ice Cream Bars.
The basic ingredients are quite similar, with just a few tweaks because it's not in my nature to leave well enough alone. What's really different is the non-chocolate flavor profile. Instead there is a lot of cinnamon and a lot of crumbly sweet streusel (my favorite part), making these a divine dessert. Or breakfast, cinnamon has plenty of health benefits after all!
Print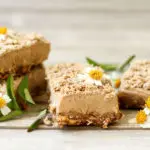 Cinnamon Streusel Ice Cream Bars
Prep Time: 30 minutes
Cook Time: 300 minutes
Total Time: 330 minutes
---
Base
1/2 cup rolled oats
1/2 cup flax meal
12 pitted medjool dates
1/2 tsp cinnamon
1/4 tsp ground ginger
1 cup brown rice crisp cereal
2–3 tbsps non-dairy milk
Ice Cream Layer
2 bananas (frozen or not)
1/2 tsp cinnamon
1 tbsp cashew butter or almond butter (optional but highly recommended)
2/3 cup non-dairy milk
4 pitted medjool dates
Streusel
2/3 cup oat flour
2 tbsps maple syrup
1/4 tsp cinnamon
---
Instructions
Base: Combine everything in a blender or food processor.
Process until you have a cohesive sticky dough.
Press into a 8×8″ pan lined with plastic wrap. Set aside.
Filling: Combine everything in a blender. Blend till smooth.
Pour on top of the base.
Freeze for 1 hour.
Streusel: Combine all the ingredients in a mixing bowl. Mix with a fork until you have crumbly pebble-sized pieces. Adjust the amount of flour or maple syrup if needed.
After the bars have been in the freezer for 1 hour, take them out and sprinkle on the streusel. Letting the bars freeze for an hour first prevents the streusel from getting soggy.
Freeze for an additional 4 hours.
Remove from the freezer 10 minutes before slicing and eating. Keep in the freezer.
---
Cinnamon Streusel Ice Cream Bars! Chewy base, chilly cinnamon center, sweet sprinkles of streusel...
Click To Tweet
SaveSave