So there's a funny story behind the pictures that go along with this recipe…
You see those lovely little blueberries in the pictures? Those barely made it to the shot. I had a handful of blueberries remaining after making the bars, and it happened to be lunch time for my dog. Her lunch usually consists of a cooked starch, lentils, vegetables, and fruit (yes, she is spoiled). To make some space in the fridge and get my puppy some antioxidants, I threw in the last handful of blueberries.
While she started munching, I started setting up to take pictures. That's when it hit me: I just gave away the last of the blueberries, and I needed some for these pictures. So, I barged in on her munching, pushed her out of her bowl, picked all the blueberries back out, and washed them off. She was a little thrown, but the blueberries were perfectly usable. Moral of the story: anything goes to get the perfect shot.
Print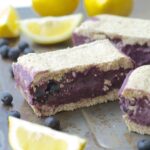 Lemon Blueberry Ice Cream Bars
---
LEMON COOKIE

3 cups

rolled oats

1/2 cup

coconut nectar

2

tbsps lemon juice

1 tsp

lemon zest

1/4 tsp

salt
BLUEBERRY ICE CREAM

2

frozen bananas

3/4 cup

frozen blueberries

1/2 cup

fresh blueberries
---
Instructions
FOR THE COOKIE: Grind the oats in a food processor.
Add the coconut nectar, lemon juice, lemon zest, and salt.
Process until the dough forms a ball. If it is too dry, add a little water.
Press half of the dough into a loaf pan lined with plastic wrap. Flip that cookie layer out onto a plate, and press the other half of the dough into the lined loaf pan.
FOR THE ICE CREAM: Blend the bananas and frozen blueberries together until creamy.
In a bowl, stir in the fresh blueberries.
Spread the ice cream into the pan on top of one cookie layer. Lay the other cookie layer on top.
Freeze for at least 4 hours before cutting into 4 bars.
---