The yummiest Cookie Dough Protein Bars made with hemp seeds, cashews, and flax seeds for 12 grams of whole food protein per bar! Vegan, gluten-free, paleo.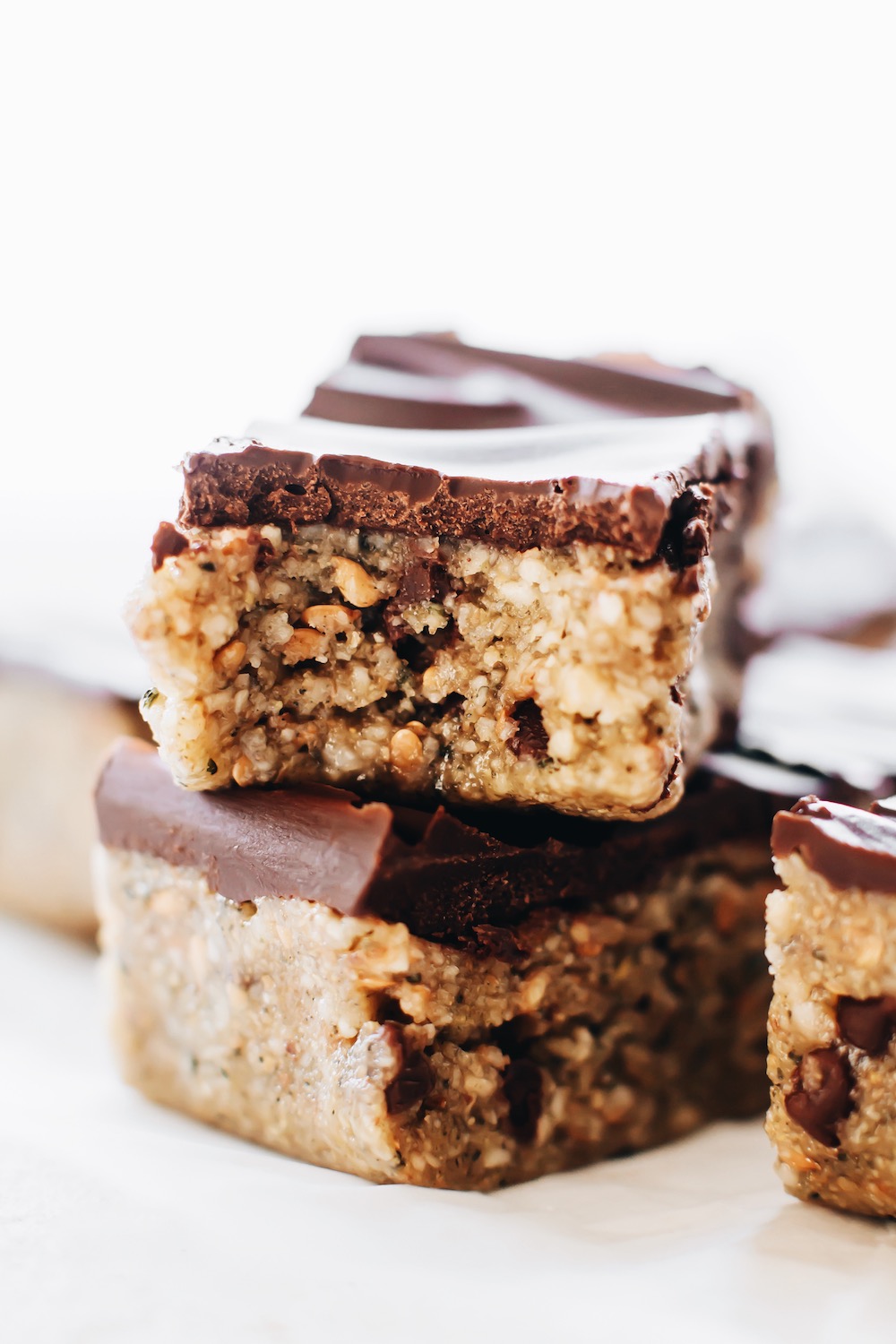 But without protein powder. Just the cookie and the dough and the bar and some naturally, nutritiously, protein-rich good stuff inside. Oh and ALL of the mini chocolate chips, obviously.
So I don't like making decisions (who does?). And lately having to pick which flour to use in baking has me like: Urghhhhh why aren't there 12 of me and 27 hours in a day so I can test them all? But there is only 1 and 24, so instead I did what any reasonable person would do when self-multiplication isn't possible – make the best damn no-bake Cookie Dough Protein Bars with ZERO kinds of flour involved.
These beautiful bars contain just seven ingredients. I tried to add an eighth, but nope. The bars refused to be anything except as EASY as possible.
So here's what's happening:
DIY "flour" mixture. Even though this recipes stops at the dough, we have to at least pretend we are making real life cookies. Instead of flour we are grinding up a mix of cashews, hemps seeds, and flax seeds. For all those substitution questions currently auto-populating in your head, keep reading.
Add the flavor stuff. Vanilla extract, salt, and maple syrup. You could even add a little cinnamon if you like.
Mix in mini chocolate chips. Or full-size chocolate chips. Or chocolate chunks. All are a-okay, but I like the minis.
Pour on more chocolate. It's basically like we replaced the baking with a slathering of melted chocolate. A good trade I think, yes?
Into the fridge or freezer. And wait. And then check 2 minutes later. And then wait some more. And then check 5 minutes later. And then admit you are not a patient person. And then 10 minutes later decided they are chilled enough and slice those bars already.
I know the goal here was simple without a zillion different options, buuuuuuuut I'm including a few anyways. Instead of…
cashews – almonds, macadamia nuts, even peanuts. I can't think of a nut that wouldn't be okay really, but cashews do taste the most cookie dough-y. Or oats. I tested them with rolled oats, and while less buttery it works.
flax seeds – you can use chia seeds or simply more hemp seeds is fine too. I added them for seedy variety and a little binding power, but not essential.
chocolate chips – cacao nibs if you wanted a refined sugar free option. And with homemade chocolate like THIS on top.
maple syrup – any liquid sweetener (honey, agave, etc.) I haven't tested it with date paste, but if you want a date sweetened cookie dough try THIS recipe instead.
You'll notice I didn't include a sub for the hemp seeds, because those are what take these from cookie dough bars to cookie dough PROTEIN bars. Hemp seeds are naturally high in protein and other good stuff like iron. So I don't recommend skipping them. They do add a slightly hemp-y flavor, which personally I very much enjoy.
Fun fact. Each bar has 12 grams of protein from only whole food sources. Thanks hemp seeds!
More fun fact. I installed a little nutrition widget thingy below the recipe since so many of you have been asking me to include those stats for about forever now. I hear ya! Just took me a little while. But all recipes going forward will have that info included.
Funnest fact of them all. They taste AMAZING.
Print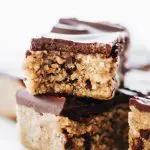 Cookie Dough Protein Bars
Prep Time: 10 minutes
Total Time: 10 minutes
Yield: 8 bars 1x
Category: snack
Method: no bake
Cuisine: american
---
Description
The yummiest Cookie Dough Protein Bars made with hemp seeds, cashews, and flax seeds for 13 grams of whole food protein per bar! Vegan, gluten-free, paleo.
---
1 1/2 cup (180g) cashews (*)
1 cup (160g) hemp seeds
1/4 cup (35g) flax seeds
1/4 cup (80g) maple syrup
1 tsp vanilla extract
1/4 tsp sea salt ((skip if your cashews are salted))
1 cup (180g) chocolate chips
---
Instructions
In a high speed blender, grind the cashews, hemp seeds, and flax seeds to a fine flour consistency.
Transer to a mixing bowl and add the maple syrup, vanilla, and salt. Mix to form a dough.
Add 1/3 cup (60g) chocolate chips and mix.
Press the dough into a pan lined with parchment paper. Chill.
Melt the remaining 2/3 cup (120g) chocolate chips.
Pour on top of the bars and spread to cover.
Chill until the chocolate is set. I recommend chilling for at least 4 hours for firm, easy to cut bars.
Enjoy! Keep leftovers in the fridge for up to a week.
---
Notes
*You can substitute other kinds of nuts, or 1 cup (100g) rolled oats.
Keywords: snack, no bake, easy, vegan, gluten-free, paleo, chocolate
[nutrifox id="29626″]
CLICK BELOW TO PIN
SaveSave
SaveSave