This healthy lemonade recipe contains no sugar or artificial sweeteners. All it takes is fruit juice to make this summertime sip delicious and sweet!
If you think about it, the phrase "When life gives you lemons, make lemonade" is a bit close minded.
You could make lemon bars or lemon poppyseed muffins or lemon sherbet or lemon cake or lemon meringues even! Lemonade is not the only option.
Perhaps it was just written knowing that if we are having a sour day we are not likely to put much effort into making anything extravagant. Lemonade does wins for simplicity. So I guess it's good that philosophical proverbs take laziness into account.
And another potential issue is what if life gives you lemons but no water with those lemons? Maybe you're in a dessert. Or no sugar? What are you supposed to do now, make disgusting lemonade that would just make your day worse?
Despite all the holes I just poked in that phrase, I really do agree with the meaning. Optimism is most important when it is the hardest to muster.
Life didn't give me lemons in the metaphorical sense, but I am making lemonade today. In fact no one gave me lemons. I had to buy them. "When you buy lemons from the grocery store, make lemonade"…nope doesn't sound nearly as profound.
The Sweetness in this Healthy Lemonade Recipe
Don't worry, I didn't put dates in the lemonade. (How hideous would that color be??) I know that's what "fruit-sweetened" usually means around here, but this sunshine-colored sip is sweetened with a much juicier form of fruit: white grape juice!
White grape juice is one of the most neutral flavors of juice, and it's quite sweet. It's often concentrated and used to sweeten packaged things for just that reason. Replacing much of the water in your standard lemonade recipe with white grape juice makes for the perfect sweet tangy taste and not even a hint of grape. No sugar necessary.
I used a 2:1 ratio of white grape juice to water in this healthy lemonade recipe, but you can adjust the sweetness level quite easily by adding more or less grape juice. Just make sure you keep the liquid total at 3 cups per 1/2 cup of lemon juice. Did that just get way too confusing and math-y? I hope it makes sense.
The next best juice options if you can't find white grape juice would be pineapple and apple. Those will both have a more pronounced flavor, but still taste good.
Giveaway
The clever little lemon cover you see above and in the video is from a really fun and quirky little website called Catching Fireflies. They have lots of creative gifts, inspirational home decor, and clever kitchen gadgets.
So when your homemade lemonade ends up using the juice of exactly 3 and 1/2 lemons this little stretchy reusable food saver can take care of the other half. It's also really helpful if you drink lemon water in the mornings and only use half a lemon to protect the other half from fridge funk till the next day.
They have tons of other fun kitchen things that caught my eye like magic soap to get the scent of onion and garlic off your hands, an oil-free microwave popcorn maker, a clip on dip holder for your hummus or guac, and this adorable spoon rest. You get the idea–fun stuff!
They were kind enough to do a giveaway for one of my readers, so enter below to win a $48 gift card to the Catching Fireflies online shop! (U.S. only)
Or you can use the discount code FRUIT to get 20% off any purchase from now until June 16.
Fruit-Sweetened Lemonade! No sugar. No artificial sweeteners. Just fruit makes this summertime sip healthy and sweet
Click To Tweet
Print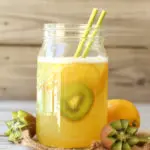 Fruit-Sweetened Lemonade
Prep Time:

5 minutes

Total Time:

5 minutes

Yield:

3

1

x
---
1/2 cup

freshly squeezed lemon juice

2 cups

white grape juice

1 cup

water

1/2 tsp

lemon zest
Pinch of turmeric (optional)
---
Instructions
Blend or shake or stir all the ingredients to combine.
Enjoy! Keep in the refrigerator.
---
>>> Pin It <<<