If Thanksgiving dinner doesn't include pumpkin pie then can we really even call it a celebration?
I'm kidding. Kinda. But I'm also kinda serious. I could eat pumpkin pie as the appetizer, the main dish, and the dessert. And maybe even breakfast the morning of. And with this Fruit-Sweetened Pumpkin Pie I don't really see a problem with that!
The whole reason I set out on the sugar-free pie-making mission was to create a pumpkin pie that I would have no qualms about polishing off in one sitting. I still love my Banana Pumpkin Pie from last year, but if (when) I ate the entire thing I was consuming more coconut sugar then I should be at one time. However, in this pie there are three different fruits, only seven ingredients total, and no worries about the all natural sugars.
And the taste and texture definitely meet my high pie standards. So if you try it for Thanksgiving (or tomorrow's breakfast), let me know if you agree!
The crust is gluten-free, fruit-sweetened, and fruit-bound. Similar to my Caramel Apple Crumble Pie crust, but with bananas this time.
Crust rolling, flipping, and filling in action…
Print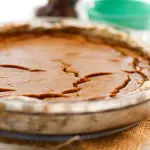 Fruit-Sweetened Pumpkin Pie
Prep Time:

20 minutes

Cook Time:

55 minutes

Total Time:

75 minutes
---
CRUST*

2

ripe bananas refrigerated overnight

1 1/2

–

1 3/4

cup gluten-free flour
FILLING

1

15 oz . can of pumpkin puree

12

–

14

pitted medjool dates

1 cup

non-dairy milk

1 tsp

pumpkin pie spice

1 tbsp

cornstarch
---
Instructions
FOR THE CRUST: In a large bowl, use your hands to "cut in" the cold banana into the flour. Keep kneading and mixing until you have a cohesive ball of dough. If it is still super sticky, you can add a little more flour.
Roll out the crust between two well-floured pieces of wax paper.Peel off one sheet of paper. Dust the surface of the dough with flour to prevent it from sticking to the pie pan.
Flip into a 9 inch pie pan. Set aside.
FOR THE FILLING: Blend all the ingredients on high until smooth.
Pour into the crust.
Bake at 425F for 15 mins.
Reduce the heat to 350F and bake for another 35-40 mins.
Let it cool, then chill for at least 8 hours before serving.
---
Notes
*Since posting this recipe over a year ago, I have come to dislike oat flour for pie crusts as it can make for a very chewy hard texture. I highly recommend using this almond flour crust recipe instead.
SaveSave