The soft fluffy texture of cake and the chocolatey richness of a brownie combine in these delicious and healthy grain-free donuts–not for the faint of chocolate heart!


Banana flour is back.
Do you know why it's it back?
No not because I loooooooooved this cake a lot. Not because it's grain-free. Not because it's made of fruit or has a unique flavor that I am growing to love or is cheaper than most other grain-free flours.
It's back because it makes a wicked chocolate donut. That's why. The other stuff is just icing on the cake (donut).
The texture, the flavor, the moisture, the ability to carry copious amounts of chocolate to your face–these donuts are the whole package.
Every time I set out to make something with banana flour, I open the bag to this powdery, starchy, bitter-smelling stuff and think: Banana flour you are weird.
But by the time I am munching, it's more like: Banana flour you are the best and I don't know why I ever doubted you or why anyone still uses other grain/gluten free flours and I want you in all my baked goods forever and always!
Well except that time I tried to make pancakes with it and they turned out like fruit gushers in bread-y breakfast form. And not in the good way. But these donuts and the current chocolate overload state of my brain has practically obliterated any memory of that incident.
I'll keep keep you updated on the pancake progress, I'm not giving up yet. Because flashback to when I said forever and always–I did mean it, baby.
'Kay so donuts.
I went back and forth on the "brownie" part of that title. They are just a wee bit closer to the fudgy rich brownie side then they are to the light fluffy cake side, so I stand by it though. The texture and crumb is as perfect as any cupcake–not a bit of gummy gooey-ness. But the rich chocolatey flavor is definitely brownie-level intense, and with that chocolate drizzled on top…
These donuts are NOT for the faint of chocolate heart!
You know a minute ago when I mentioned brownie-level fudgy richness? Well that is in large part due to the fact that there is not just cacao powder in these donuts but actual real-life chocolate too. Melted, mixed, and baked right in. With banana flour baking, I find some sort of higher fat ingredient is necessary for moisture since the flour itself is very absorptive and can be drying. But why nut butter when you can double chocolate?
As evidenced by my recent pancake efforts, banana flour can turn things gummy on you if you aren't careful. And annoying as this is going to sound since we all live in different places with different grocery store situations, I think brand has a lot to do with it. I learned that lesson while testing this cake recipe–one brand of banana flour made for a dense bar while the other a fluffy cake. In the same recipe!
So now I just stick with my tried and trusted (and cheaper!) favorite: Green Banana Flour from Let's Do Organic. No they are not paying me. Yes I do truly love this brand (hello all my fave coconut products!)
I sometimes get confused whether to file donuts under breakfast or dessert, but this is without a doubt a dessert donut.
Print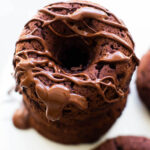 Grain-Free Chocolate Brownie Donuts
Prep Time:

15 minutes

Cook Time:

25 minutes

Total Time:

40 minutes

Yield:

8

donuts

1

x
---
Description
The soft fluffy texture of cake and the chocolatey richness of a brownie combine in these delicious and healthy grain-free donuts–not for the faint of chocolate heart!
---
3/4 cup

green banana flour

1 cup

unsweetened applesauce

1/2 cup

chocolate chips

1/4 cup

cacao powder ((or cocoa powder))

1/4 cup

coconut sugar

1 tsp

baking powder

1 tsp

vanilla extract
Pinch of salt ((optional))
---
Instructions
Preheat the oven to 350F.
In a large mixing bowl, combine the banana flour, coconut sugar, cacao powder, baking powder, and salt. Stir to combine
Melt the chocolate chips.
Add the melted chocolate to the dry ingredients along with the applesauce and vanilla. Mix well.
Grease your donut pan with coconut oil. Spoon the batter into the pan filling each donut to the top. You will get 6-8 full sized donuts.
Bake for approximately 25 minutes at 350F.
Cool for at least 10 minutes before removing from the pan. You can top them with more melted chocolate (as shown) if you wish, but they are so rich they really don't need it.
Enjoy! Keep leftovers in the fridge.
---
Pin It
SaveSave