Crunchy grain-free chocolate granola made with nuts, seeds, molasses, and coconut oil (or nut butter). Easy vegan, gluten-free, and paleo snacking!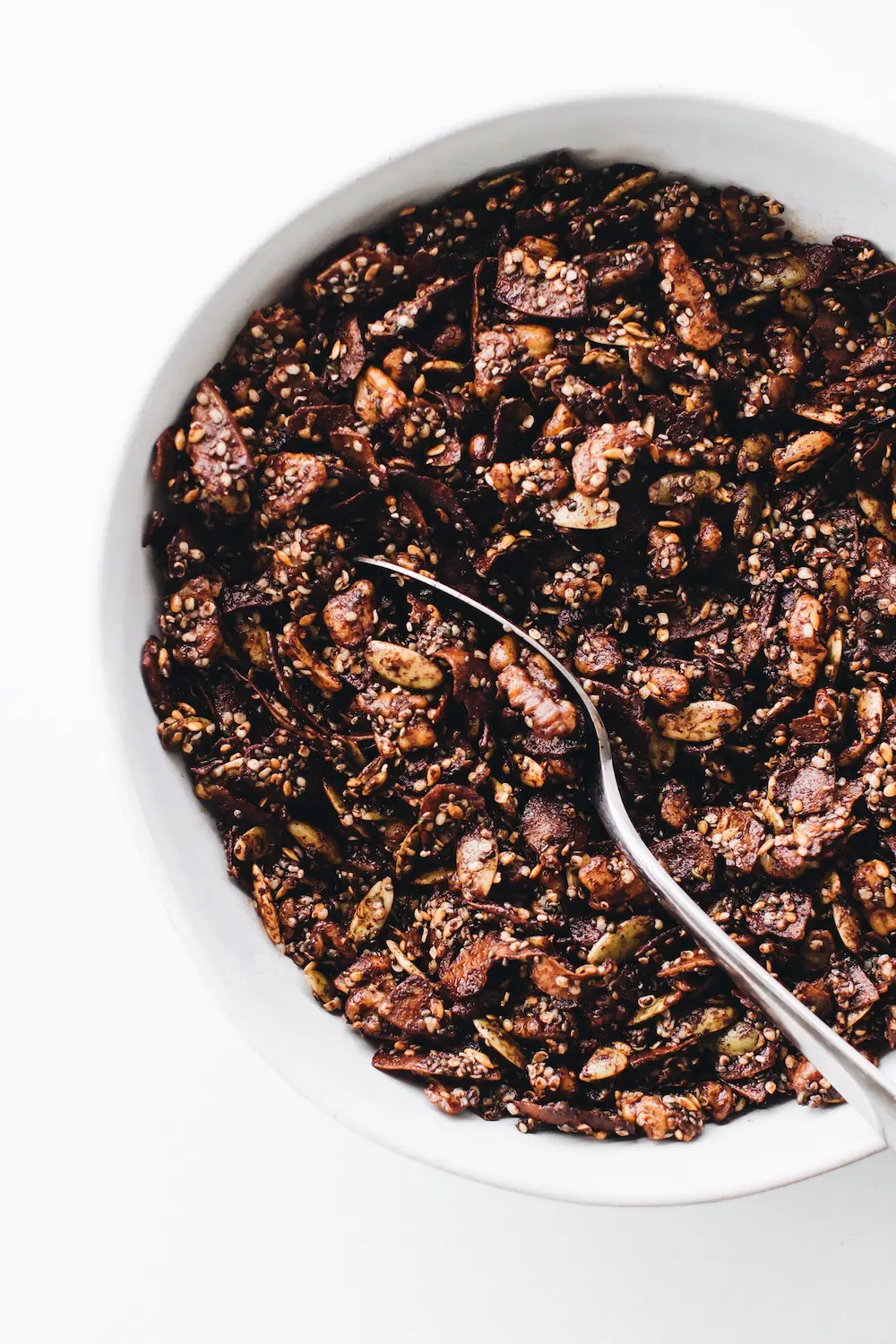 There are friends. And then there are friends who make you chocolate granola.
That second group – keep them close and never let them go.
I was visiting my friend Sonya a couple of weeks ago. She said snack, I of course said YES, and next thing I know this girl is whipping up some sort of chocolatey skillet granola situation. Nothing was measured, there was no shortage of chocolate, and the batch was more than half gone between the two of us. Well after we took photos and debated how best to not make your hand look deformed on camera.
I was craving more for days after, so I had to come up with my own version. Her recipe is really simple and oaty (and comes with a fun make-ya-want-to-dance video!). My take is grain-free with a few more ingredients, but still really easy to make on the stovetop or in the oven.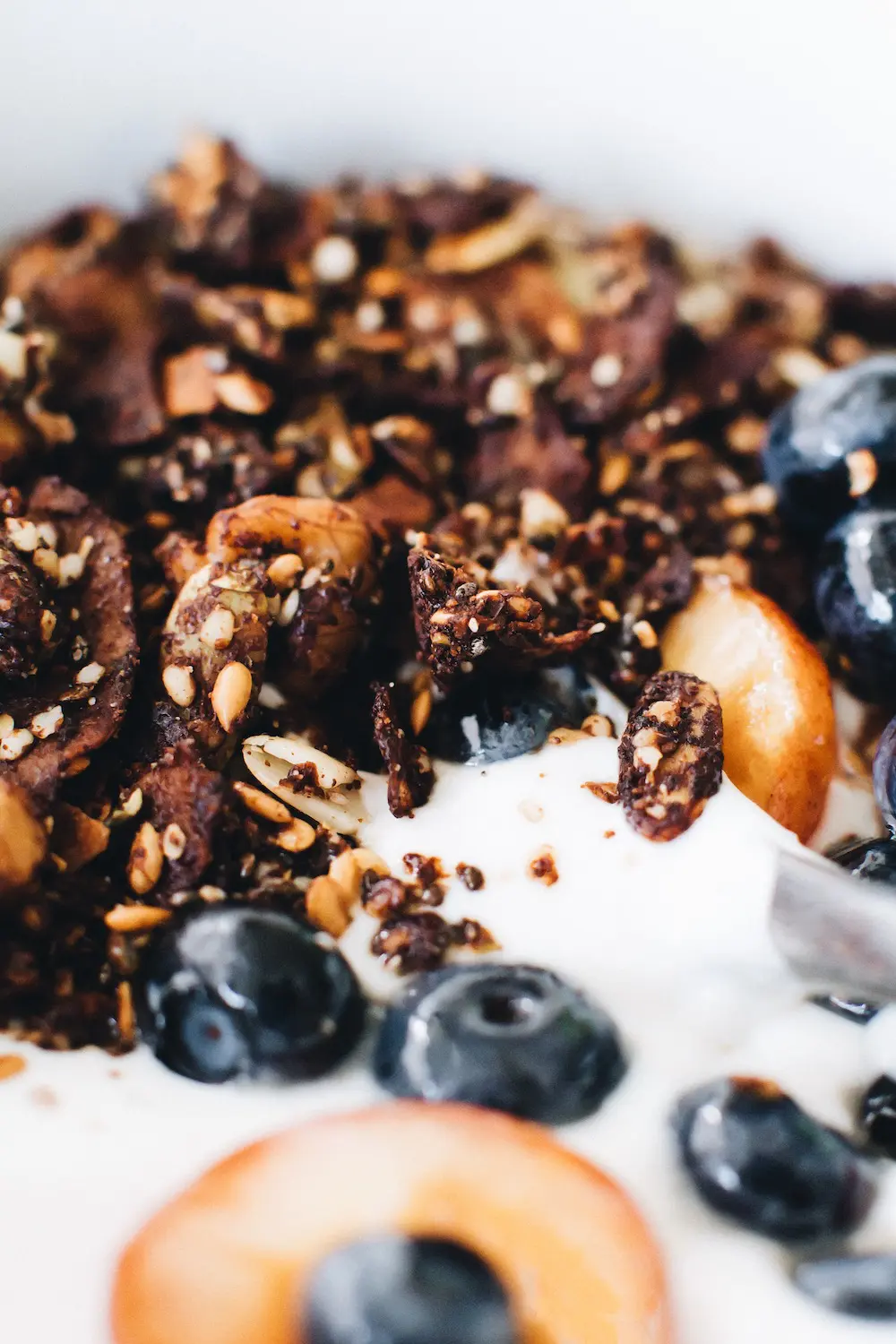 My favorite part? It's sweetened only with molasses.
I know that might sound weird, and if you don't like the flavor of molasses you can use other sweeteners too, but personally I love the richness of molasses with chocolate. And you don't need very much of it either.
Combined with the molasses, you need either coconut oil or a nut/seed butter. The almond butter batch yielded bigger clusters than the coconut oil batch, but needed to bake just a little bit longer.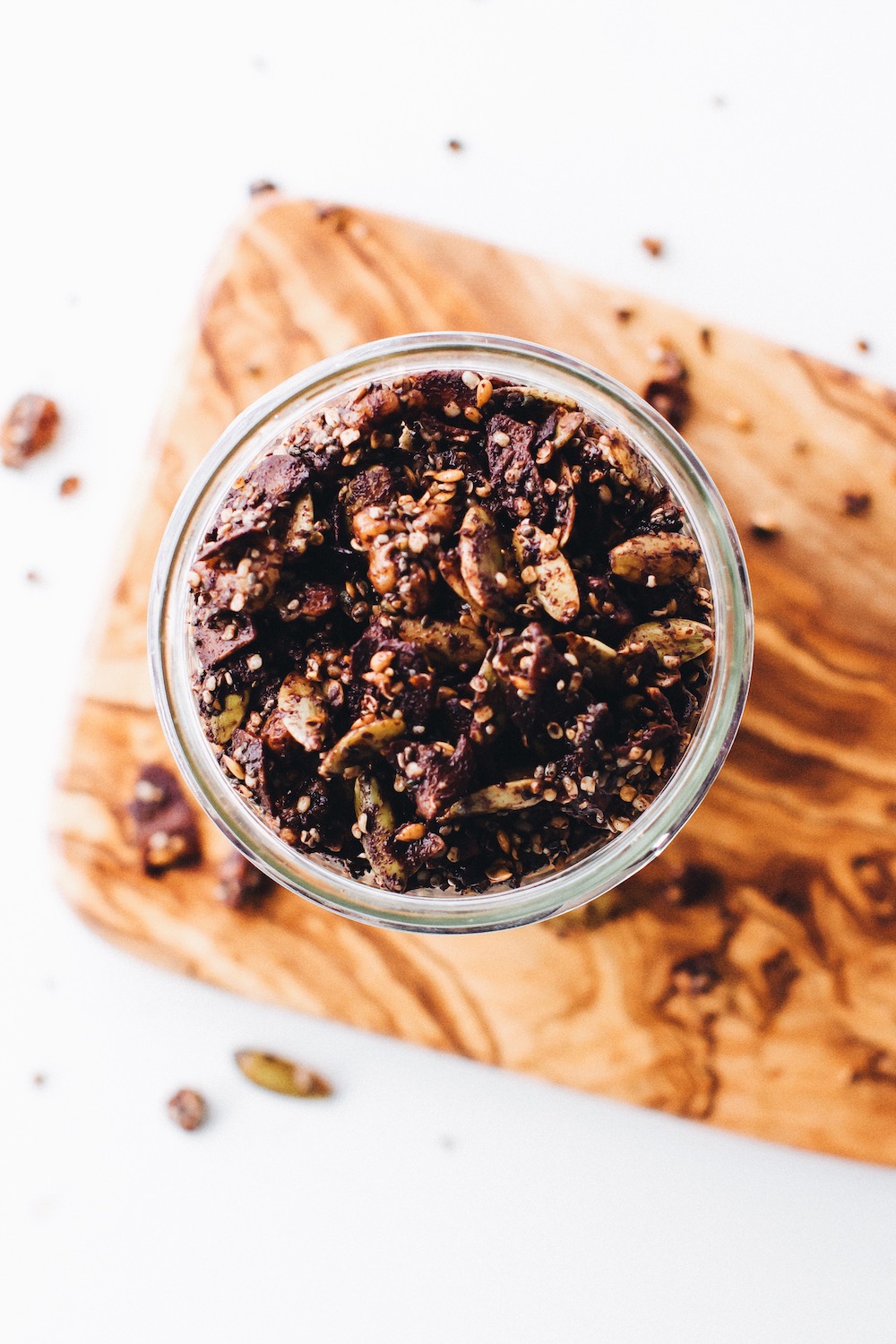 In place of oats, we're using:
walnuts
pumpkin seeds
hemp seeds
flax seeds
chia seeds
coconut flakes
You could use hazelnuts instead of walnuts. Or sunflower seeds instead of pumpkin. Or more flax seeds and less hemp. Mix it up and make it your own, as long as you have the same total volume the details don't matter too much.
And then cocoa powder, vanilla, cinnamon, and salt for flavor. When it comes to granola things, that big pinch of SALT is key.
Oven or stovetop – this recipe works either way. Oven is more hands off, but sometimes in the summer I just don't want to turn that thing on. Both take about the same amount of time and a little bit of watching/stirring either way so it doesn't burn (especially keep an eye on those coconut flakes!)
Yummy on top of bowls.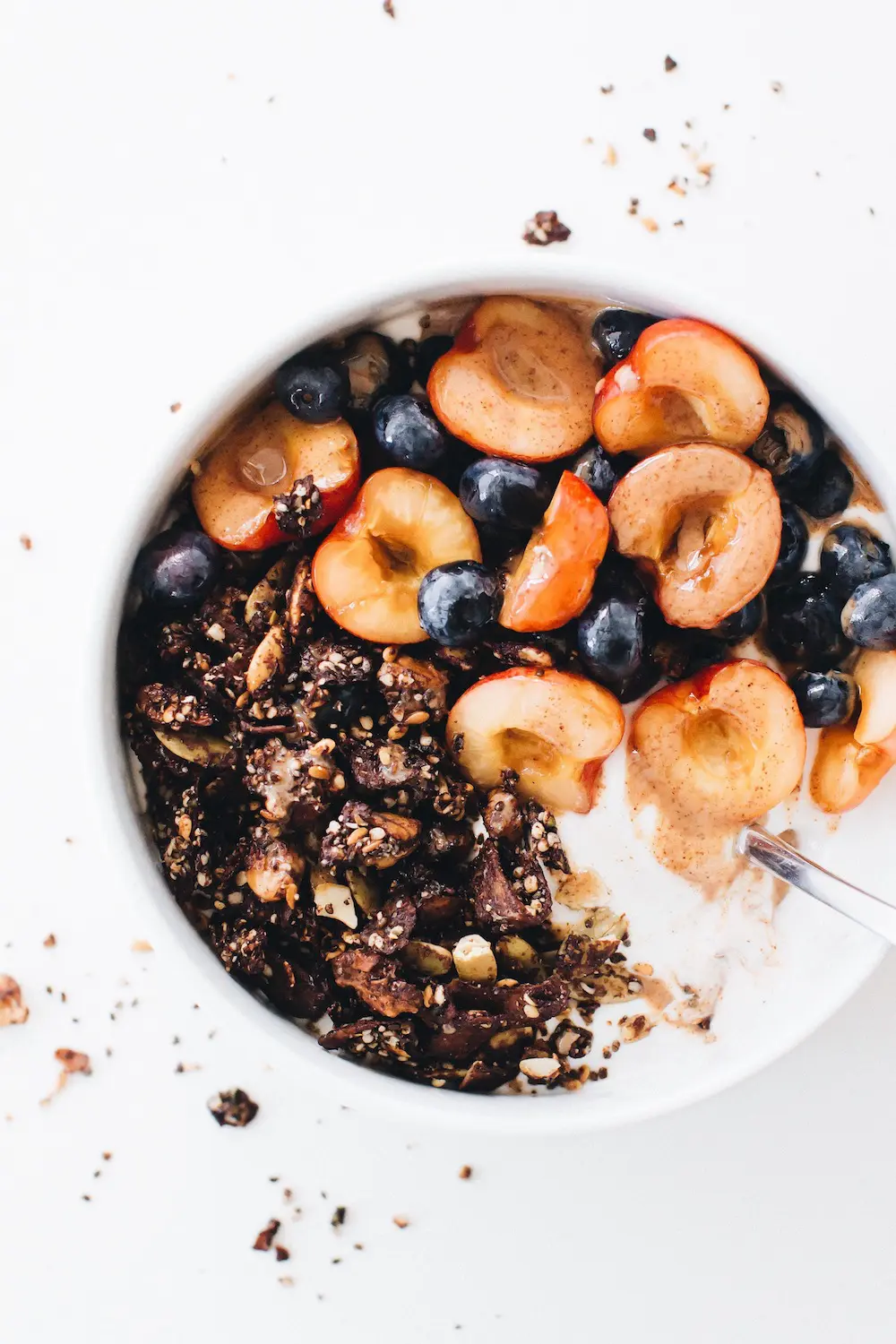 Yummy doused in milk.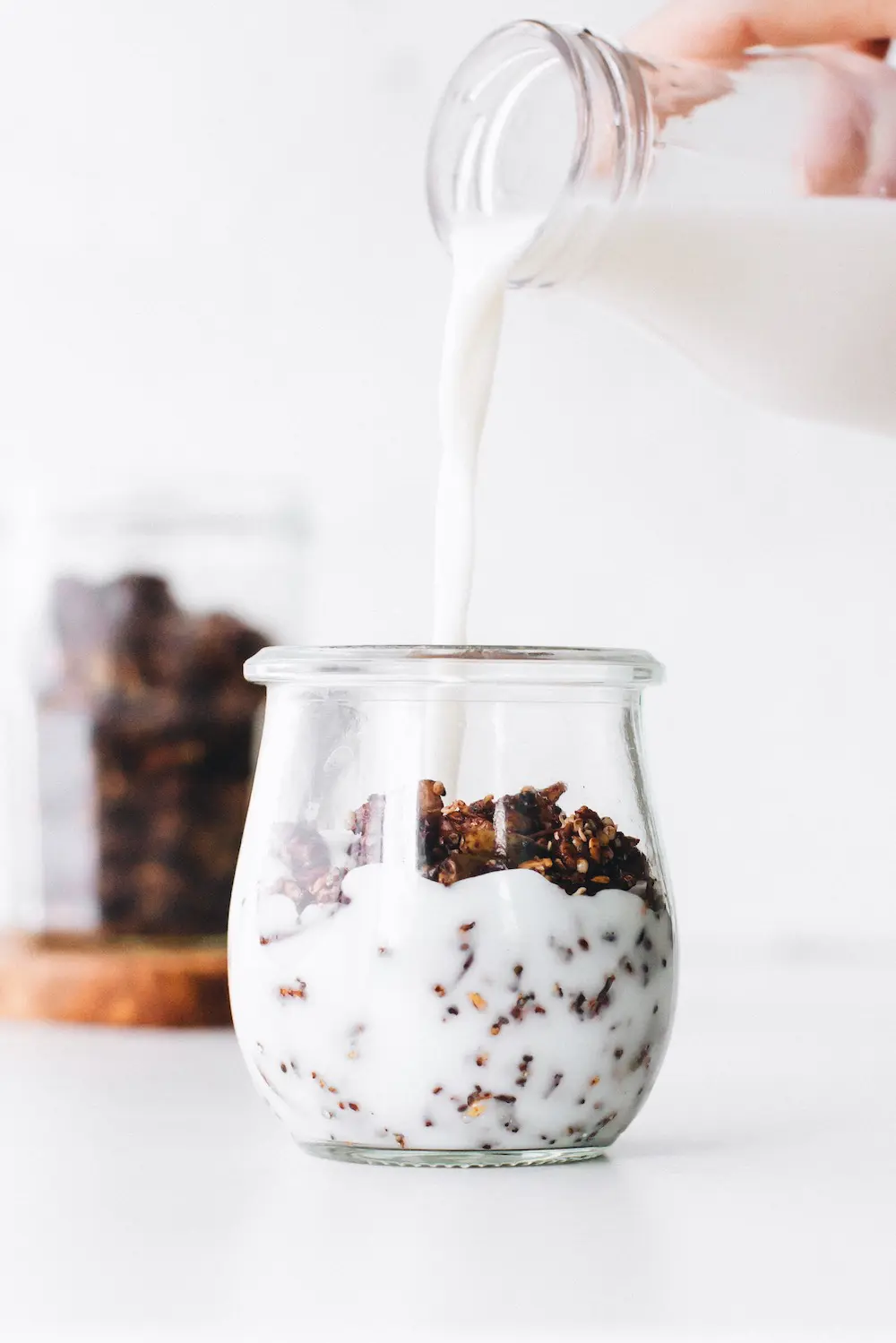 Yummy by the handful straight from the jar/bag/pan.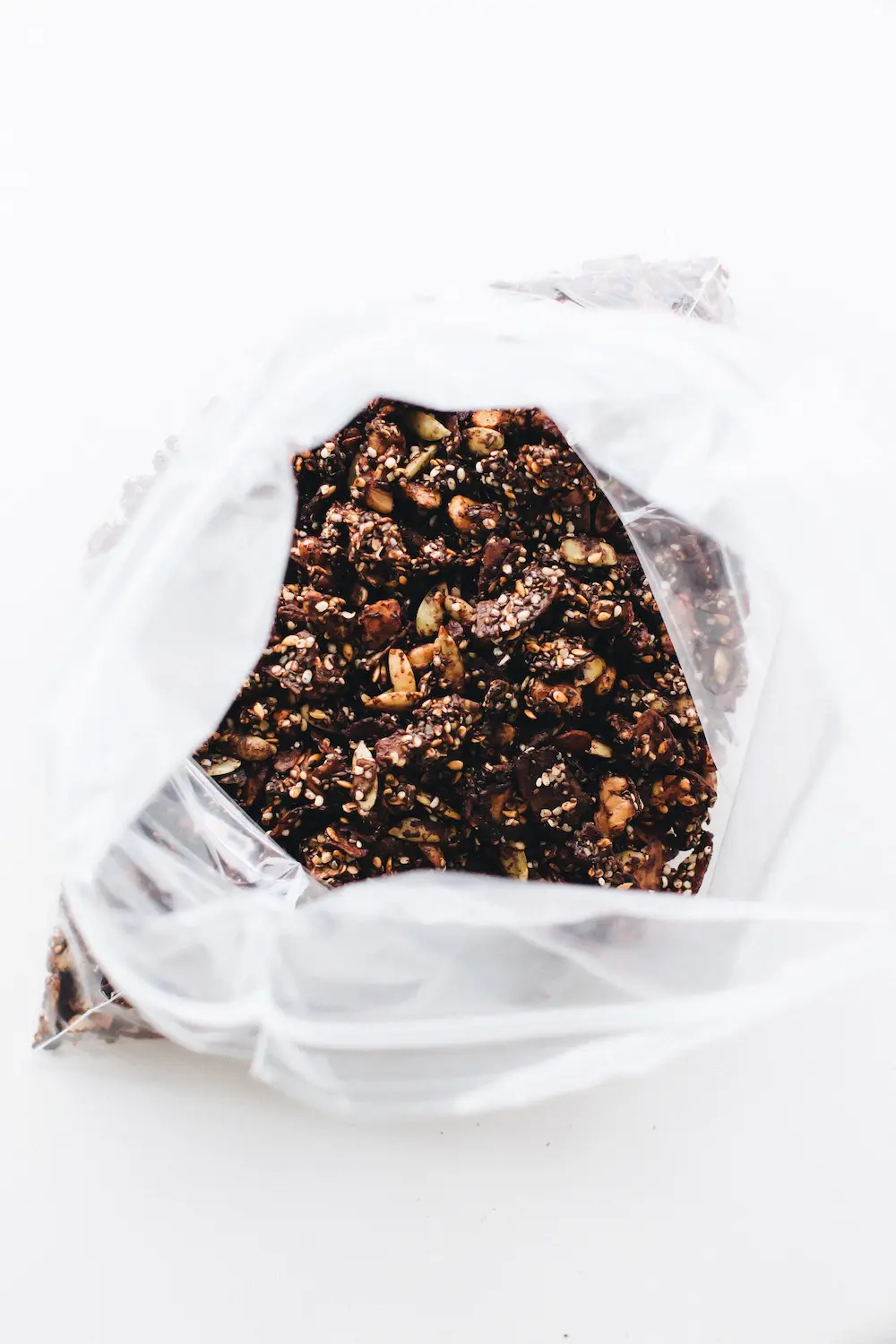 Happy oat-less granola making to you!
Print
Grain-Free Chocolate Granola
Author:
Prep Time: 10 minutes
Cook Time: 15 minutes
Total Time: 25 minutes
Yield: 8 servings 1x
Category: snack
Method: baking
Cuisine: american
---
Description
Crunchy grain-free chocolate granola made with nuts, seeds, molasses, and coconut oil (or nut butter). Easy vegan, gluten-free, and paleo snacking!
---
---
Instructions
Combine the nuts, seeds, and coconut in a large bowl.
Add the salt, cinnamon, vanilla, and cacao powder. Stir to evenly coat.
Add the molasses and coconut oil or nut/seed butter. Mix until evenly coated and clumpy (hands work best, especially if using the nut/seed butter)
Spread out on a baking sheet lined with parchment paper. Bake for 10 minutes at 325F. Stir, then bake for an addition 5-8 minutes watching the edges carefully to avoid burning. For big clusters, cool completely before removing from the pan.
Or cook in a non-stick pan over medium heat for 10-15 minutes stirring frequently. It should look dry when it's done. Cool in the pan or spread out on a plate/pan to allow clusters to form.
Enjoy by the handful, with milk, on top of yogurt/smoothies/ice cream, etc.
Store in an airtight container in the fridge for 1-2 weeks. I like it best chilled!
---
---
Nutrition
Serving Size: 1/2 cup
Calories: 275
Sugar: 9g
Fat: 21g
Saturated Fat: 9g
Carbohydrates: 18g
Fiber: 7g
Protein: 7g
Keywords: gluten-free, paleo, snack, vegan, chocolate, easy
CLICK BELOW TO PIN