A yummy dessert bowl with crunchy chocolate-toasted buckwheat, figs, and a dusting of cocoa from the Nourishing Superfood Bowls cookbook!
Doesn't just the name make you feel instantly more fabulous somehow?
Part smoothie bowl. Part yogurt bowl. Part dessert bowl. Part could be breakfast bowl. All swanky sweet bowl-like-you've-never-had-before bowl. And there is a whole lot more bowl goodness where that came from.
Record for using the word bowl the most times in one paragraph = BROKEN.
Before I get too lost telling you all the details of this classy creation, we need to talk about something very exciting. This book. Seventy-five recipes for bowls of all kinds written and beautifully photographed (seriously I could stare ALL DAY) by the amazing blogger behind Cotter Crunch, Lindsay Cotter. A.k.a. Nourishing Superfood Bowls! I am so grateful to be friends with this super talented lady who is forever enchanting me with her photo lighting and inspiring me with her kitchen creativity.
Not gonna lie I kinda fan-girled her from a distance for a while, before we ever connected. Yeah she's that cool…or I'm that weird.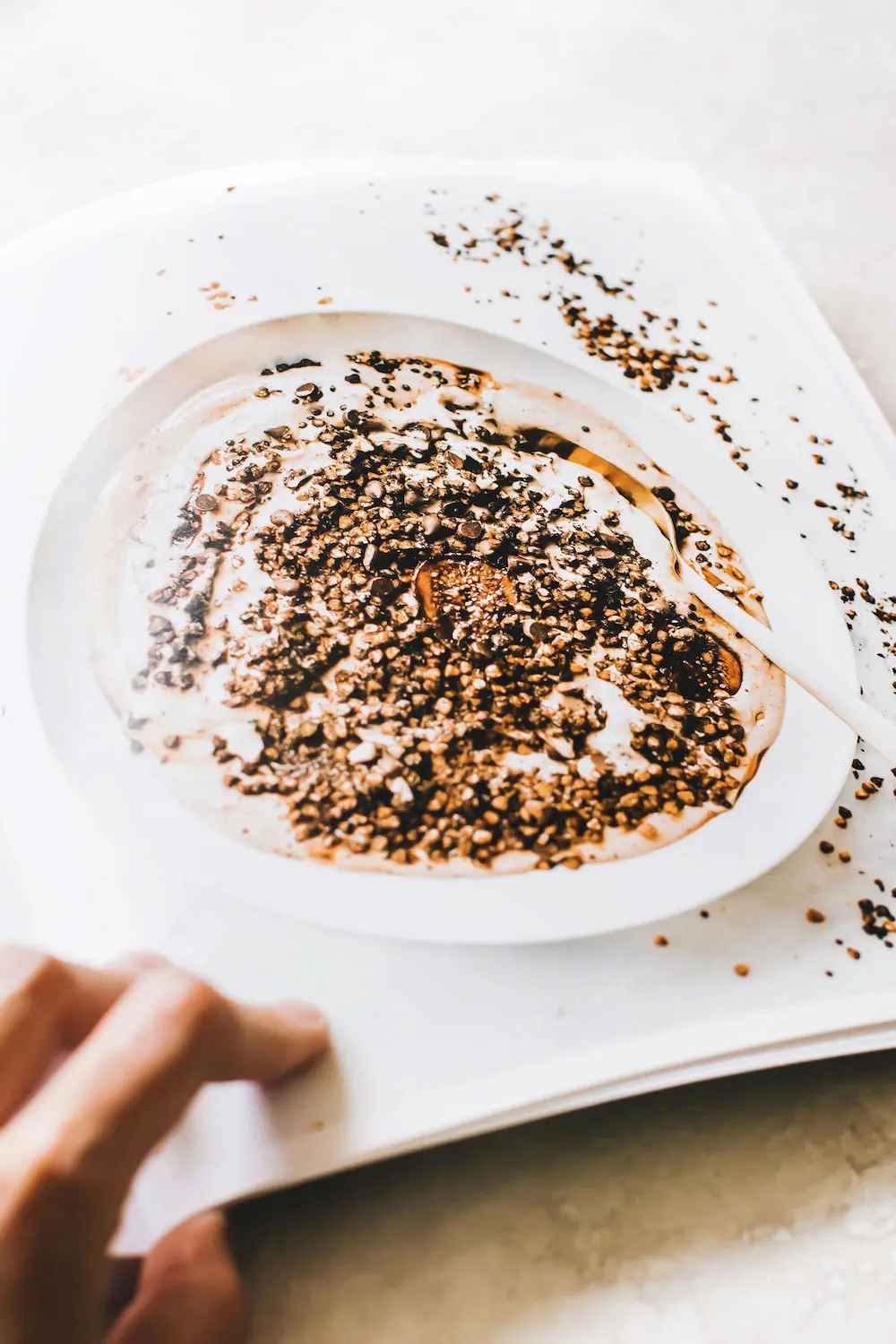 The book is just as enchanting and insanely creative. Every recipe is gluten free, but there's vegan, paleo, grain-free, dairy-free – there are bowls for everybody. While I have spent an especially great amount of time in the breakfast and dessert sections, the in-between is full of any kind of meal bowl you could imagine. And there is an entire section of only plant based bowls, so my vegan friends she has you covered.
Plus there's the superfoods part, with a note at the top of each recipe highlighting the super ingredient(s) in each bowl too. Think: matcha, lentils, berries, sweet potatoes, fermented foods, etc. This is a real foods, vibrant foods, feel good foods, all the enticing foods kinda book.
Narrowing it down to just one to share with you today was tricky. But once I saw figs and chocolate together it was a done deal. Two of my favorite things in crunchy, creamy, fruity dessert form.
Others on my gotta try soon list are:
Creamy Chocolate Streusel Bowls
Mint Almond Matcha Smoothie Bowl
Sticky Mongolian Beef Broccoli Rice Bowls
Loaded Sweet Potato Nacho Salad Bowls
Sticky Date Cake Yogurt Bowls
See, she has me wanting to cook actual savory food even – crazy, right!?
So like I said figs + chocolate. But what I didn't tell you about was the addictively crunchy toasted buckwheat topping that truly makes this bowl. Just 4 ingredients and 5-ish minutes of cooking time, and oh my goodness do you have the most delicious crispy compliment to the creamy bowl base.
Which is also kind of genius. Instead of your typical smoothie or nice cream she used a mix of banana + greek or non-dairy yogurt (HOORAY for options). So it's naturally sweet from the fruit, but with some good probiotic stuff going on too. And if you use a frozen banana like I did the texture is very froyo-esque.
Combine all that with dried figs and a dusting of cocoa…yeah it tastes just as good as you are imagining.
For breakfast, lunch, or dinner. For prepping ahead or a quick snack. For one or a family. For vegan or paleo or gluten-free. For just gawking at stunning photos of crave-worthy bowl food. For any and all of the above, this book is your book.
All the deets and where to snag your own copy HERE.
Print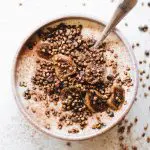 Greek Goddess Cocoa Bowl
Prep Time: 35 minutes
Cook Time: 5 minutes
Total Time: 40 minutes
Yield: 1-2 bowls 1x
---
Description
A yummy dessert bowl with crunchy chocolate-toasted buckwheat, figs, and a dusting of cocoa from the Nourishing Superfood Bowls cookbook!
---
1/2 cup (85g) dried figs, stems removed
1–1 1/2 cups (240-355ml) purified water
1/4–1/3 cup (45-60g) buckwheat groats
2–3 tsps (5-7g) unsweetened cocoa powder
2 tsps (10ml) coconut oil
1 tbsp (12g) coconut sugar or brown sugar
1 medium banana (fresh or frozen)
1 1/4 cups (310g) Greek or nondairy yogurt
Cocoa nibs or dark chocolate chips
Optional: extra cocoa powder
---
Instructions
Preheat the oven to 350F (177C).
Soak the figs in water for 30 minutes to soften. Soaking will expand the figs and create a smoother texture for the dessert bowls. Discard the water after soaking. Slice the soaked figs and set aside.
In a small bowl, combine the buckwheat groats with the cocoa powder, coconut oil, and sugar, mixing well. Spread the coated buckwheat groats on a cookie sheet and toast for 5-6 minutes. Remove from the oven and set aside.
In a blender, combine the banana and yogurt, blending well. For an extra-thick consistency, use a frozen banana (I did!)
Pour the banana and yogurt mixture into a serving bowl and top with the cocoa crispy toasted buckwheat and sliced figs. Top with the cocoa nibs or dark chocolate chips. Feel free to add a bit of dark cocoa powder for dusting, if desired.
---
CLICK BELOW TO PIN
SaveSave
SaveSave
SaveSave
SaveSave
SaveSave
SaveSave
SaveSave
SaveSave
SaveSaveSaveSave