I was hesitant to use the word "muffin" in the title of todays post, so to clarify there are no muffins thrown into the blender while making this smoothie. Let me give you a little backstory…
I pitched this idea to my sister and her response was…
My sister: What makes it a muffin smoothie?
Me: Nothing, it just looks like lemon poppy seed, which is usually in the form of a muffin.
My sister: I think you should add something to make it taste like a muffin. What's in muffins that make them taste muffiny?
Me: Sugar, flour, oil, baking powder…nothing that I want in my smoothie…maybe I'll just call it lemon poppy seed smoothie.
But then I recently tried coconut sugar for the first time (I know I'm a bit behind on these alternative sweeteners), and it made me think of bran muffins. Don't ask how a simple, one-ingredient sweetener can embody an entire bran muffin for me, but it did.
So back to the smoothie. I thought I would sweeten it with a bit of coconut sugar and then proudly declare it a "muffin" smoothie. If you are adverse to coconut sugar or just don't have any on hand, then feel free to use whatever sweetener you like, but you may want to start with less since agave and maple syrup are much sweeter than coconut sugar. You'll definitely need something to balance the tartness of the lemons.
I'm using chia seeds to mimic the black-spotted appearance of poppy seeds in this recipe. I love the thickness that they add, especially if you let the smoothie sit for a few minutes before drinking.
Print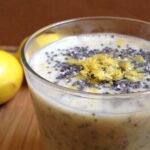 Lemon "Poppy Seed" Muffin Smoothie
Prep Time: 5 minutes
Total Time: 5 minutes
Yield: 1 1x
---
1 banana (I used frozen, but fresh will work too)
1 cup non-dairy milk
2 lemons
1 tsp lemon zest
2 tbsp coconut sugar
2 tbsp chia seeds
---
Instructions
Zest the lemons first, then peel them and remove the seeds (I forgot to do this the first time…big mistake).
Add the lemons, banana, almond milk, and coconut sugar to the blender and blend until creamy and smooth.
Taste it, and add more coconut sugar if it is too tart.
Add the chia seeds and blend for a few seconds on low. Serve up and sip away.
---

Thanks to my sister for always pushing me to think a little harder about smoothies and muffins and other such things.