Pumpkin Breakfast Cookies made with good things like oats, chia seeds, coconut, maple syrup, and decadent little chocolate chips. A perfect prep-ahead snack!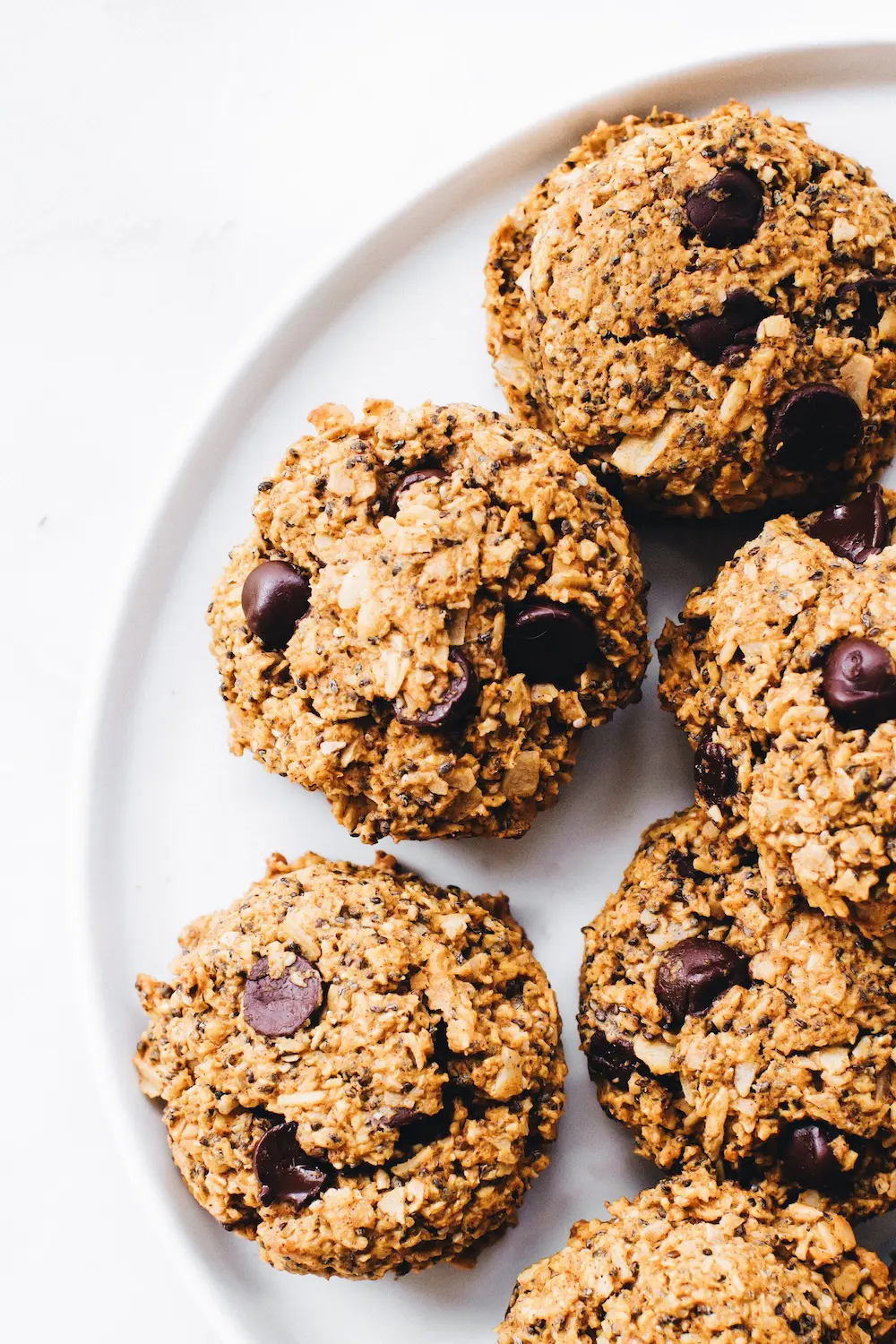 I don't know about you, but I need a little help pretending it's fall right now. I WANT to embrace non-iced lattes and non-shorts pants and non-cold breakfasts again with open arms. but this 90 degree, sunny, perfect beach weather is canceling out all the cozy. Oh, and the fact that my AC is broken so I've been sweating for two days straight…not helping.
Hopefully the NOT fall feels situation isn't quite as dire where you are, but regardless I have a little baked breakfasty something that will help.
Pumpkin Breakfast Cookies!
Meet your new favorite morning (or afternoon…or midnight) snack. Here's what makes them so good at helping us pretend it's fall when it doesn't feel like it:
Pumpkin.
And it's associated warm spices.
Make ahead. Because fall mornings are busier than summer ones.
No flour – just oats, coconut, and chia seeds.
Maple sweetened.
Healthier, but taste so so GOOD (no cardboard cookies!)
Golden crispy edges with a soft chewy middle and just the right about of crumble.
Have you ever finished eating a bowl of warm oatmeal to realize you are actually sweating? Because I have. But these cookies – all the oaty wholeness, no sweating.
See, much more seasonal than a smoothie bowl. But still easy, and a little something sweet for your morning, and made with real foods too.
This recipe is a pumpkin-y collaboration with my friends at Thrive Market. A.k.a. my favorite place to buy food on the internet because they have all the things I want, but keep me from going broke on nut butter and organic snacks.
Every single ingredient you need for these Pumpkin Breakfast Cookies you can find on Thrive Market for 25-50% less than retail and shipped straight to you. I've been ordering from them regularly for almost a year now, and lemme tell you the savings are REAL. Plus they have items I'd have to go to a health food store to find locally, and it's safer if I avoid those as much as possible.
I've been loving their ever expanding line of Thrive Market brand products lately, and guess what just joined the family? Organic pumpkin! If you are anything like me you go through dozens of cans of this stuff between September and November, and $1.99 a can is the cheapest I've ever found.
P.S. If you've never tried organic pumpkin vs conventional – sooooooo worth it. The flavor and color are both much brighter, the texture is less watery, and its subtly sweeter too.
If you want to give Thrive a try, sign up HERE and get 25% off your first order!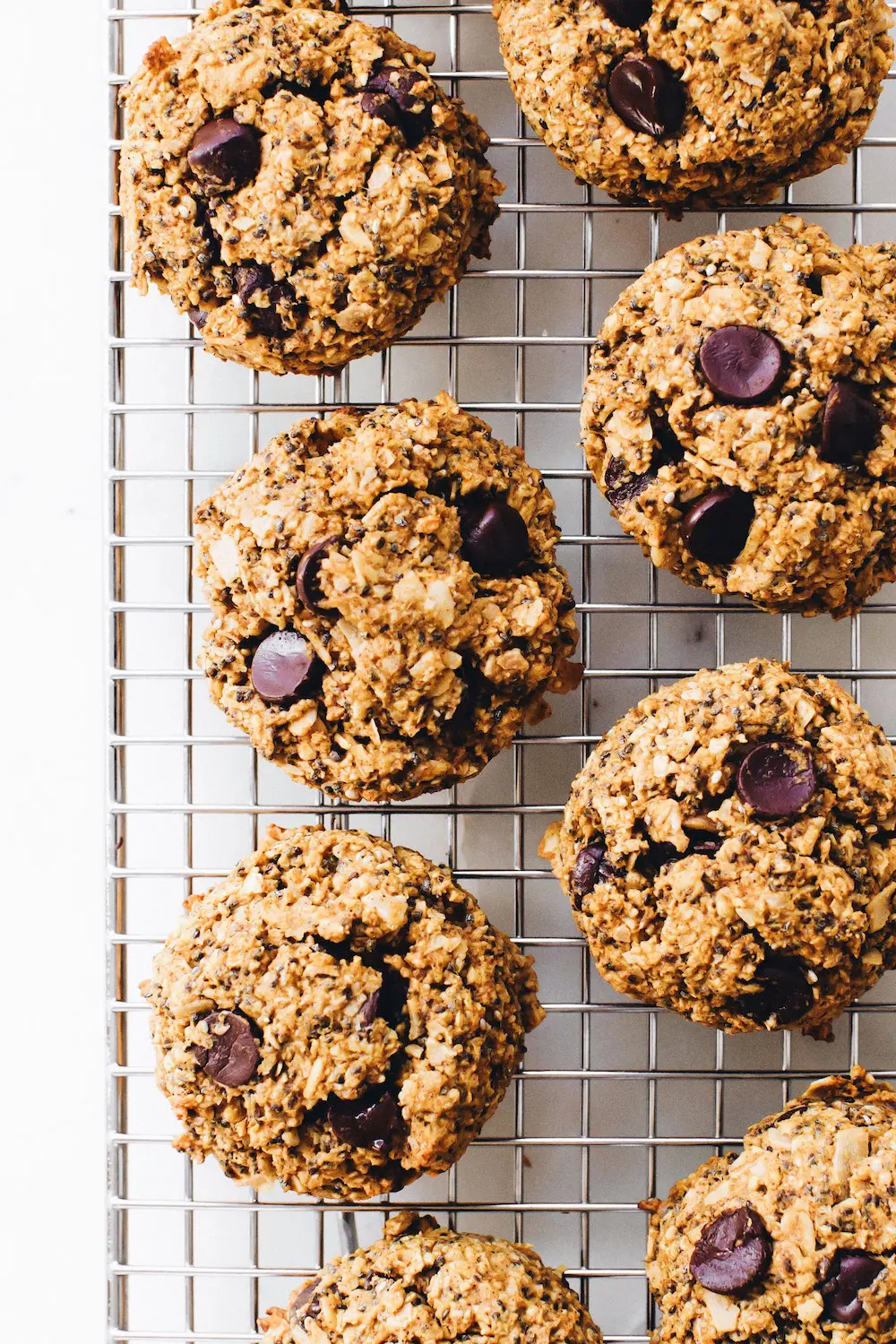 I truly want you to have these cookies in your life, so I kept the effort level very minimal. Made in the food processor so you don't have to stir. Bake in 15 minutes so you barely have to wait. Easily doubled so you can bake once and have cookies for days (or weeks if you freeze them!)
Oh and if you need just a smidge more convincing, two words: CHOCOLATE CHIPS.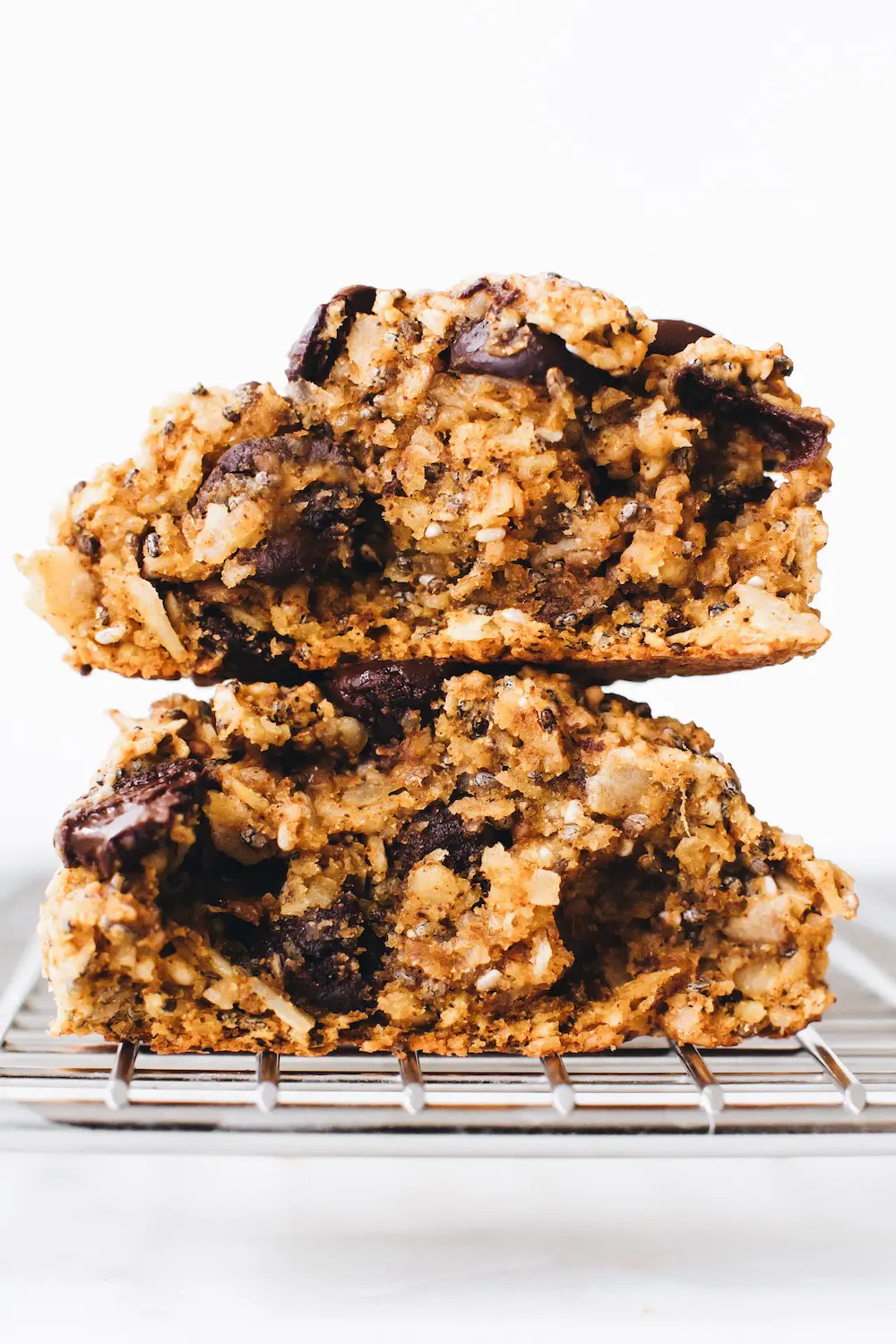 Happy pretending like it's fall in cookie form to you!
Print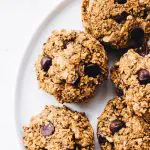 Pumpkin Breakfast Cookies
Author:
Prep Time: 10 minutes
Cook Time: 15 minutes
Total Time: 25 minutes
Yield: 12 cookies 1x
Category: breakfast
Method: baking
Cuisine: american
---
Description
Pumpkin Breakfast Cookies made with good things like oats, chia seeds, coconut, maple syrup, and decadent little chocolate chips. A perfect prep-ahead fall snack!
---
1 cup (100g) rolled oats
1/2 cup (55g) coconut flakes
1/4 cup (40g) chia seeds (or flax seeds)
1/2 cup (125g) pumpkin puree
1/4 cup (80g) maple syrup
1/4 cup (75g) nut/seed butter of choice
1 tbsp pumpkin pie spice
1 tsp baking powder
1/4 tsp salt
1 tsp vanilla extract
1/4 cup (45g) chocolate chips (or chopped pecans would be good too!)
---
Instructions
Preheat the oven to 350F.
In a food processor, combine the oats, coconut, and chia seeds. Process until broken down into fine pieces but not quite flour.
Add the pumpkin, nut butter, maple syrup, spice, baking powder, salt, and vanilla. Process until combined into a sticky dough.
Add the chocolate chips, and process briefly until just combined.
Roll into balls (about 1-1.5 tbsp of dough per cookie). Place on a baking sheet lined with parchment paper and press to flatten slightly.
Bake for 15 minutes at 350F, or until the bottom edges are golden brown.
Cool for at least 15 minutes.
Enjoy!
Keep leftovers in the fridge in an airtight container for up to a week, or freeze for longer storage.
---
---
Nutrition
Serving Size: 1 cookie
Calories: 145
Sugar: 7g
Fat: 7g
Saturated Fat: 3g
Carbohydrates: 16g
Fiber: 4g
Protein: 3g
Keywords: vegan, gluten-free, snack, pumpkin, fall, baking, easy, oatmeal
CLICK BELOW TO PIN