Peanut Salted Caramel Mousse Bars! Sweet-salty caramel mousse layered with no-bake nougat, peanuts, and blanketed in dark chocolate. A deliciously dairy-free frozen treat!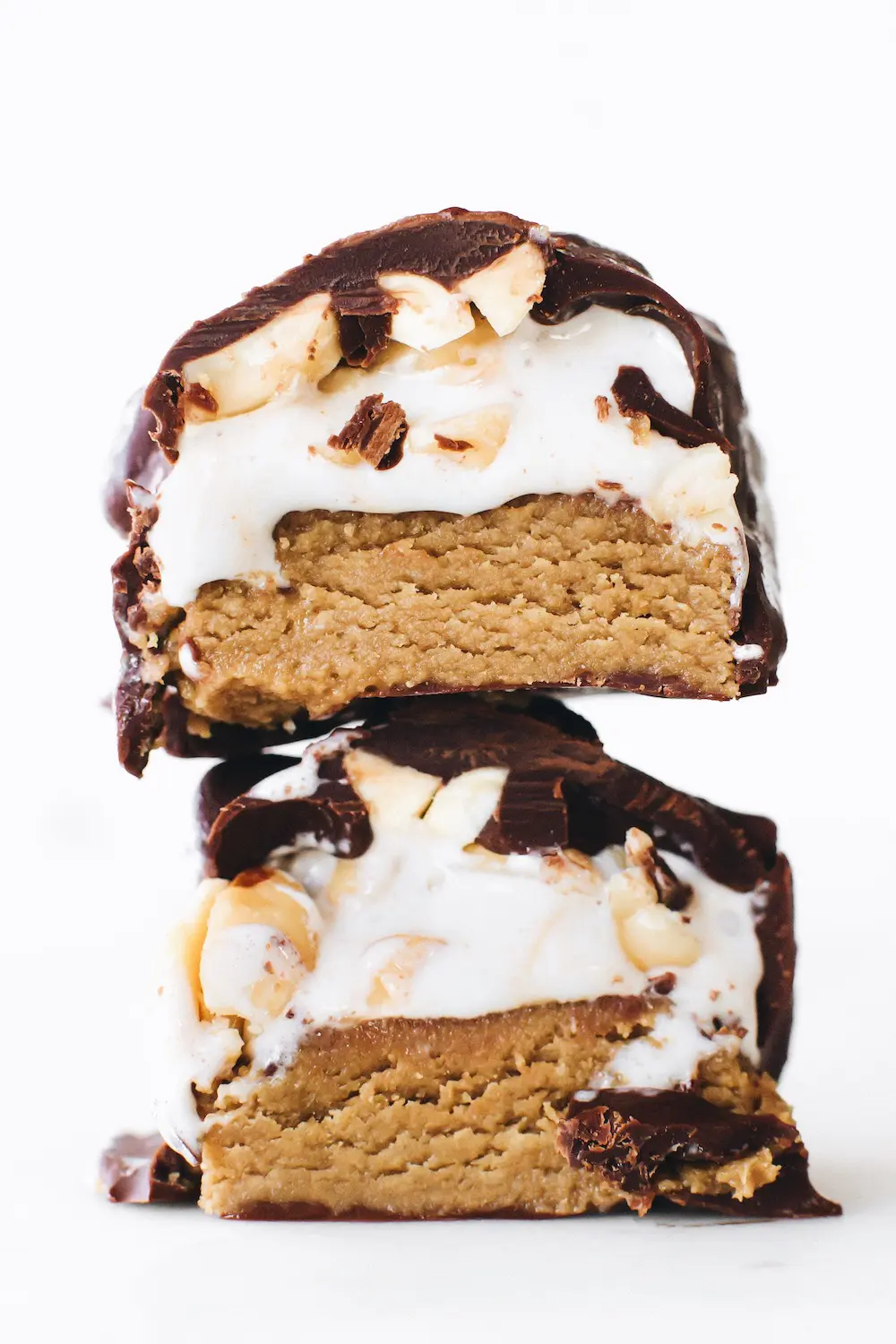 ---
I know it's been very autumn/spice/pumpkin/cozy up in here the past few posts, but today we are taking a brief intermission for frozen mousse squeezed between nuts and nougat and blanketed in chocolate
OH BOY.
Yes frozen treats, we still love you and will always make time for you and your melty glory no matter the season.
But wait. Let that sink in for a minute…
Frozen. Mousse.
It's not ice cream. It's not regular mousse. It's dairy-free frozen mousse. It's unlike anything I've ever devoured straight from the pint with a spoon. It's light and ridiculously airy, yet very creamy too. I found myself taking bite after bite trying to understand HOW? I've never eaten a cloud, but if I had to guess I would guess the texture to be almost identical to this.
If you are familiar with other So Delicious frozen desserts, imagine if the Salted Caramel Cluster pint and Cocowhip had a baby and named it Salted Caramel Swirl Mousse. I very much approve of this offspring.
The Layers
Nougat. This chewy no-bake nougat is made with just three ingredients. Real nougat is well…hard. There is boiling and thermometers and lots of sugar (and usually minor burn injuries if you are me) involved. Once a dessert recipe stays saucepan, I'm pretty much out.
But if you've ever put a GoMacro bar in the fridge, you'll know that they get really hard and chewy and kinda sorta nougat-like. So inspired by that I came up with a very simple nougat made of nut or seed butter, maple syrup, and coconut flour.
Salted caramel mousse. The star of this sweet show, and what makes these bars 10x better than their candy bar counterpart. This new fluffy yet creamy stuff from So Delicious is replacing the caramel in our nutty nougat bars, and it's got lots of caramel flavor going on plus little chunks of chocolate and a caramel swirl throughout too.
Peanuts. Roasted and chopped. I used unsalted, the sweet-salty flavor of the mousse is enough for me.
Chocolate coating. I used semi-sweet chocolate chips, but dark is fine too. Add a few tablespoons of coconut oil when melting to get that really thin coating that shatters deliciously when you bite in.

So Delicious Mousse
Now obviously in the name of thorough research I had to try out a couple of the other flavors of this new So Delicious Mousse too. I appreciate all the fruity flavor options – mango, strawberry, lemon, cranberry cherry – but of course chocolate chip and peanut butter are always winners too.
I tried the lemon swirl and chocolate chip. Both delicious, but THAT LEMON! It is not shy on citrus flavor, and probably my favorite so far. Mango, I'm coming for you next.
Now you know I'm not one to worry about calories, but you have to admit it's pretty awesome that these are basically designed to be eaten without sharing. Each pint has 330 calories or less, and the texture is so dreamy you will not want to give up a single bite. I've tried a few of the other low-cal frozen dessert brands, and this is very different. Most seem to be rock hard straight out of the freezer or require microwaving to be creamy(ish), but your spoon will sink right into this stuff straight from the freezer. No funky flavor either, it tastes just like ice cream only lighter.
It's worth putting the pumpkin on pause long enough to Peanut Salted Caramel Mousse Bar. Just trust me.
Print
Peanut Salted Caramel Mousse Bars
Author:

Prep Time:

20 minutes

Cook Time:

4 hours (chilling time)

Total Time:

4 hours 20 minutes

Yield:

10

bars

1

x

Category:

dessert

Method:

frozen

Cuisine:

american
---
Description
Peanut Salted Caramel Mousse Bars! Sweet-salty caramel mousse layered with no-bake nougat, peanuts, and blanketed in dark chocolate. A deliciously dairy-free frozen treat!
---
Nougat
3/4 cup

(

190g

) nut/seed butter

1/2 cup

(

50g

) coconut flour

2 tbsp

maple syrup
Other Ingredients
1 pint

So Delicious Salted Caramel Swirl Mousse (or any dairy-free salted caramel ice cream)

1 cup

(

120g

) roasted peanuts, chopped

1 cup

(

180g

) chocolate chips
---
Instructions
Combine all the ingredients for the nougat.
Mix to form a thick dough.
Press into a pan lined with wax paper.
Spread the mousse on top of the nougat (it helps to let it soften for 5 minutes out of the freezer first)
Sprinkle peanuts on top, and press in lightly.
Freeze for at least 4 hours.
Working quickly, lift from the pan and slice into 10 bars. Freeze.
Melt the chocolate chips. You can add 2-3 tbsp coconut oil for a thinner chocolate coating.
Place the bars on a wire rack with a piece of wax paper underneath.
Spoon the melted chocolate on top of each bar, coating completely. Freeze.
Once the chocolate is solid, carefully pop them off the wire rack and dip the bottoms in chocolate. Arrange on a pan lined with wax paper. Freeze until firm.
Enjoy frozen and keep leftovers in the freezer.
---
---
Nutrition
Serving Size:

1 bar

Calories:

393

Sugar:

18g

Fat:

27g

Saturated Fat:

8g

Carbohydrates:

33g

Fiber:

7g

Protein:

10g
Keywords: vegan, dairy-free, ice cream, bar, candy, snickers, gluten-free, easy, dessert
CLICK BELOW TO PIN