Soft, spiced turmeric cookies with a latte-inspired coffee kick! Easy to make. Customizable mix-in options. Snack, breakfast, or dessert. Vegan and paleo!

---
These cookies have a lot going for them.
Sweet notes of banana and rich molasses. A zip of coffee flavor for those morning latte vibes. Golden turmeric and familiar spice friends. Filled to the brim with folded-in things like walnuts, hemp seeds, chia, and mini bits of chocolate. They really are living their best cozy cookie life.
And they want to bestow some of that cozy on you too. We both do.
This recipe is kinda sorta similar to a cookie I've been making back-to-back-to-back-to-back-to-etc. batches of for months – the fridge just isn't right without them. Similar but BETTER. And now that I've discovered the marvel that is this golden latte variation, I foresee many many more months to come.
When you hear "turmeric latte", I know you are probably just imagining the turmeric and the spices and the milk and stuff. But I mean turmeric LATTE in the most classic coffee-inclusive way. Turmeric + coffee pair together surprisingly well, and I added cinnamon and ginger too because no golden anything is complete without.
To infuse these cookies with coffee flavor the easy way, I used Nielsen-Massey Pure Coffee Extract. No sugar, no artificial flavors, the only ingredients are water, alcohol, and coffee extract (HOORAH). It's pretty potent stuff, so I used just a teaspoon. The coffee flavor is not overpowering, but kicks in just perfectly at the end.
Oh cool a turmer…OH. Hi, hello, good morning!
You could use more if you really want to mocha things up. Did I mention I was quite generous with the chocolate chips so every bite tastes like a nutty banana mocha jam fest situation? It's very fun, you will see.
Other places my mind has already wandered with this coffee extract in mind include:
these brownies (as if they aren't deeply decadent enough)
a coffee-spiked version of this would be dangerously amazing
chocolate ice cream (okay that actually already happened)
mocha frosting, anyone?
all chocolate things everywhere
Yep I think that pretty much covers it. While vanilla extract adds a sweetness to chocolate things, coffee extract adds a deepness and richness. Do with that what you will.
Strip back all the flavors and mix-ins, and the cookie itself is quite simple…
bananas
non-dairy milk
tapioca starch
almond flour
baking powder
So you can really customize any which way you like. It is not a super sweet cookie (especially if you skip the molasses), but just sweet enough to be the perfect anytime snack imo. And so soft and puffy!
If you REALLY want to use oat flour, I recommend this recipe as your base instead of the one below. You can still add all the spices and chunky stuff of course.
Oh and please excuse my ugly defrosted bananas in the video – ripe is best, but sometimes frozen is all ya got.
Happy fluffy, golden, latte-inspired cookie making to you!
Print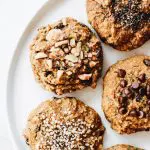 Turmeric Latte Breakfast Cookies
Prep Time: 10 minutes
Cook Time: 15 minutes
Total Time: 25 minutes
Yield: 24 cookies 1x
Category: cookies
Method: baking
Cuisine: american
---
Description
Soft, spiced turmeric cookies with a latte-inspired coffee kick! Easy to make. Customizable mix-in options. Snack, breakfast, or dessert. Vegan and paleo!
---
3 (325g) ripe bananas
1/3 cup (75g) nondairy milk
1/4 cup molasses (80g) (optional)
1 tsp turmeric
1 tsp cinnamon
1 tsp ginger
1/4 tsp salt
1 tsp baking powder
1/2 cup (60g) tapioca starch
3 cups (330g) almond flour (see notes for oat flour option)
Option Mix-Ins
---
Instructions
Blend the bananas, milk, molasses, and coffee extract.
Add the spices, baking powder, tapioca starch, and almond flour. Blend until combined. You may need to stop and scrape down the sides a few times. It should be quite thick and just barely able to blend, if not add 1/4 cup more flour.
Stir in the nuts/seeds/chocolate chips.
Drop spoonfuls of batter onto a baking pan lined with parchment paper leaving enough space for some spreading. You will need 2 pans or to bake them in 2 batches.
Bake for 15 minutes at 350F or until lightly brown on the edges.
Remove from the oven and cool for at least 10 minutes before removing from the pan.
Enjoy warm or I actually prefer them chilled. They will last in the fridge for up to a week.
---
Notes
For an oat flour option, try THIS recipe instead.
---
Nutrition
Serving Size: 1 cookie
Calories: 156
Sugar: 6
Fat: 11
Carbohydrates: 13
Fiber: 2
Protein: 4
Keywords: baking, dessert, snack, vegan, paleo, turmeric, gluten-free
CLICK BELOW TO PIN
Thank you Nielsen-Massey for sponsoring this post!
SaveSave
SaveSave
SaveSave
SaveSave
SaveSaveSaveSave
SaveSave
SaveSaveSaveSaveSaveSaveSaveSaveSaveSaveSaveSave
SaveSave
SaveSave
SaveSave
SaveSave
SaveSave
SaveSave
SaveSave
SaveSaveSaveSave
SaveSave