Just 5 ingredients, a blender, and a few minutes is all it takes to create this most decadent, silky, rich Vegan Date Caramel Sauce, perfect for dipping or drizzling!
I am still questioning whether this super simple recipe justifies it's own whole post and video. But hey, we're here, it's rich and dreamy, let's do this.
I am a big fan of the classic date caramel. For dipping, for coating, for frosting–it's awesome. But one thing it is not awesome for is drizzling. Frankly it has no drizzle game, it just plops. And unattractively I might add.
I started experimenting in hopes of finding a more silky, less plopping prone date caramel sauce to use as part of another recipe, but after posting this photo on Instagram a drizzle-worthy caramel sauce recipe seemed to be in high demand. So I tweaked and tested multiple batches yesterday until I found an ingredient mix that had the exact consistency I was after. I should note this is not the same sauce as in that photo, that was a date-less nut butter situation. But I for one like this fruit-filled version much better!
I didn't even consider all that pesky stove-top candy thermometer business, so it had to be a no-cook blender recipe. A lot of no-cook caramel sauces are made up of a liquid sweetener + nut butter + coconut oil. For my liquid sweetener I chose coconut nectar because it is really sticky. Brown rice syrup would work too. Maple syrup is a bit thinner than you want for this recipe. I know it might seem weird to add a sweetener to already sweet dates, but that viscosity is essential for a smooth pour-able texture. The dates are the thickener here instead of nut butter, plus they add extra caramel flavor. The coconut oil I replaced with coconut milk. While still high fat, at least it's not pure fat. You can try it with a lower fat plant milk, but it's not going to have the same texture.
Blend it all up with a little bit of sea salt and vanilla bean powder (because yum), and you have a silky sweet vegan date caramel sauce. This sauce is by no means the healthiest caramel sauce around, good old 2-ingredient date caramel claims that title. But it is quite a topping treat on ice cream, brownies, oatmeal, spoons, almost anything!
Print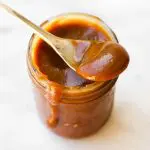 Silky Sweet Vegan Date Caramel Sauce
Prep Time:

5 minutes

Total Time:

5 minutes

Yield:

1

.5 cups

1

x
---
1 cup

pitted Medjool dates

1/2 cup

coconut nectar or brown rice syrup

1/2 cup

full fat coconut milk

1/4 tsp

vanilla bean powder (or

1 tsp

vanilla extract)
Pinch of salt
---
Instructions
Combine all the ingredients in a high speed blender.
Blend on high until very smooth and creamy. You can adjust the consistency by adding more coconut milk if it is too thick to pour easily.
It makes a lot, so keep the extra in an air-tight container in the fridge.
---
Click Below To Pin