Vegan gluten-free carrot cake with tangy cashew yogurt frosting on top for the perfect creamy complement to this healthier cake. Simple and SO yummy!

What started as a mission to make a favorite cake for a girl for her birthday (a.k.a. happy b-day from me to myself) turned into a week long cake baking marathon. There have been fail cakes and win cakes and I'm-not-sure-if-this-is-a-fail-or-a-win-I've-eaten-too-much-cake cakes and at least four pounds of carrots and moments where I wanted to cut and run back to chocolate cupcakes instead and enough leftovers to pretend it's my birthday for the next three weeks. Oh, and that one cake I sat on.
I think I even uttered the words "I hate carrot cake" at one point. And by uttered I mean texted in all caps to a bestie I knew could relate. But I take it all back now. I cannot be held responsible for what I say after back-to-back recipe testing flops and a jar of frosting casualty all in the same day.
But finally I bring you a simple, healthy, frosted, damn GOOD carrot cake. And it just so happens to be vegan, gluten-free, and oil-free too! But those details aren't nearly as fun as the flavor and the frosting. Especially the frosting.
I can't blame all of the fails on ingredient chemistry, there was quite a bit of indecision on my part too. First I tried it with a mix of quinoa and almond flour – good but um hello expensive and not low fat or grain-free. Then I tried a paleo mix of coconut, almond, and tapioca flours – just a big floppy, gooey, unbaked-inside fail. Okay so take out the coconut and just use almond – yummy but too dense. And finally I went back to my roots and just used oat flour – SUCCESS!
I would describe the wonderfully light and defined crumb that's moist yet not gummy, but you can just see for yourself…
Before you read any further, I need to warn you that this ingredient list isn't the shortest. You could even call it long compared to my usual keep it simple style. It's not complicated though, and still comes together with maybe 10 minutes (15 max if you count the frosting prep) of work.
On this not-the-shortest list is:
applesauce
coconut sugar
lemon juice
vanilla extract
nondairy milk
tapioca starch
oat flour
spices (cinnamon + ginger)
baking powder and soda
salt
CARROTS
(optional) walnuts
Nothing crazy, right?
And then there's the frosting. Ohhhhhhh the frosting – my tangy, creamy, luscious true love ♡ Yeah I'm one of those corner piece of cake people who goes for maximum frosting surface area. I kept it under control here with a very normal person ratio of frosting to cake, but once you taste this goodness you'll be adding more mid piece too.
While not a traditional cream cheese frosting, it does still have that TANG that compliments carrot cake so well. Inspired by my friend Brandi's vegan strawberry cream cheese recipe, the base is a mix of cashews and non-dairy yogurt. The cashews are what make it thick and even thicker after refrigerating. The yogurt in combination with lemon juice is what makes it tangy. Unless your yogurt is sweetened you will need a couple of tablespoons of maple syrup too, plus vanilla and salt to balance out the flavor.
You do need to soak the cashews pre-blending so the frosting comes out just as smoooooooooth as can be, so don't forget that step the night before. You want it to be as thick as can be but still blend. If it keeps getting stuck when you turn up the speed either use the tamper or set the blender to a lower speed (like 2-3) and just let it run for longer.
If I was blowing out 24 candles right now my wish on at least 13 of them (gotta save some for life and stuff) would be for YOU to bake this cake and frost it and taste it and adore it right along with me. And you shouldn't deny a birthday girl her wish.
Print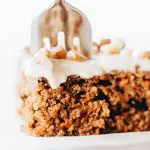 Vegan Gluten-Free Carrot Cake
Prep Time:

15 minutes

Cook Time:

30 minutes

Total Time:

45 minutes

Yield:

9

pieces

1

x

Category:

dessert

Method:

baking

Cuisine:

american
---
Description
Vegan gluten-free carrot cake with tangy cashew yogurt frosting on top for the perfect creamy complement to this healthier cake. Simple and SO yummy!
---
1 cup

(

250g

) unsweetened applesauce*

2/3 cup

(

110g

) coconut sugar

1 tbsp

lemon juice

1 tsp

vanilla extract

1/2 cup

(

120g

) nondairy milk**

1/3 cup

(

50g

) tapioca starch***

2 1/2 cup

(

300g

) oat flour****

1 tsp

baking powder

1 tsp

baking soda

1 tbsp

cinnamon

1 tsp

ginger

1/4 tsp

salt

1 1/2 cup

(

180g

) grated carrots

1/2 cup

(

60g

) chopped walnuts ((or pecans))
Cashew Yogurt Frosting
1 cup

(

120g

) raw cashews (soaked overnight)

1/3 cup

(

75g

) nondairy yogurt

2 tbsp

maple syrup

1 tbsp

lemon juice

1 tsp

vanilla extract
Pinch of salt
---
Instructions
Preheat the oven to 350F.
To a mixing bowl, add the applesauce, coconut sugar, lemon juice, vanilla, and milk. Whisk to combine.
Add the tapioca starch, oat flour, baking powder, baking soda, spices, and salt. Stir to combine.
Fold in the grated carrots and walnuts.
Transfer to a baking pan (I used a 9×9″ square pan, but round is fine too) that has been lightly sprayed with oil or lined with parchment paper.
Bake for approximately 30 minutes at 350F or until a toothpick inserted into the center comes out clean.
Remove from the oven and cool completely before frosting.
Drain the cashews. Combine all the frosting ingredients in a high speed blender and blend until smooth and very creamy. If it gets stuck at a higher speed, reduce the speed to low and let it blend for a while (30-60 seconds).
Spread onto the cooled cake and ideally refrigerate until the frosting is set (at least 2 hours). Or you can eat it immediately, but the frosting will be quite soft.
Slice and enjoy! Keep leftovers in the refrigerator.
---
Notes
*You can substitute with non-dairy yogurt or pumpkin puree, but the applesauce adds extra natural sweetness so I recommend it. **I used light canned coconut milk. You can use almond milk or other types of nondairy milk from a carton, but the cake won't be as moist. ***You can substitute with arrowroot or corn starch. ****For a grain-free option, try this recipe instead.
Keywords: baking, cake, dessert, gluten-free, oat flour, vegan
[nutrifox id="30631″]
CLICK BELOW TO PIN
SaveSave
SaveSave
SaveSave
SaveSave
SaveSaveSaveSave
SaveSaveSaveSave
SaveSave
SaveSave
SaveSave
SaveSave
SaveSave
SaveSave
SaveSave
SaveSave
SaveSave
SaveSave