Homemade vegan sprinkles made from coconut and colored completely naturally. This easy recipe has all your funfetti needs covered without any sugar or food coloring!
I've been wanting to post a funfetti something for forever. The fun part is easy. Cupcakes, cookies, milkshakes–all plenty of fun. But I was missing the fetti.
Confetti. Sprinkles. Birthday specks. Hundreds-and-thousands. Glitter of the edible world.
Sure there are vegan organic sprinkle brands out there, but where's the homemade messy kitchen fun in that?! Nowhere to be found. What you will find is sugar and artificial colors usually. Not to mention a very small bag of sprinkles inside that $3 box.
You could make your own with confectioners sugar and a piping bag, but why bother with all that when shredded coconut is already the perfect shape, size, and neutral color for the job!
Coloring the homemade vegan sprinkles
These Homemade Vegan Sprinkles are dyed completely naturally with colors from fruits and few health food powders…
Pink > raspberries
Yellow > turmeric
Purple > blueberries
Green > spirulina
drying the homemade vegan sprinkles
Many coconut sprinkle recipes call for a dehydrator. If you have one–great, that'll work. But if you are without, I have tested an oven and no-bake option too…
Oven (fastest!) – Set your oven as low as it can go and bake them for about 1 hour. Check them for dryness, and if they aren't quite there then leave them for another 15 mins. In my oven at 170F it took 1 hour and 15 mins. You don't want to bake them at a higher temperature or they will toast and turn brown.
No-bake (easiest!) – Just spread them out very thinly on a pan or plate and leave them in a dry spot in your house. Check them after 24 hours. If they aren't quite dry then leave them out until they are. Evaporation–it will happen eventually.
Dehydrator (if you have one!) – Probably the most even drying thanks to the screen trays that allow air on all sides. And more energy efficient than the oven too. It will take longer than in the oven, about 2-3 hours.
Sprinkles were always my least favorite ice-cream topping actually. With cookie dough on one side and chocolate chips on the other why on earth would I choose those near flavorless little rainbow flecks?? But sprinkles in cake…that's a whole different story. (Hint, hint. Nugde, nudge. Coming later this week!)
Homemade vegan sprinkles! A rainbow of topping flecks without sugar or food coloring >>>
Click To Tweet
Print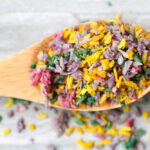 Homemade Vegan Sprinkles
Prep Time: 20 minutes
Cook Time: 75 minutes
Total Time: 95 minutes
---
Pink
1/4 cup frozen raspberries (or for an even brighter pink, pitaya puree)
1/4 cup unsweetened shredded coconut
Purple
1/4 cup frozen blueberries
1/4 cup unsweetened shredded coconut
Yellow
1/2 tsp ground turmeric
1 tbsp water
1/4 cup unsweetened shredded coconut
Green
1/4 tsp spirulina
1 tbsp water
1/4 cup unsweetened shredded coconut
b]Blue [/b] (pictured [here)
2 tsps Homemade Natural Blue Food Coloring
1/4 cup unsweetened shredded coconut
b]Orange [/b] (pictured [here)
1–2 tbsps carrot juice
1/4 cup unsweetened shredded coconut
---
Instructions
For the pink and purple: Microwave the berries to defrost.
Press through a sieve to get out the juice.
Add the coconut. Mix to coat.
Spread on a baking pan lined with parchment paper.
For the yellow and green: Mix the spirulina/turmeric with the water.
Add the coconut and stir to coat.
Spread on a baking pan lined with parchment paper.
Bake on your oven's lowest temp for 1 hour to 1 hour 15 mins. Or see alternative dehydrator and no-bake options in the post.
Keep in an airtight container for up to 3 months.
---