A healthy cookie that is SO GOOD. And simple too – 7 ingredients, naturally sweetened, loaded with chocolate chips, and just waiting to be deliciously devoured!

It was cold here. Notice the past tense as the fall weather lasted all of about 3 days before vanishing again sending us back to sunny and eighty-something. But that was enough to bring out my cozy holiday grandma side. Fuzzy things have taken over my closet, the AC is off hopefully for a while, and the oven is on turning dough into cookies as if Santa's ETA was tomorrow. Never mind the open windows or cutoff shorts, they would ruin the scene I'm trying to set here.
Truth be told I cannot remember one instance of either of my grandmas (grandmothers?) making me cookies. I don't say that in a sad way, there were still plenty of treats. One was more of a pie-baking lady and the other always had a stash of candy somewhere that I was allowed to raid, so cookies were not missed. Almost every chocolate chip cookie I ate as a kid was made by my mom often with my dough thievery help. Well made by my mom or from a red package with a nautical name. Ahem…chewy chips ahoy. But we won't mention that –wholesome cozy grandma vibe, remember?
You know how sometimes you are craving a chocolate chip cookie and only a chocolate chip cookie and you realize you haven't made chocolate chip cookies in actual years because there are so many other novel and lovable things to bake instead? But sometimes you just need the cookie. The unfancy but irreplaceable most classic of all cookies. These cookies were created for just those times. And WHOA did they rise to the challenge.
The last chocolate chip cookie recipe I shared (almost 2 years ago! 😱) was this oat flour one. They are awesome – golden-edged, chip-packed, chewy, and awesome. But honestly a little greedy when it comes to the medjool dates. That's because oat flour dulls other flavors much much more than almond flour, so you need additional sweetener when using it. It's a new realization that I'm still processing too.
But almond flour. Almond flour intensifies flavors. Almond flour is buttery in a magically non-butter way. Almond flour is my dry ingredient bestie. Almond flour pulls off indulgent effortlessly like oat flour just never will. That is why these Almond Flour Chocolate Chip Cookies (with not even half as many medjool dates) are not just sweet enough, but tender and rich and almost TOO GOOD when still warm and chip-gooey from the oven. So that's a lot to look forward to.
A few notes about this very SIMPLE choc-chip recipe:
The almond butter is optional. Do I recommend it? Yes. Will it make your cookies extra delicious and moist and rich? Uh huh. May they crackle a little bit on top without it but still be super delicious inside? Yup. I truly loved them both ways, they look nicer with the AB though.
The dough is very delicious and should be eaten in un-baked spoonful form.
I used dark chocolate chips and a generous pinch of sea salt because HELLO. But tweak as you please.
Yes they will keep in the fridge sealed up tight, but they are sooooooo much better fresh. Date paste contains water and water makes baked goods go soft with time. Also sharing > saving.
Confession. This post barely made it to the blog today (says the girl still typing at 10am when she usually posts at 8am – oops!) But last night when I was trying to edit as fast as possible and resisting the urge to admit defeat and watch Netflix instead, all of your NEED COOKIES NOW! messages on Instagram were exactly the push I needed. So thank YOU. This one was a team effort, friends.
And now the universal sign of gratitude: Cookies ♡
Print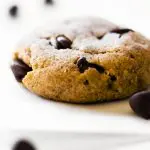 Almond Flour Chocolate Chip Cookies
Prep Time:

10 minutes

Cook Time:

10 minutes

Total Time:

20 minutes

Yield:

8

cookies

1

x

Category:

cookies

Method:

baking

Cuisine:

american
---
Description
A healthy cookie that is SO GOOD. And simple too – 7 ingredients, naturally sweetened, loaded with chocolate chips, and just waiting to be deliciously devoured!
---
1 1/2 cups

(

170g

) almond flour *

1/2 cup

(

160g

) date paste **

1/4 cup

(

65g

) almond butter (optional)***

1/2 tsp

baking soda

1 tsp

vanilla extract
Generous pinch of sea salt

1/4 cup

(

45g

) chocolate chips
---
Instructions
Preheat the oven to 350F.
Combine all the ingredients except the chocolate chips in a large mixing bowl. Mix to form a thick batter.
Fold in the chocolate chips.
Scoop out a heaping tablespoon of dough, roll into a ball, and place on a baking sheet lined with parchment paper. Press down to flatten.
Repeat with the remaining dough (or save some for un-baked snacking!)
Bake for 10-12 minutes at 350F or until the bottom edges are just golden brown.
Remove from the oven, cool for at least 10 minutes. Enjoy!
You can store them in an airtight container in the fridge for up to a week, although they are best fresh and will become softer with time.
---
Notes
* These will not be sweet enough with oat flour and too dry. For an oat flour chocolate chip cookie, try these. **To make the date paste, blend approximately 12 (200g) pitted medjool dates with 2/3 cup water in a high speed blender until smooth. This makes enough for 2 batches of cookies, but will last in the fridge for a couple of weeks. ***You can sub with any other nut/seed butter or leave it out completely. The cookies will be a little bit drier and may crack on top but still taste delicious.
Keywords: baking, dessert, snack, vegan, paleo
CLICK BELOW TO PIN
SaveSaveSaveSave
SaveSave