This Sweet Potato Pumpkin Pie with oat cookie crust and luscious custard filling is THE dessert for your holiday table! Vegan, gluten-free, paleo-option.

A slice of sweet squash-colored custard so silky smooth your tongue will feel spoiled. Nestled in a toasty oat crust with just the right amount of crumble to remind you of your favorite crunchy cookie. Topped with a dollop of coconut cloud cream + chopped pecans because textural contrast is key. And that perfect triangle of a first bite.
Now I remember why I like November.
I feel the need to inform you that this was supposed to be a sweet potato only pie. But I reeeeeeeally love pumpkin pie. Like pie love level: better than chocolate. So if there is a crimped-edge crust in my kitchen in the fall months, odds are pretty high there will be an open can of pumpkin not far away. Or let's be real, any month.
But what's a girl to do when she already bought a bag of (the cutest, tiniest, 5 = 1 normal sized) sweet potatoes? Make the mashup pie of your wildest Thanksgiving dreams. A.k.a. Sweet Potato Pumpkin Pie. The only logical course of action in such a situation, of course.
The filling. Pumpkin is the predominant flavor because, um, there's twice as much of it. But before you think I'm showing starch favoritism let me just tell you the sweet potato is essential. SP may seem like it's playing the supporting role here, but trust me it's doing BIG things for the flavor and texture – this amazingly simple pie would not be possible without it.
Can we just admire for a moment the fact that there are only six ingredients to this filling. And two of the six are vanilla and pumpkin pie spice. And none of the six are thickeners or starches. And I didn't even use dates since I know some of you would appreciate more date-free recipes. And that it's LUSCIOUS. Like lick-every-last-millimeter-of-your-spatula luscious.
Lusciousness in six. And…GO.
Pumpkin puree, obvi.
Sweet potato. Baked in the microwave or oven, as you wish, and mashed.
Maple syrup for sweetness, although the sweet potato helps out too. You could experiment with less maple syrup (replace with more milk) if you wanted to, but for holidays and guests I think it's just right.
Pumpkin pie spice in abundance.
Vanilla extract because the back of the Libby's can taught me well.
And last but not least, non-dairy milk. Just a splash. To help out the ol' blender and just lighten things up a little.
See, amazingly simple!
The crust. But actually it is crucial that you make this part BEFORE even though we are discussing it AFTER. I just get a little overly excited about the filling okay, don't judge.
I had almost given up on oat flour in pie crusts. They are so often chewy and weird and the opposite of yum. But I know almond flour is expensive and higher in fat, so I decided to revisit the oat crust. And I took almond butter with me this time, along with inspiration from these cookies. And after the experimenting and rolling and transferring (eeek!) and crimping and baking, the result was a not too sweet cookie-like crust.
Easy to roll. Sturdy enough to survive the flip into the pan. Browns around the edges. Slices without a fight. And a delicious compliment to the filling.
Okay fine, oats you've redeemed yourself.
You could easily pass this off as a "regular" pumpkin pie and only a diehard sweet potato hater would question you. But those don't exist anyways. Or pass it off as a Thanksgiving side dish, there is sweet potato in there after all.
And just in case you forget how to use a can opener or mash a sweet potato or dollop on coconut whipped cream, it may be smart to make a few preliminary test pies before the big day. If ya know what I mean…
Print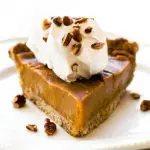 Sweet Potato Pumpkin Pie
Prep Time: 15 minutes
Cook Time: 60 minutes
Total Time: 75 minutes
Yield: 8 people 1x
---
Description
This Sweet Potato Pumpkin Pie with oat cookie crust and luscious custard filling is THE dessert for your holiday table! Vegan, gluten-free, paleo-friendly.
---
Oat Flour Crust (*see notes for grain-free/paleo option)
1 1/2 cups (180g) oat flour
1/3 cup (85g) nut/seed butter ((I used almond butter))
1/4 cup (90g) maple syrup
Pinch of sea salt
1/4 cup (60g) water
Sweet Potato Pumpkin Filling
1 15oz can (425g) pumpkin puree
1 cup (200g) baked sweet potato
1/2 cup (180g) maple syrup
1/4 cup (60g) non-dairy milk
1 tbsp pumpkin pie spice
1 tsp vanilla extract
---
Instructions
Preheat the oven to 425F.
For the crust, combine everything except water in a large mixing bowl. Mix/knead adding water as needed to form a sticky ball of dough.
Roll out the dough between two pieces of wax or parchment paper. Use one piece of paper to flip the crust into a pie pan (I spray mine with coconut oil first just to be safe!)
Press into the pan and crimp the edges. Set aside.
Combine all the filling ingredients in a blender. Blend on high until smooth and creamy.
Pour into the crust and smooth the top.
Bake for 15 minutes at 425F. Reduce the heat to 350 and bake for an additional 40-45 minutes.
Remove from the oven. Cool. Chill overnight.
Slice and serve with coconut whipped cream. Enjoy!
---
Notes
For the grain-free crust, combine 2 cups almond flour + 2 tbsp maple syrup + 2-3 tbsp water. Mix until sticky and clumpy adding water as needed. Press into a pie pan and up the sides.
CLICK BELOW TO PIN