The perfect cutout cookie recipe for any holiday, these simple Almond Flour Sugar Cookies are made with applesauce, maple syrup, and a naturally green frosting!

Rolling pin, cookie cutters, sugar sprinkles – holiday cookie season just got real.
If your family was anything like mine, growing up gingerbread cookies happened but sugar cookies HAPPENED. By the dozens on every horizontal surface in the kitchen and surrounding areas. Sugar cookies were the reason we dug out the cookie cutters shaped like snowflakes and mittens and trees and that owl that somehow snuck by as "Christmas-y". Sugar cookies were the reason we mixed up frosting in multicolors and bought the BIG jar of sprinkles. Sugar cookies were the sweet thing we shared with everyone and even shipped to family that lived far away – festive bubble wrap and all.
But maybe my family is just weird.
Or maybe sugar cookies are the ultimate Christmas sweet that no one can NOT feel more cheery while making/eating. Molasses-haters, frosting-lovers, children, very fortunate pets – sugar cookies appeal to all. I think it's the sprinkles.
Something about separating sprinkles by color and delicately placing them one by one (wait…you don't do that?) really forces you to slow down too. If you identify at all as a type A/work too much/brain always running person 1) Hi friend! 2) I highly suggest cookie decorating therapy. It's like an adult coloring book but with built-in snacks.
Never mind that I drove to 3 different stores to hunt down photo-perfect sprinkles. Let me reframe that: I SPENT AN HOUR AND A HALF BUYING SPRINKLES. The be-less-of-a-perfectionist thing is still a work in progress, okay. Sprinkling sugar is not the same thing as sprinkles.
Because sugar cookies are such an essential part of the holidays for me, this is not the first sugar cookie recipe I've shared. Last year I made these cute cutout stars with oat flour. So this year I thought I'd give grain-free cutout cookies a go. And get more colorfully festive with the frosting too.
The dough. I can't think of a flour better suited to become a sugar cookie than almond flour. It's so buttery moist all on it's own that you don't need oil or nut butter, applesauce works perfectly. It's also naturally sweet, so a quarter cup of maple syrup is the only "sugar" in these sugar cookies.
I added almond extract this time, and while I wouldn't go so far as to say game-changer I am enjoying that little something special it adds to the flavor.
Since I am impatient, there is no chilling nonsense needed with this dough. You can chill it for extra easy rolling/cutting, but not required. I do recommend rolling it out on a piece of wax paper to be sure it won't stick to your surface (plus easier cleanup!), and a dusting of almond flour on top and underneath is a good idea too.
Pro tip! If you don't have a cookie cutter, the outer ring of a mason jar lid works perfectly. Is there anything mason jars aren't good for?
The frosting. Creamy white frosting without vegan butter or powdered sugar is an ongoing challenge. But this is my favorite frosting recipe to date: coconut butter + maple syrup + non-dairy milk. That's it. It takes a little adjusting/adding more milk to get the consistency just right, but once you do it spreads and sets just like a classic cookie frosting should.
The thing about naturally colored red frosting – it's usually pink.
The thing about naturally colored green frosting – it's so easy to make with matcha! Which means it not only looks lovely but tastes lovely too.
So you can see why I chose green. One teaspoon of matcha powder makes for a beautiful shade of green, as long as you are using a high quality matcha. Otherwise it will be a brown-ish green – not fun, not festive. For lattes or frosting, I always use Encha matcha and have for years now. It is bright, never bitter (I don't even sweeten my lattes!), and my absolute favorite.
If matcha isn't your thing, leave the frosting white and add festively colored decorations like goji berries + pistachios or pomegranate + pumpkin seeds. Or shredded coconut makes for a great sprinkle stand-in, white or colorful.
Tell me, tell me. Which cookie is the classic in your family: gingerbread or sugar?
Or maybe something totally different – please share! I am unabashedly nosey when it comes to cookies.
Print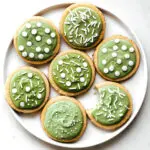 Almond Flour Sugar Cookies
Prep Time: 00:20
Cook Time: 00:13
Total Time: 33 minutes
Yield: 12 1x
Category: cookies
Method: baking
Cuisine: american
---
Description
The perfect cutout cookie recipe for any holiday, these simple Almond Flour Sugar Cookies are made with applesauce, maple syrup, and a naturally green frosting!
---
2 1/2 cups (280g) almond flour*
1/4 cup (90g) maple syrup
1/4 cup (70g) unsweetened applesauce
1 tsp baking powder
1/8 tsp salt
1 tsp vanilla extract
1/2 tsp almond extract (optional)
Matcha Frosting
3/4 cup (195g) coconut butter (melted)
1/4 cup (90g) maple syrup
1/4–1/2 cup non-dairy milk (I used almond)
Optional: sprinkles for decorating (or try goji berries, pistachios, pomegranate seeds, pumpkin seeds, or shredded coconut for natural "sprinkles")
---
Instructions
Combine all the cookie ingredients in a mixing bowl. Mix to form a ball of dough. (You can chill the dough here for easier rolling, but it is not necessary.)
Preheat the oven to 350F.
Cover your work surface with a sheet of wax or parchment paper and lightly dust with almond flour.
Roll out the dough to approximately 1/4 inch thickness adding more flour on top as necessary so the rolling pin (or glass bottle if you don't have one!) doesn't stick.
Cut out the cookies into any shape you like, trying to keep them as close as possible to make the most of the dough.
Use a spatula to transfer the cookies to a baking sheet lined with parchment paper.
Collect the dough scraps. Re-roll and cut out as many cookies as you can fit.
Bake for 12-14 minutes or until golden brown around the edges. Remove from the oven and cool completely before frosting.
For the frosting, stir together the melted coconut butter, maple syrup, matcha, and 1/4 cup of milk. Keep adding milk slowly until it becomes smooth and spreadable. It will thicken as it cools, so make right before using.
Spread the frosting onto the cookies, top with sprinkles, and chill to allow the frosting to set.
Enjoy! They will last in the fridge for 4-5 days but need to remain cold or the frosting will melt.
---
Notes
*For an oat flour option, try THIS recipe instead.
Keywords: christmas, baking, vegan, paleo, matcha, easy, frosting, holiday
CLICK BELOW TO PIN
SaveSave