This soft simple Glazed Gingerbread Loaf with a drizzly sweet glaze is the perfect healthier holiday recipe for festive parties or just a cozy sweet snack!

I almost wanted to make gingerbread two words because that title felt much too short. Over and on to the eating in 0.3 seconds. But that's what this recipe is all about – simple, basic, the OG spiced stuff just quietly being Christmas perfect. Because there's no need to be flashy about it when the flavor and texture are this flawless. Soft and fluffy and flawless.
The Glazed Gingerbread Loaf. (Glaze optional if you take simplicity very seriously.)
I considered cake. I considered cupcakes. But no. A ginger-spiced molasses-spiked batter like this belongs in a loaf pan. Loaf pans were made for this. Born ready for gingerbread-ing. All those batches of banana bread have just been practice runs.
And that loaf pan belongs in your oven. And the JOY of removing a golden, taller than the pan, glorious loaf of gingerbread belongs in your heart.
I love a cute cutout muggle-shaped gingerbread cookie as much as the next person, but sometimes you just need a quick trusty blend > dump > bake recipe with zero rolling or cutting or frosting faces.
Because last minute holiday potluck-type parties happen. And Instagram-induced gingerbread hangry-ness happens. And sometimes it's just cold and I want to stand by the oven and snag some of the toasty-ness and sweet scents for longer than the 12 minutes it takes to make cookies. This recipe is the answer.
There are sososo many reasons to love this gingerbread loaf, but it would be neglectful of me to not talk about the texture a little more in-depth. Because (pardon the strong language) it might just be my FAVORITE gingerbread non-cookie thing I've ever made. And that is all because of the soft and super moist texture. Moist but with a still defined crumb, aka the goal of baking always. And this loaf is killing it.
What makes the texture so right?
Medjool dates. Hello moisture, sweetness, binding, caramel flavor no one even knew gingerbread was missing until now.
Almond butter. Could you use applesauce instead? Maybe. Would you be missing some of the lusciousness this loaf has to offer? Yup.
Molasses. Just doing it's deep rich thang.
Tapioca starch. I know I know…I tried to leave it out, I truly did. But it turns a little too crumbly into juuuuuuuust right.
Oat flour. Hate it in pie crusts, love it in this bread.
Grain-free option. Almond flour alone is too moist to work with all those dates (read: pan of mush). The best option I found was using the Bob's Red Mill Paleo Baking Flour. It will make for a denser, less fluffy loaf but still amazingly delicious. In order for it to not be mushy in the middle, I recommend decreasing the amount of milk and increasing the bake time by 5-10 minutes. Or making muffins instead of one large loaf would be a great idea too, maybe better.
The glaze. I simply warmed up coconut butter and drizzled it over top, which hardens beautifully and adds that little extra subtly-sweet something. But if you are trying to make friends or family believe there's powdered sugar at play here, I recommend this frosting minus the matcha. Warmed up just a little it will be thin enough to drizzle and still set beautifully.
Twinkly pomegranate seeds jewels optional. But I mean come on…
Happy gingerbread not-a-cookie making to you!
Print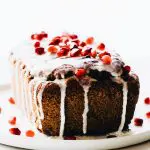 Glazed Gingerbread Loaf
Prep Time:

10 minutes

Cook Time:

35 minutes

Total Time:

45 minutes

Yield:

6

slices

1

x
---
Description
This soft simple Glazed Gingerbread Loaf with a drizzly sweet glaze is the perfect healthier holiday recipe for festive parties or just a cozy sweet snack!
---
1 cup

packed (

200g

) pitted medjool dates

3/4 cup

(

190g

) non-dairy milk

1/2 cup

(

130g

) almond butter ((or any nut/seed butter))

1/4 cup

(

80g

) molasses

1 1/2 tsp

ginger

1 tsp

cinnamon

1 tbsp

baking powder

1 tsp

vanilla extract

1 tbsp

lemon juice
Pinch of salt

1 1/2 cup

(

165g

) oat flour ((*see notes for grain-free option))

1/2 cup

(

70g

) tapioca starch ((can sub arrowroot or cornstarch))
Glaze**
1/4 cup

coconut butter

1 tbsp

maple syrup

1 tsp

vanilla extract

2

–

3

tbsp non-dairy milk
---
Instructions
Preheat the oven to 350F.
Combine the medjool dates, almond milk, almond butter, and molasses in a high speed blender. Blend on high until there are no date chunks left.
Add the rest of the ingredients and blend on low speed until combined. Do not over-blend.
Transfer the batter to a baking pan lined with parchment paper or lightly oiled.
Bake for 30-35 minutes at 350F, or until golden brown on top and firm when you lightly press the center. Or you can insert a toothpick into the center and make sure it comes out clean.
Remove from the oven and cool completely before glazing.
For the glaze, melt the coconut butter. Add the maple syrup and vanilla. Stir slowly adding the milk until smooth and drizzle-able.
Drizzle onto the cooled loaf and sprinkle with pomegranate seeds. Enjoy!
---
Notes
*For a grain-free option, you can replace the oat and tapioca flour with 2 cups Bob's Red Mill Paleo Baking Flour, decrease the milk to 1/2 cup, and bake for an extra 5 minutes or so. It will be more dense though, so for best texture I recommend sticking with oat flour. **Or you can just use straight coconut butter.
CLICK BELOW TO PIN
SaveSave