Sticky-sweet caramelized apples baked on top of a tender almond flour crust for a healthier take on Apple Tart Tatin. Think: apple pie in pizza form!

Apple Tart Tatin.
That is the answer to the question: What would happen if you crossed apple pie with pizza with upside down cake with a caramel apple? Since I know you've been wondering.
I still don't know how to pronounce it, but I sure know how to eat it. Warm from the oven. Still sticky and syrupy. With ice cream on top if you know what's good for you. Yep, it's just as delish as all that sounds. And kinda fun to make too – the flip, the moment of truth, will it come out in one piece?
Spoiler alert: it did. Well two actually, but no one (except everyone that watches the video) needs to know about that ONE apple slice.
Following in the footsteps of pecan pie, this is another dessert I've never made or had before. But I'm guessing the odds are a little higher that we will be exploring new territory together this time. Unless fancy-ish French desserts are your thing.
This post is not sponsored by but it is inspired by Le Creuset, who kindly sent me their Heritage Tart Tatin Dish to experiment with. And if you give a girl a beautiful red tart tatin dish she's going to make an Apple Tart Tatin. And if that girl is me it's going to come with a healthier vegan and paleo spin.
The dish itself is a pretty essential part of making a tart tatin since it involves cooking and caramelizing the apples stovetop before covering them with a crust and baking. As if you started making applesauce and halfway through decided upside down cake sounded better. This cast iron pan can handle stovetop cooking and the heat of the oven, and the enamel coating means all that caramelized apple goodness won't stick or burn. I have included an option for baking it in a round baking pan too though, it just requires an extra step.
Crust. Adapted from my favorite almond flour crust but with a few tweaks so it will roll and transfer easily. If you wanted to use oat flour instead you could try it this crust dough, but I can't guarantee the texture will be as rich or the edges as perfectly toasty.
Caramel. The sticky sweet part of this recipe is a simple caramel sauce, usually made with butter and sugar. I swapped butter for full fat coconut milk, sugar for maple syrup, and added in apple juice for extra flavor. Less refined sugar means it takes a little longer to cook down and thicken, but thicken it will. Patience.
Apples. A crisp and sweet variety that can handle cooking is best. I used five small Fujis, you want approximately two pounds total. Peeled, cored, quartered, and ready to be soaked and softened by caramelizing sugar.
I won't tell you this is the easiest recipe ever. But I will tell you all the stovetop stirring and suspense-ridden flipping is worth it.
Happy apple pizza tart tatin making to you!
Print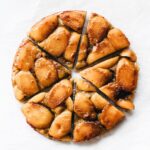 Apple Tart Tatin
Prep Time:

40 minutes

Cook Time:

25 minutes

Total Time:

65 minutes

Yield:

8

people

1

x
---
Description
Sticky-sweet caramelized apples baked on top of a tender almond flour crust for a healthier take on Apple Tart Tatin. Think: apple pie in pizza form!
---
Crust*
2 cups

(

225g

) almond flour

1/2 cup

(

70g

) arrowroot starch**

1/4 cup

(

90g

) maple syrup

1 tsp

baking powder
Pinch of salt

3

–

4

tbsp water
Caramelized Apples
2

lbs apples ((I used

6

small Fujis))

1/2 cup

full-fat coconut milk

1/2 cup

apple juice***

1/4 cup

maple syrup

1 tsp

vanilla extract
---
Instructions
In a large mixing bowl, combine the almond flour, arrowroot, baking powder, salt, and maple syrup. Mix adding the water slowly to form a sticky ball of dough.
On a piece of parchment paper, press/roll into a circle the same size as your pan. Set aside.
Peel, core, and quarter the apples.
In a tart tatin dish (or a saucepan) combine the coconut milk, maple syrup, apple juice, and vanilla. Bring to a simmer over medium heat.
Add the apples.
Cook stirring occasionally over medium heat until the caramel is thick and the apples are soft. About 20-25 minutes. Remove from the heat.
Preheat the oven to 400F.
If using a tart tatin dish, simply flip the crust on top and press it down. If not, grease a round cake pan. Arrange the apples in the bottom of the pan with the rounded side down. Place your crust on top and press.
Bake for 25 minutes at 400F or until golden on top.
Remove from the oven and cool for 15-20 minutes before carefully flipping onto a plate.
Slice and serve!
---
Notes
*For an oat flour option, use this crust recipe instead.
**You can use tapioca or cornstarch instead.
***You can use water instead, but it will be less sweet and flavorful.
CLICK BELOW TO PIN