If you eat upside down while you are upside down, then is it right side up cake?
Why am I posting an apple cinnamon recipe in July? Because I got a special request for one. And when you ask (and it's something I can actually do), I deliver.
This cake is proof, delicious sweet proof, of why I LOVE receiving recipe requests from you guys. It would not have occurred to me to make an apple cake. Heck, I don't think I've ever had apple cake! If I hadn't received this special request, then I would probably still be going along with my strawberry this and mango that, and we all would've missed out on this scrumptious Fuji-topped phenomenon.
The same day I got the request I popped into the kitchen and the brain juices (and apple juices!) started flowing. This cake went from apple cake to apple upside down cake to apple upside down cake with a sweet simple apple glaze. And it stopped there because I don't think it can get any better! (Unless there were sprinkles involved. Sprinkles can always make things better, but they didn't feel right in this recipe.) And all that happened without a bit of sugar or gluten or oil! So that makes it a member of my Everything-Free recipe collection.
The concept of this cake is just like pineapple upside down cake, but minus the 'pine'. No evergreen trees required. There is apple arranging and batter baking and that exhilarating moment of truth when you flip it over and cross your fingers that it comes out in one piece. Or if you can't handle the suspense, just use parchment paper in the bottom of the pan.
Here's a video so you can see the cake-flipping moment (and all the other cake-making moments) for yourself…
Print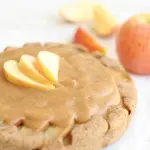 Apple Upside Down Cake (Everything-Free)
Prep Time:

25 minutes

Cook Time:

30 minutes

Total Time:

55 minutes

Yield:

9

1

x
---
2 cups

oat flour

1 tbsp

baking powder

1/2 tbsp

baking soda

1/2 cup

non-dairy milk

1 cup

pitted medjool dates (about 12)

3/4 cup

apple juice

1/2 tsp

cinnamon

1 tsp

vanilla extract

1

apple sliced into thin wedges
GLAZE

2/3 cup

apple juice

4

–

5

pitted medjool dates
---
Instructions
Preheat the oven to 350F.
Cut a piece of parchment paper to fit the bottom of your cake pan. Lightly oil the sides of the pan with coconut oil.
Arrange your apple slices in the bottom of the pan. Set it aside.
In a blender, combine the apple juice, non-dairy milk, dates, cinnamon, and vanilla. Blend till smooth.
In a large mixing bowl, combine the flour, baking powder, and baking soda. Add the wet mixture and stir until it is lump free.
Pour the batter on top of the apple slices and gently spread it out.
Bake for 25 minutes at 350F. Check on it. If it is getting too brown but the center isn't quite done (it should bounce back when touched), then lower the temp to 300F for an additional 5 minutes.
Remove from the oven and allow to cool.
FOR THE GLAZE: Blend the dates and apple juice on high until smooth.
Once the cake is cool, flip it out onto a plate. Top with the glaze, slice, and devour!
Store leftovers in the fridge (it's really yummy cold too!)
---