With a light fluffy crumb, you'd never guess this Banana Flour Chocolate Chip Cake is grain-free and vegan. Find out more about this funky flour and get the recipe!


I am both happy and sad to report that this cake was halfway demolished within hours of making it. Happy because it really is that good. Sad because all that demolishing was done by yours truly, and no matter how healthy/vegan/oil-free/grain-free/blah-blah-blah it is that is still a lot of cake for one person in one night. But no regrets. Mostly because that was like a week ago so the overly-stuffed-with-cake feeling is a distant memory at this point.
Before I dive into the whys and hows of this recipe though, I want to clarify a few things about this cake…
It does NOT taste like banana. I know reading that title it is easy for your brain to overlook that little "flour" word and think banana chocolate chip cake, but the there is no banana flavor to this cake. Now I may have just disappointed you if you love the chocolate + banana combination, but I'm hoping the chocolate + delicious sweet vanilla cake combo will suffice. And if you hate bananas…YAY!!
It's actually a vanilla cake. Not chocolate. Not gingerbread. Not cinnamon mocha churro caramel almond spice something. I know the color is far from the dainty golden shade we expect with vanilla, but I promise the flavor says otherwise.
The nuts are optional. 100% not required. I know nuts in baked goods can be a controversial topic, I personally love the texture. But skip them if you don't like them, we can still be friends. Now if you throw in a few extra chips to make up for nixing the nuts, then I might even come to your side.
Okay now that all the disclaimers are done, let's get to the good stuff…
Banana flour. The unseen but cake-crucial elephant in the room. And what made this cake an especially fun experiment!
I have been asked about banana flour on countless occasions and my answer was always: "I don't know, I've never worked with it before." Truth be told I have had a container of the stuff sitting in my pantry for over a year now–opened but untouched. Why? One little reason: the smell.
Its not a terrible smell, but don't hold out for a banana flour candle to hit the market anytime soon. It doesn't scream scrumptious baked goods. It more screams going to take some getting used to. And please don't taste it raw or you will never try it in anything (after you are finished gagging that is).
But when I was kindly sent another package to try out, I took it as a sign that I needed to quit resisting and give it a baking shot. For the sake of pantry space if nothing else.
But now I feel a little silly for waiting so long, because this stuff is awesome!
Banana flour texture. The biggest lesson I learned from the first few fails at this cake is that banana flour absorbs a lot of moisture. So unless you are trying to make an edible diorama of the dessert, you will need a lot of liquid/wet ingredietns to balance it out. I also discovered that date paste alone is not the best for the job, it made for a mushy un-baked texture that while tasty was not attractive.
The combination I eventually found to work wonderfully with this flour is applesauce + cashew butter. The applesauce is responsible for the majority of the moisture and some sweetness too. The cashew butter prevents the mushy date-paste problem from happening again, and keeps the cake moist while baking thanks to the nutty fat content. Together there is actually more liquid ingredients than flour.
Despite the very dry powdery texture, once you start mixing the banana flour makes for a lovely batter. It should be very much a batter, nothing near a dough.
My goal was to make this cake without any other flours or starches in addition to the banana flour, which I was successful with. But for that reason the cashew butter is absolutely necessary and I cannot recommend any lower fat substitutions. Of course you are always welcome to experiment for yourself
Banana flour flavor. I would go so far as to say the flavor is neutral. Undetectable. Not a hint of the bitter starchy taste it has in it's raw form. I don't know how exactly, perhaps it is oven magic at work, but it truly just tastes like normal cake in my opinion.
Everyone's tastes are different, some more sensitive than others, so if you have tried banana flour or do try this cake I would love to hear your thoughts!
What is banana flour? (Hmmm guess I should've lead with this…) It's flour made from green, unripe bananas. It is gluten-free and paleo. Since the bananas are not ripe (hence no banana flavor) it is very high in resistant starch. Resistant starch is a prebiotic that is said to be beneficial for gut bacteria. I won't get too much into all that, you can google it if you are curious. There are not tons of recipes out there using it, and a large portion of them are paleo and require eggs, but there are some.
Now I'm not saying this the grain-free silver bullet substitution and you should just start swapping it in for wheat wherever you like–it's certainly not. But it has major recipe potential when combined with the right ingredients. And compared to coconut flour it's a grain-free walk in the park to work with if you ask me! You will definitely be seeing banana flour around here again.
You can order it online of course, but I have also seen it at my local health food store. There are a few brands that make it at this point, but I find the Let's Do Organic one to be the easiest to find, most affordable, and certified vegan, gluten-free, and organic.
Believe it or not, this was originally supposed to be a banana flour blondie recipe. But this cake just had an un squelch-able determination to rise and be fluffy (something I wish other baked goods would learn from!) With each trial I decreased the amount of leavening, but yet it still came out tall and cake-textured every time, so eventually I quit fighting and changed the name.
Cake, you win. The prize? A slice of celebratory…wait. Hmm maybe I did still win actually.
Print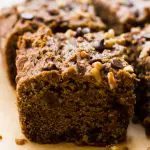 Banana Flour Chocolate Chip Cake
Prep Time:

28 minutes

Cook Time:

30 minutes

Total Time:

58 minutes

Yield:

6

servings

1

x
---
Description
With a perfect light, fluffy crumb, you'd never guess this banana flour chocolate chip cake is grain and egg free!
---
1 cup

banana flour

1 cup

unsweetened applesauce

1/3 cup

cashew butter

1/3 cup

coconut sugar

1 tsp

vanilla extract

1/2 tsp

baking soda
pinch of salt

1/4 cup

mini chocolate chips

1/4 cup

chopped nuts ((optional, I used pecans))
---
Instructions
Preheat the oven to 350F.
In a large mixing bowl combine all the ingredients except for the nuts and chocolate chips. Stir to fully combine.
Add the chocolate chips and optional chopped nuts. Fold in.
Transfer to a baking dish lined with parchment paper or lightly coated with coconut oil (I used an 8×5″ pan).
Sprinkle additional nuts and chocolate chips on top. Press them in lightly.
Bake for approximately 30 minutes at 350F.
Remove from the oven and allow to cool for at least 15 minutes before slicing and eating. Keep leftovers in an airtight container in the fridge.
---
Pin It
SaveSave