We'll get to the Cauliflower Chocolate Pudding recipe in a minute, but first story time…
Once upon a time there was a frosting recipe. The frosting recipe was creamy and chocolatey and loved to spend time on top of brownies and cupcakes. But the frosting recipe had a big secret (the secret was cauliflower fyi). Afraid the world would find out about the secret, the frosting recipe ran away (to the recycling bin I think) never to be seen again.
The frosting recipe's creator was terribly sad, but with time the creator forgot all about it and moved on to other sweet things. But one day, while chatting with a creator friend about cauliflower desserts (play along please, Audrey), the frosting recipe creator was reminded of the long lost frosting. And the frosting creator was inspired to recreate it.
With all the years (okay, months) that had passed the frosting creator had more knowledge of frosting related things by now, so rather than recreate the exact same frosting she created an even better frosting! One with more chocolate and more fruit! But upon first taste she realized "By golly, this is not a frosting at all, but pudding!" It is so light and creamy, perfect for eating with a spoon, from a jar, with fruit, it's best by far (Whoa when did Dr. Seuss show up?)
So the creator shared the recipe with the world and everyone ate lots of pudding and got their 3 serving of veggies a day and lived happily ever after.
Am I crazy? A little. But I'm not sure which makes me crazier: story time or the cauliflower in this pudding.
It's a creamy light chocolatey delight filled with fruit and veggies. But all you'll taste is decadence!
Print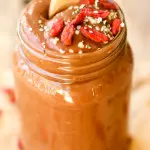 Cauliflower Chocolate Pudding
Prep Time:

20 minutes

Total Time:

20 minutes

Yield:

2

1

x
---
3 cups

cauliflower florets

2 cups

non-dairy milk

1/3 cup

cacao powder

10

pitted Medjool dates

1/2 tsp

vanilla bean powder (or

1 tsp

vanilla extract)
---
Instructions
Steam the cauliflower till very tender.
Blend everything in a high speed blender till smooth and creamy.
Eat immediately or refrigerate.
Store in the fridge for up to 24 hours.
---
You may remember these festive jars from Instagram a few days ago…
To make the Valentine's Day Parfait:
-Press one of these Raw Chocolate Cookies from ViedelaVegan.com inside the jar
-Fill 3/4 of the way with Cauliflower Chocolate Pudding
-Blend 1 beetroot with water, then stir 1-2 tbsps into So Delicious Cocowhip. Layer on top.
-Garnish with mini cookies and raspberries
Cauliflower has been hanging out in some other surprising sweet places around the web…
–Cauliflower cakes galore from Unconventional Baker
–Cauliflower Nicecream from Marfigs Munchies
–Blueberry Banana Smoothie from Harriet Emily
–Dairy-Free Lemon Pudding from Healthful Pursuit
The healthiest chocolate pudding you gotta try! Cauliflower Chocolate Pudding
Click To Tweet
Are you freaked out or on board with the cauliflower sweets?