All the healthy goodness of chia pudding without the chia texture, this CREAMY chia pudding is the easiest chocolate breakfast or dessert!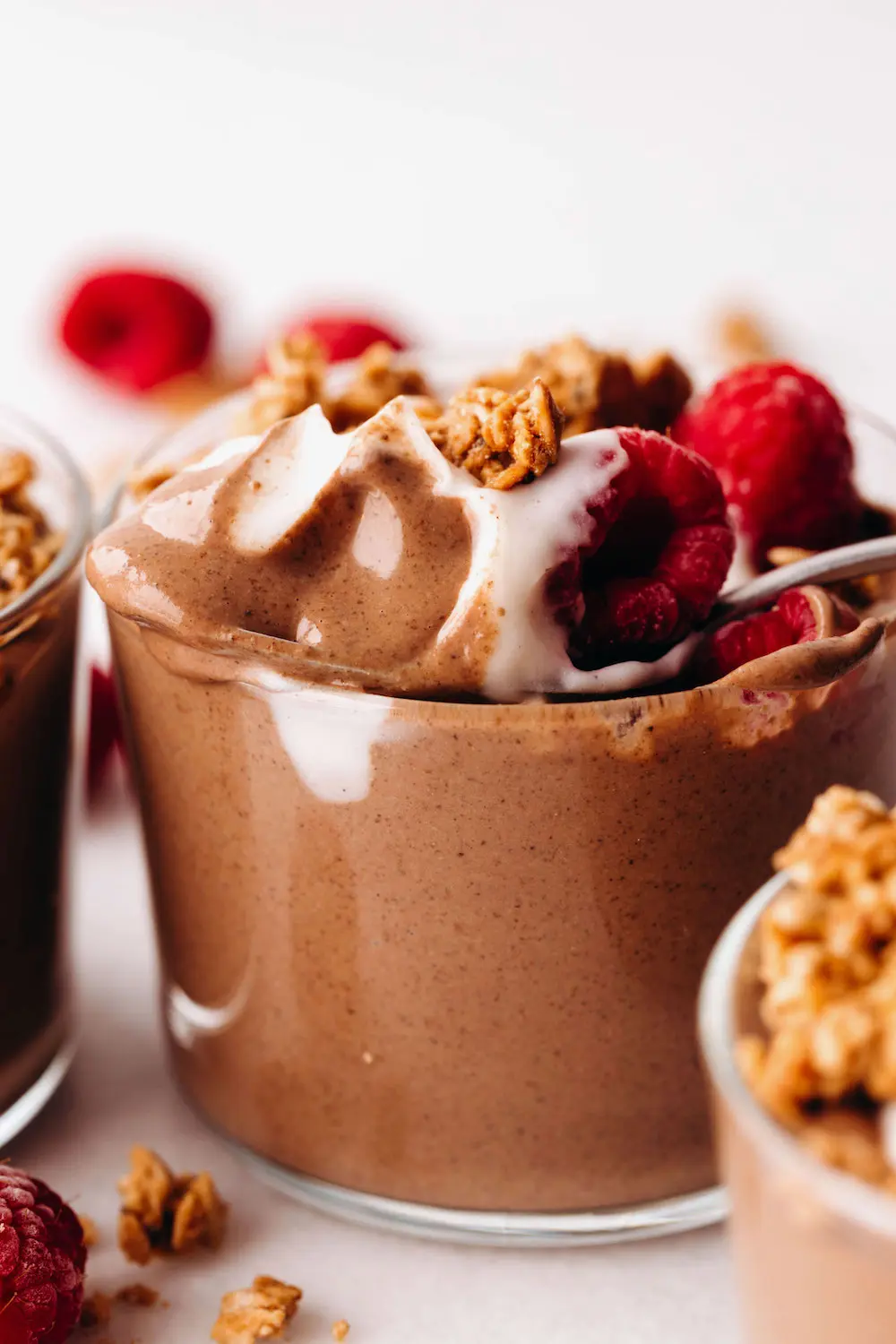 ---
If I just handed you a spoonful, you'd never know this chocolate pudding was chia. If I didn't tell you (and show you…and make a video showing you again) the seedy way things started here, the CREAMY texture would never give it away. While I do find the bubbly bobble texture of chia pudding kind of fun, I have a few people in my life who solidly disagree. Luckily that's nothing a blender can't easily solve. And, in my personal opinion, blending really elevates the humble chia pudding from hippie breakfast health food to definitely could pass as dessert.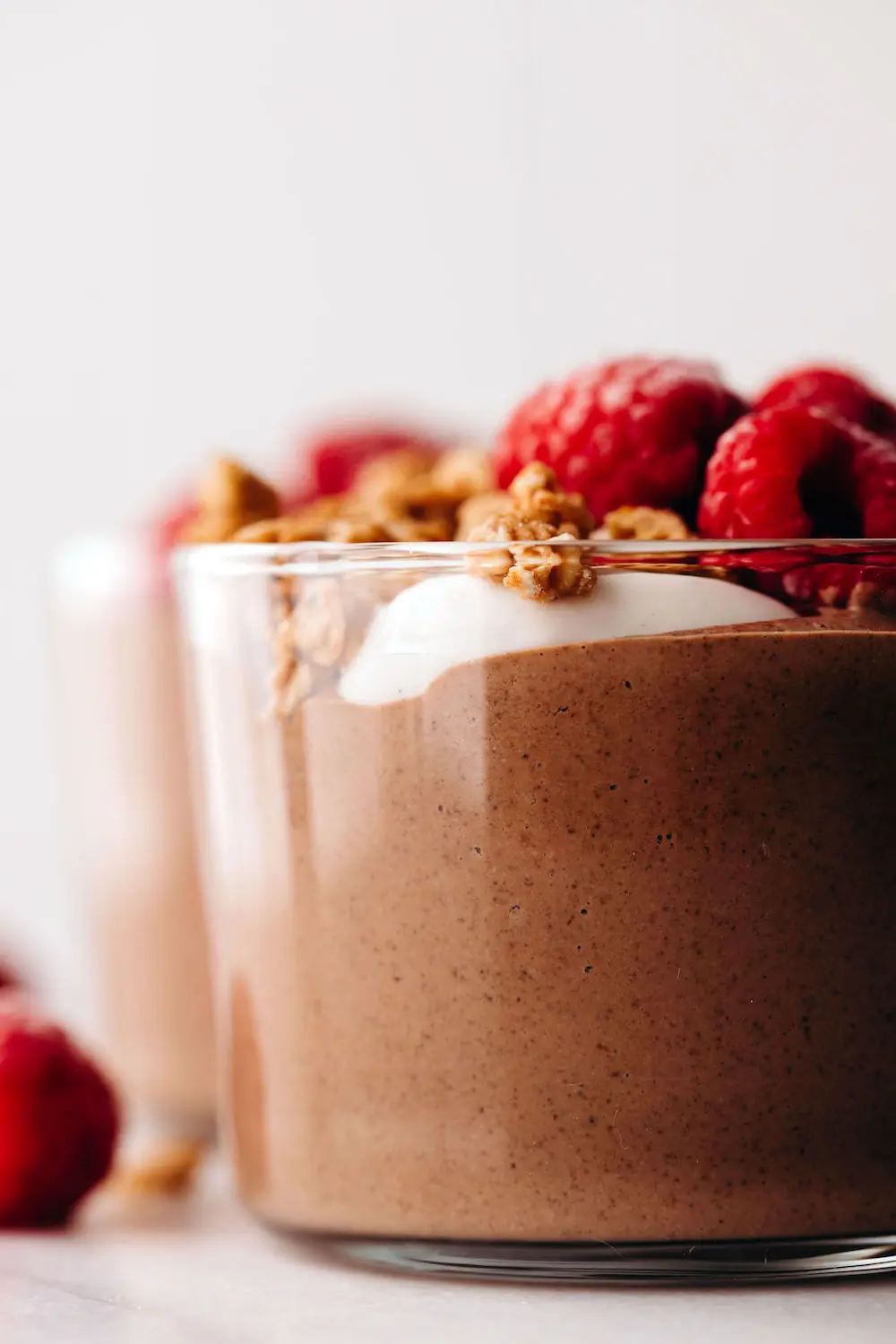 Blended Chia Pudding a.k.a. Your New Favorite Chia Pudding
Even if you're already a chia pudding fan, trust me when you try out this blended variation you're going to fall in love with it all over again. And yes of course you could make a non-chocolate version…but why would you when you could have TWO forms of chocolate, an optional protein boost, and endless choc-complimentary topping options?
Ingredients For This Creamy Chia Pudding
This recipe is dairy-free and vegan as written, but I'm leaving lots of room for personalization in this ingredient list:
Milk. Most any kind will work, but some will yield slightly different textures/tastes. My personal preference is a 1:1 mix of almond milk and full-fat coconut milk, the ideal mix of thick but not too rich for me. All coconut milk will give you a more solid/mousse-like texture. All almond milk will be slightly thinner, like a greek yogurt consistency. Oat milk, soy milk, cashew milk, etc will all yield a similar consistency to almond milk, just different tastes. And if you're not vegan, feel free to use dairy milk instead.
Maple syrup. Or whatever sweetener you prefer, even coconut sugar or a granulated sweetener would be fine. You can also add more/less to your tastes, or if your milk is sweetened you may want to reduce or even omit.
Cocoa powder. Our first form of chocolate.
Chocolate SunButter. Our second form of chocolate is Chocolate SunButter, and a real game-changing chia ingredient. It adds richness, a little sweetness, the yummiest chocolate flavor. If you're going for that DESSERT pudding, maybe add a little extra!
Vanilla extract and a pinch of salt.
Chia seeds. An obviously important addition, although we won't be seeing them by the end of this recipe.
Optional: protein powder. You can easily add in a few scoops of your favorite protein powder (chocolate or vanilla), but you may need a little extra milk to blend if you do. Or I love adding collagen to mine, you still get the extra protein but it doesn't change the flavor at all.
Toppings!
Preparing The Creamy Chia Pudding
This is an overnight process, but you can prep a big batch and keep it in the fridge for an entire week of chocolatey snacking. Everything but the chia seeds is whisked together in one bowl (or blended) until well combined. Then add in the chia seeds and stir or blend until evenly distributed, you may have to wait a few minutes and re-mix if the seeds initially sink to the bottom. Cover and refrigerate overnight so the seeds have time to soak and soften and become easy to blend.
The next day just blend! On high speed for at least 30 seconds, you want it to be REALLY smooth. It will warm up a bit when you blend, so I like to re-refrigerate for an hour or so after blending so the texture can thicken. But up to you, you can also just add toppings and dig in.
More Chia Recipes You'll Love
Print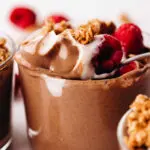 Creamy Chocolate Chia Pudding
Author:
Prep Time: 10 minutes
Chilling Time: 8 hours
Total Time: 8 hours 10 minutes
Yield: 3 servings 1x
Category: chocolate
Method: blender
Cuisine: american
---
Description
All the healthy goodness of chia pudding without the chia texture, this CREAMY chia pudding is the easiest chocolate breakfast or dessert!
---
2 cups (480g) milk of choice (I like a combination of almond + coconut)
2 tbsp (40g) maple syrup
1/4 cup (20g) cocoa powder
1/4 cup (65g) Chocolate SunButter
Pinch of sea salt
1/2 tsp vanilla extract
1/2 cup (80g) chia seeds
Toppings of choice: granola, berries, dairy-free yogurt, chocolate chips, etc.
---
Instructions
Whisk together milk, maple syrup, cocoa powder, Chocolate SunButter, vanilla, and salt until fully combined.
Add chia seeds and whisk to distribute. Wait a few minutes, and if the seeds sink to the bottom whisk again.
Cover and refrigerate overnight.
The next day, blend in a high-speed blender until perfectly smooth (30-45 seconds on high). Add a splash of milk if needed.
Divide into bowls/jars. Refrigerate for 1 hour for a thicker texture, or add toppings and enjoy.
The leftovers can last in the refrigerate for up to a week.
---
Notes
*You can sub with chocolate protein powder to bump up the protein content. Or add unflavored/vanilla protein powder or collagen in addition to the cocoa powder.
Keywords: vegan, dairy-free, breakfast, dessert, chia, healthy, snack, blender, vitamix, meal prep
CLICK BELOW TO PIN