A healthy dessert hybrid loaded with gooey chocolate chips, walnut chunks, and so much fudgy flavor! Vegan, grain-free, paleo-friendly.
Hi friend. Friend who is also a fan of chocolate and cookies. A.k.a. the best kind of friend.
This is going to be a short one. Because real life. True story. Actual situation is I've got next week's (hopefully!) recipe in the oven, a pot about to boil on the stove, family coming this weekend, and dog fur everywhere reminding me how much I need to vacuum between now and then.
It's funny because I'm not a writer – never was, never wanted to be, will probably never call myself that – but yet I write here every single week. I know many people probably just zip right on past to the recipe (Hi. Bye.), and I am 100% fine with that. I will happily wave as you scroll by and wish you the best of luck with your baking or snack-making regardless of if you want to stick around for the rambles or not. But to those of you that do read: THANK YOU.
It means a lot to me. Because actually writing the post can be tough. Like I'll-edit-the-video-twice-if-someone-else-will-just-handle-this-words-part tough. And sometimes I ask myself why I do it? Why I don't just jot down a few sentences about chocolate chips vs chocolate chunks and flour substitutions?
I think the answer has to do with holding space to share. So that when I feel the urge to talk about slightly more serious stuff like I am today the door is open. When the words want to flow there is a place for them. Like a little portal between you and me that just happens to be lined with lots of sweet things. Because blogging really isn't about food to me. It's about creativity + connection. And as cliche as that may sound, it's so true I can feel it.
I heard a quote on a podcast recently – "I write because I don't know what I think until I read what I say." (Yes I had to listen to/read that one twice too.) I don't think there could possibly be a better testimony to the power of writing your thoughts instead of just thinking them. I don't journal, but I do sometimes write emails with no intention of sending them which I think counts. There is something important about getting thoughts out of the rarely-objective mind and into words that helps. Always.
So for all those reasons I write. Sometimes it's about cookies. Sometimes it's about life. Sometimes it's about both.
As for the cookie side of things, these cookies are what would happen if you took a brownie, turned it into a cookie, and then turned the fudgy all the way up to eleven.
Based on my favorite sweet potato blondies, these cookies are made mostly of sweet potato too. Which has a couple of benefits: a) naturally sweet so just a touch of maple syrup is plenty b) naturally starchy so the only flour we need is a couple tablespoons of coconut flour c) tastes like a fudge brownie trapped in a cookie's body.
The dough is a mix of baked sweet potato, almond butter, cacao powder, blah blah blah… Let's get to the good stuff already: mix-ins! You could go chocolate chunks here, but personally I feel chips are more classic. Regular-size, not mini. And walnuts because I learned a thing or two about nuts in brownies from my boxed mix days. But you could swap for any nut you like, or skip them in favor of simple, straight, double-chocolate decadence instead.
These are the kind of cookies that just beg to be eaten warm and gooey with milk and friends. So please don't deny their devouring wishes.
Print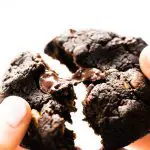 Chewy Chocolate Brownie Cookies
Prep Time:

10 minutes

Cook Time:

10 minutes

Total Time:

20 minutes

Yield:

12

cookies

1

x

Category:

cookies

Method:

baking

Cuisine:

american
---
Description
A healthy dessert hybrid loaded with gooey chocolate chips, walnut chunks, and so much fudgy flavor! Vegan, grain-free, paleo-friendly.
---
1 1/2 cup

sweet potato ((baked and mashed))

1/2 cup

nut/seed butter

1/4 cup

cacao powder ((or cocoa powder))

2 tbsp

maple syrup

1 tsp

baking powder

1 tsp

vanilla extract

2 tbsp

coconut flour
Pinch of salt

3

–

4

tbsp non-dairy milk

1/3 cup

chocolate chips

1/3 cup

walnuts ((or any kind of nut you like))
---
Instructions
Preheat the oven for 350F.
In a blender or food processor, combine the sweet potato, nut/seed butter, cacao powder, maple syrup, baking powder, vanilla, coconut flour, and salt.
Mix, adding the non-dairy milk 1 tablespoon at a time until combined. Stop to scrape down the sides as needed.
Add the chocolate chips and walnuts. Mix/stir into the batter.
Roll into balls and arrange on a baking sheet lined with parchment paper. Flatten lightly.
Bake for 10-12 minutes at 350F.
Remove from the oven and cool for 5-10 minutes. Enjoy!
Keep in an airtight container (preferably in the fridge) for up to a week.
---
Keywords: baking, dessert, snack, easy, healthy, vegan, paleo
Pin It
SaveSaveSaveSaveSaveSaveSaveSave
SaveSave