Homemade Apple Cinnamon Ice Cream with hints of caramel and peanut butter mixed in for the dreamiest dairy-free date-sweetened dessert!
You know the classic combination of apple pie + ice cream?
Ever wonder what would happen if you took the pie part out of that equation? You and me both, friend. Don't worry, I tested it out. For both of us.
Spoiler alert: Subtracting pie = 2x yum. No pie > pie. Pie divided by ice cream = cinna-apple scrumptiousness. (FYI that is the most math I've done in 5 years without opening the calculator app on my phone.)
See here's the thing – since I live in Florida, I cannot rely on the weather to tell me when to shift into full-force all the fall flavors mode. By the time it feels like fall outside, most of the rest of the world is throwing away week old jack-o-lanterns, wearing shoes that require socks exclusively, and made a minimum of two batches of soup already. So I start cozy baking and pumpkin pie making long before it feels natural.
But I adore cinnamon-spice treats and flip-flop weather, so a place where they overlap is pretty idyllic to me. Although a few more shades of those autumnal leaves falling and crackling on the sidewalk would be great to set the September/October mood, Florida. If you are taking suggestions.
Naturally relying on my internal seasonal cues (a.k.a. craving for pumpkin pie and caramel apples) sometimes means I get a little ahead of myself and post allthepumpkinallatonce. Not to say I regret this ice cream, or those bars, or these cupcakes. Cupcake regret is not even humanly possible – one is always glad one made cupcakes. Even if sometimes one should've shared/saved for later more of said cupcakes.
What I am saying is I've done a lot of pumpkin-ing considering it's not even October yet, which means now it's time to step back, put the can opener down, and dig into some less-hyped but so yummy fall flavors.
Apple cinnamon. Annnnnd GO.
I am a fairly pretty somewhat fairly decisive person, but I had the hardest time picking a name for this creamy stuff. Because it contains a hint of everything that pairs perfectly with apples, but calling it PEANUT BUTTER CARAMEL CINNAMON APPLE PIE ICE CREAM was too much.
Even though that name was too much of a mouthful to say, it is the most magical kind of mouthful for actually eating. Like a caramel apple dunked in a jar of peanut butter and doused with cinnamon. But much much creamier. And somewhat less messy.
If there is one things apples are not, it is creamy. They are killing it on crispy and have a lot going on in the sweet-tart flavor department, but sorely lacking in creaminess. And if you freeze them? Game. Over.
So for texture reasons, I stirred the apples in instead of blending them in. But first I coated them in cinnamon and baked until soft and sweet and all kinds of cozy. And I did all of that in the microwave. Because impatience. But you can do it on the stovetop too.
The blended portion of this recipe involves just four things: peanut butter, medjool dates, cinnamon, and coconut milk. And a pinch of salt if your PB doesn't come with. I partnered up with So Delicious for this recipe so all hella creamydreamy texture credit goes to those guys and their Culinary Coconutmilk. Oh hey, most fuss-free coconut milk ever. No weird ingredients like the carton stuff. No can opener required like the canned stuff. Not even one of those plastic peel off lid-under-the-lid thingies. Just simple, organic, ice cream ready creaminess in a cute little carton that reminds me of my juice box days.
Sidenote: I'm not drinking coffee at the moment, but I have tested and can tell you this stuff makes a mean matcha latte. Or if you are dreaming of the luscious smoothie possibilities right now, I can vouch for that very yummy use too. If creamy and coconutty as can be is the goal, this stuff has your back. Always.
I used the Lite Culinary Coconutmilk in this recipe because with the peanut butter in there too it will be plenty creamy. You could use the original kind and decrease the amount of peanut butter if you wanted instead. (But peanut butter ♡) Or you could substitute another nut or seed butter that you love in place of the peanut butter.
I have now made 3 batches of this ice cream with varying amounts of peanut butter and anywhere from 1/2 to 1 cup works. The more peanut butter the creamier obviously, but even the 1/2 cup version was very creamy especially if you break apart into chunks and re-blend the next day (which I always do because getting a smooth scoop shot on video stresses me out and I am going to do everything in my power to increase my chances). If you choose not to re-blend, let it thaw out for 10-15 minutes before scooping for best texture.
The best part? Spooning warm spiced apples on top of cold caramel-y ice cream and serving up a scoop of that crazy-good contrast into your bowl.
And by bowl I mean face.
And by scoop I mean double scoop.
And by happy ice cream making I mean you need this cinna-apple sweet stuff in your life asap!
Print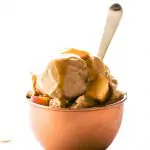 ---
Description
Homemade Apple Cinnamon Ice Cream with hints of caramel and peanut butter mixed in for the dreamiest dairy-free date-sweetened dessert!
---
Ice Cream
2 cups So Delicious Lite Culinary Coconutmilk
1/2–1 cup nut/seed butter ((I used creamy peanut butter))
8–10 pitted medjool dates
1 tbsp cinnamon
Pinch of sea salt ((omit if nut butter is salted))
Cinnamon Apple Chunks
1 apple, chopped
1 tbsp maple syrup ((optional))
1 tsp lemon juice
1 tsp cinnamon
---
Instructions
For the ice cream, blend all the ingredients in a high speed blender until creamy and smooth.
Pour into a shallow dish and freezer overnight.
The following day, either break into chunks and re-blend (creamiest) or allow to thaw for 10-15 minutes before you are going to scoop and serve.
For the apple chunks, toss all the ingredients in a bowl. Microwave for 3 minutes on high or cook stovetop until soft. Allow to cool.
Spoon the apples on top of the ice cream and scoop into bowls. Or layer the ice cream and apples parfait style.
Drizzle with nut butter and enjoy!
---
Pin It
This post is sponsored by So Delicious Dairy Free, but all thoughts and opinions expressed are my own. Thanks for supporting the brands that make Feasting on Fruit possible!
SaveSaveSaveSave