The yummiest paleo vegan Chocolate Chip Banana Bread – easy, naturally-sweetened, so moist, and full of chocolate chips for a healthy snack or dessert!
Three things a person cannot have too much of: 1) ripe bananas 2) mini chocolate chips 3) banana bread recipes.
Because when the bunch of bananas you've been staring at for 4 days finally decides to stop teasing and go all speckle-y soft and sweet – blend a smoothie, freeze for nice cream, caramelize those coins, batch of banana bread or breakfast cookies here we come. And if there was a sign-up list for a lifetime supply of mini chocolate chips – take my money and give me a pen! And banana bread. Now that's a near perfect food that deserves to be made every way possible. So even infinity would not be too much.
Perfect food, aye? Think about it for a minute: Bananas are good for moisture without butter/oil, naturally sweet becomes naturally even sweeter as they bake, plus they are kinda bind-y so that takes care of the whole egg issue. And bread is good for the soul.
So we love bananas + bread ALL the ways ♡
Chocolate chips in banana bread. As if that hasn't been done a thousand times by everyone and their neighbor's grandma's best friend. I know, I know, I know. But that's not the part of this story that's meant to make you all: how have I existed so long without THIS loaf in my life?
Based on my googling, the groundbreaking (humble, I know) part of this recipe is that it's VEGAN and PALEO. That means no eggs, no grains, no added sugar. And also (if you've attempted vegan/paleo nana bread before you'll know exactly what I mean here) no death valley in the center of the loaf after it cools. We expect our lovingly made loaves to maintain their stature after baking. Only the highest of standards here.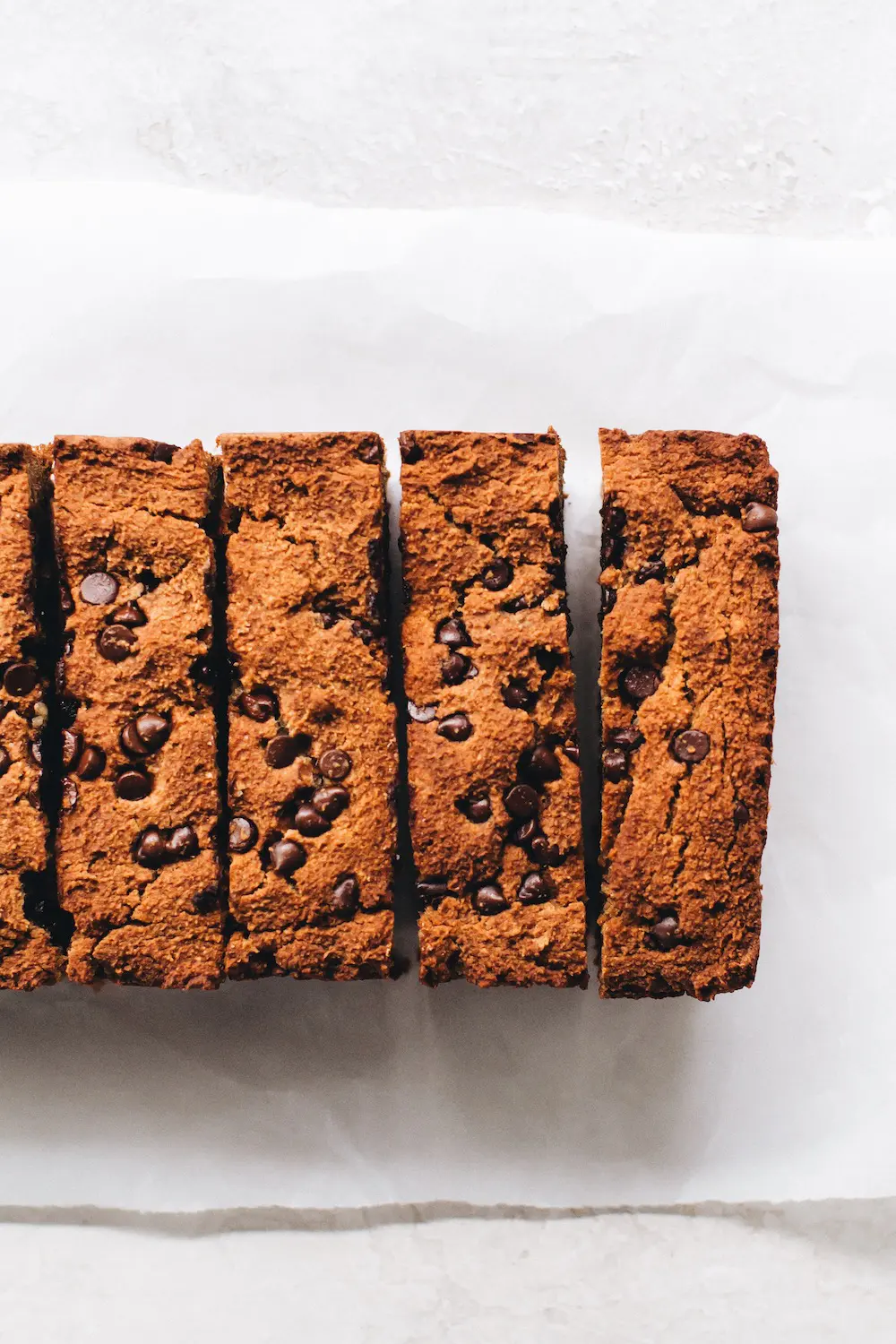 Now I gotta tell ya, there were a few sunk-below-sea-level batches in the beginning. So to avoid that tragedy:
Don't mess with the flours/ratio. This recipe uses almond flour, coconut flour, and tapioca flour. You need all three to get the right texture. Just almond > too moist/dense. Skip the tapioca > crumbly mess. Just coconut > crumblier mess. It's gotta be a team effort.
Let it bake and cool thoroughly. In my oven it took 50 minutes, but better to err on the side of an extra five then take it out too early. If the center feels even a little mushy, LEAVE IT. And let it cool for at least 30 minutes before slicing.
Measure by weight. This is one of those times where slight errors in measurement can make a difference, so I highly recommend using a kitchen scale.
I'm not trying to scare you with all the warnings, I am just deeply committed to bringing you the best banana bread experience possible. Anything less would be a waste of precious mini chips.
Maybe I have been on a two slices a day streak all week with this stuff. Maybe I did take two (okay…three) breaks while writing this very post to wander to the fridge and break off a hunk. Maybe I do love it cold and three-day-old-fudgy just as much as fresh and fluffy. Maybe it is the BEST vegan paleo banana bread recipe the internet has been needing. Just putting it out there.
Try it. Be the judge. Find yourself visiting the fridge an absurd number of times in the span of 45 minutes because rich, banana sweet, chocolate-studded bread is not something that was made to be resisted. And I will be here anxiously awaiting your feedback!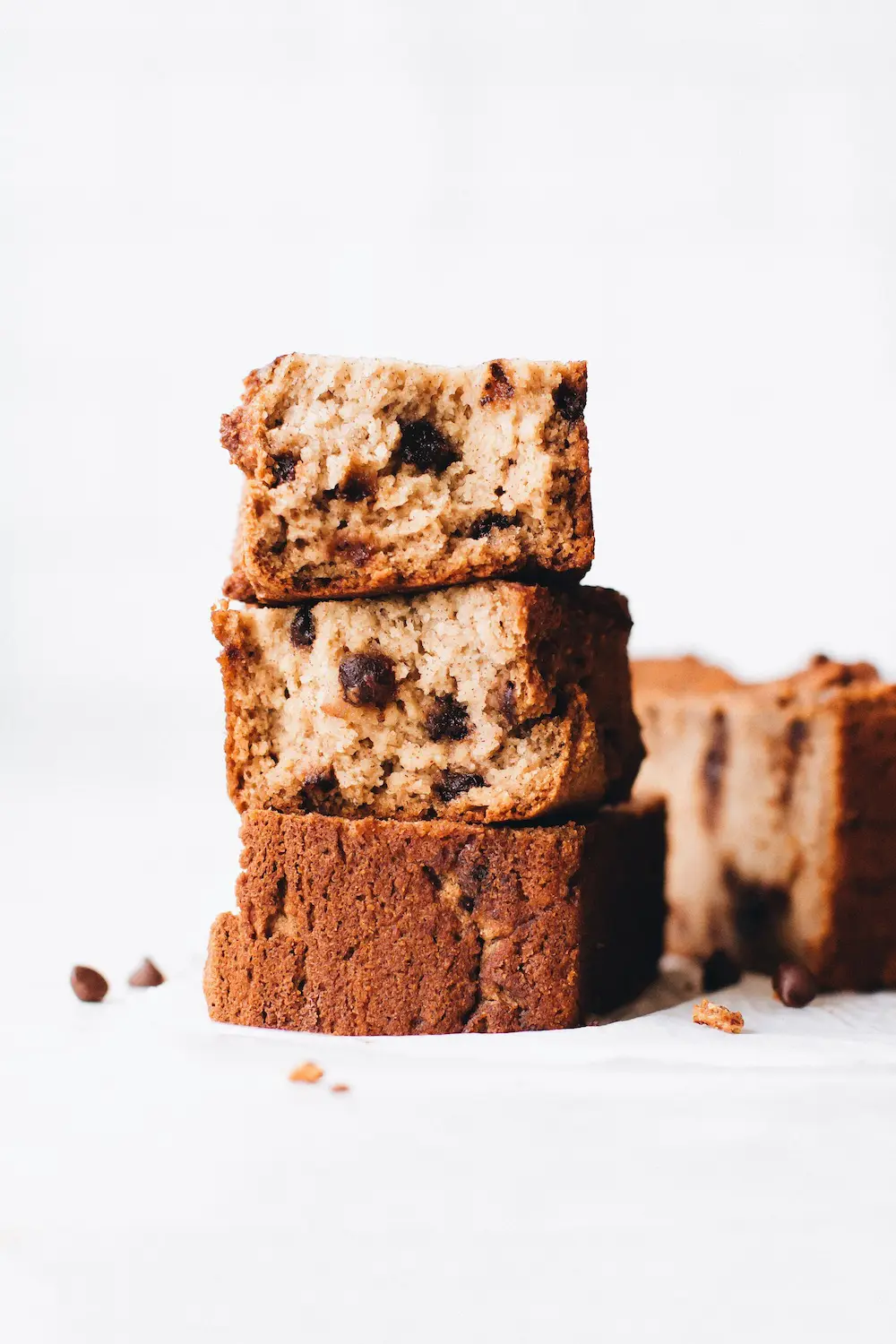 Print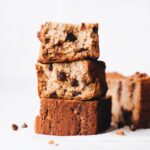 Chocolate Chip Banana Bread
Prep Time: 10 minutes
Cook Time: 50 minutes
Total Time: 1 hour
Yield: 8 slices 1x
Category: quickbreads
Method: baking
Cuisine: american
---
Description
The yummiest paleo vegan Chocolate Chip Banana Bread – easy, naturally-sweetened, so moist, and full of chocolate chips for a healthy snack or dessert!
---
3 (300-325g) overripe bananas
1/4 cup (60g) nondairy milk (I used almond)
1 tsp vanilla extract
1 tbsp apple cider vinegar
2 1/2 cup (275g) almond flour
1/2 cup (60g) tapioca starch
1/3 cup (40g) coconut flour
1 tsp baking soda
1/4 tsp sea salt
1 tsp cinnamon
1/3 cup (60g) chocolate chips
---
Instructions
Preheat the oven to 350F.
Blend the bananas, milk, vanilla, and apple cider vinegar until smooth.
Add the flours, baking soda, cinnamon, and salt. Blend until combined, stopping to scrape down the sides as necessary (it should be very thick).
Stir in the chocolate chips.
Transfer the batter to a greased loaf pan and smooth the top.
Bake for approximately 50 minutes at 350F. It should be golden brown on top and the center should be firm to the touch. If it feels at all squishy, leave it for another 5 minutes.
Remove from the oven and cool for at least 30 minutes before slicing.
Keep leftovers in an airtight container in the fridge for up to a week. It will get more dense/fudgy with time, but still delicious.
---
---
Nutrition
Serving Size: 1 slice
Calories: 316
Sugar: 11
Fat: 20
Carbohydrates: 30
Fiber: 7
Protein: 9
Keywords: baking, banana, easy, healthy, paleo, gluten-free, chocolate
CLICK BELOW TO PIN
SaveSave
SaveSave
SaveSaveSaveSave
SaveSaveSaveSave
SaveSave
SaveSave