Chocolate Fig Snack Bars! Chewy fruit-sweetened base, puffed millet plus a mix of healthy seeds, semi-sweet chocolate on top – hello new favorite no-bake snack!
I am on a major no-bake bar kick. It's following close on the heels of my turmeric cookie kick. And by "kick" I mostly just mean many many batches of these made and devoured at an inappropriate rate. But the whole variety is the key to health/life applies to different flavors of no-bake bars too, right? I mean it's basically the same as rotating your greens.
These Chocolate Fig Snack Bars are how we fulfill our love for rice crispy treats while still feeling like adults. Replace cereal with puffed millet. Replace marshmallows with dried figs. Replace no chocolate coating on top with a snappy layer of semi-sweet. Throw in cinnamon, sea salt, and a mix of seeds. Just look at us being all sophisticated.
What's the deal with puffed millet? Dare I say it's kinda having a moment on top of smoothie bowls and jars all over instagram these days. I'm sure you've seen it, those pale little puff balls that at first glance look like a) buckwheat groats b) hemp seeds or c) tiny packing peanuts. They're not much for flavor, but the texture of those feather-light little dots does yummy things for a creamy bowl. Sometimes you don't need the loud and crunchy of granola. Sometimes subtle and puffy is just right.
If you're currently like: what is she even talking about? This is what I mean. Btw I'm crushing pretty hard on that account right now, which may or may not be where this whole puffed millet thing all started.
Sprinkly smoothie bowl toppings inspiring figgy no bake bars – instagram, this is you using your powers for good.
Now that the why millet? part is answered, let's talk about this flavor situation. It's another inspired tale that started with a bowl. This bowl. I am nowhere near done loving figs + chocolate, these snack bars are just a chewy transportable way to carry on the happy of that combination.
Fun fact: figs act as the sugar and the glue in these no-bake bars too, so that means the ingredient list is short and (naturally!) sweet.
We also went the whole dash-of-cinnamon-and-sprinkle-of-sea-salt route, because any granola bar worth your time has those things going for it.
Puffy, fig-sweetened, nutritiously seed-filled base. Glossy, almost-candy treatment on top. Toasted coconut because un-toasted coconut doesn't look nearly as groovy.
You don't need me to tell you that you and your tiny humans and your friends and your dog (minus the chocolate) will adore these. You don't need me to tell you that easy + healthy + snack is the best kind of recipe. You don't need me to tell you how pack-able and meal prep perfect they are. And you definitely don't need me to tell you how cutting them into twelve bars instead of nine so that it feels very normal to eat two at a time was the best decision I made.
You just need to try them. Then you'll know EXACTLY what I mean.
Print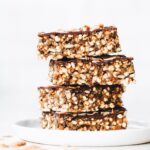 Chocolate Fig Snack Bars
Yield: 12 bars 1x
Category: snack
Method: no bake
Cuisine: american
---
Description
Chocolate Fig Snack Bars! Chewy fruit-sweetened base, puffed millet plus a mix of healthy seeds, semi-sweet chocolate on top – hello new favorite no-bake snack!
---
---
Instructions
Soak the dried figs in warm water for 30 minutes to soften. Drain and pat dry.
Blend the figs and almond butter in a blender of food processor to form a sticky paste.
In a large mixing bowl, combine the puffed millet, seeds, salt, and cinnamon. Stir.
Add the fig paste and mix.
Press into a pan lined with parchment paper (I used an 8×4″ glass dish), and refrigerate.
Melt the chocolate chips. You can add 1 tbsp coconut oil for easier spreading.
Pour the melted chocolate on top of the bars and smooth evenly.
Chill for at least two hours until firm.
Slice into bars and enjoy!
Keep leftovers in the fridge in an airtight container for 7-10 days.
---
Notes
*You can substitute other kinds of puffed grains or crispy rice cereal. **Use any mix of nuts or seeds you like, just be sure the total comes to 1 1/4 cup.
---
Nutrition
Serving Size: 1 bar
Calories: 201
Sugar: 12
Fat: 12
Carbohydrates: 19
Fiber: 3
Protein: 7
Keywords: snack, no-bake, granola, breakfast, easy, vegan, gluten-free, chocolate
CLICK BELOW TO PIN
SaveSaveSaveSave
SaveSave