Soft-baked, pumpkin spiced, and deliciously drizzled – these Chocolate Glazed Pumpkin Cookies made with almond or oat flour are an easy fluffy fall treat!

What I meant to say was Chocolate Glazed (Super Fluffy!) Pumpkin Cookies. The kind of cookies that look like they were hijacked off the top of a muffin The kind of cookies that taste like a cross between cake and clouds. The kind of cookies you plop onto a pan and then anxiously wait twelve to fifteen minutes while they puff up into perfect pumpkin domes. Yep, you know the ones.
But you've never truly experienced a fluffy pumpkin cookie until you've experienced one with CHOCOLATE GLAZE. Game changer. How do I know? I did a side-by-side comparison taste test, and the not-chocolate glazed one did not fair so well. So that statement is basically backed by science. When it comes to eating cookies, I am nothing if not thorough.
Pumpkin has seen many forms around here over the past few months: pie, pie bars, cake, cake bars (are you noticing a pattern here too?). December – a.k.a. time to let go of pumpkin and embrace peppermint month – is going to hit me hard. Let's not think about that.
Let's think about cookies instead. Cute. Quicker than pie. Better because chocolate in every bite. Cookies.
I've been feeling very conflicted lately when it comes to flours. Almond flour is so butterydelicious but also so expensive but also grain-free. Oat flour is much cheaper but also drier but also doesn't require a starch to help it hold together. Too many pros and cons and decisions and I just want to eat cookies already.
I've been dealing with this inner baking turmoil by switching back and forth between the two, or including an option for both whenever possible. But sometimes it's just not possible without major tweaking. Luckily this is one of those times where an option for both is possible. But I need you to know that the almond flour ones are better. More moist, more fluffy, more sweet, just better.
Btw. Trader Joe's almond flour for $7.99 a bag is the cheapest I've found, but if you know something I don't then please share!
After making the ever so tumultuous flour decision, the rest is so so simple…
Seven ingredients. And we're talking already in your pantry/fridge, not funky stuff.
Blender batter (that is very yummy for un-baked eating).
Drop/plop on a pan. But shape them nicely because no butter = no spreading, so go into the oven pokey -> come out of the oven pokey.
The world's easiest chocolate glaze – coconut butter + cacao powder + optional sweetener (I skipped it and zero regrets!)
Fluffy choco-drizzled feasting.
And that's how you do a pillow-y pumpkin cookie right.
She says with zero humility. But one thousand percent YOU GOTTA TRY THESE for realness.
Happy pumpkin baking/cloud-making to you!
Print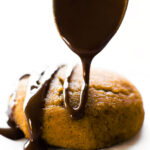 Chocolate Glazed Pumpkin Cookies
Prep Time:

10 minutes

Cook Time:

13 minutes

Total Time:

23 minutes

Yield:

15

cookies

1

x
---
Description
Soft-baked, pumpkin spiced, and deliciously drizzled – these Chocolate Glazed Pumpkin Cookies made with almond or oat flour are an easy fluffy fall treat! Vegan, gluten-free, paleo.
---
3/4 cup

(

185g

) pumpkin puree

1/3 cup

(

110g

) maple syrup

1/4 cup

(

65g

) nut/seed butter ((I used almond butter))

2

tsps baking powder

1 tbsp

pumpkin pie spice
Pinch of sea salt

2 cups

(

225g

) almond flour ((*see notes for oat flour option))

1/2 cup

(

60g

) tapioca starch ((can sub arrowroot or cornstarch))
Chocolate Glaze
1/4 cup

coconut butter

1 tbsp

cacao powder
Optional: 1 tbsp maple syrup
---
Instructions
Preheat the oven to 350F.
Combine all the ingredients in a blender or mixing bowl. Blend/mix until combined, but be careful not to over mix.
Drop large spoonfuls of the batter onto a baking pan lined with parchment paper and flatten/smooth them out into domes.
Bake for 13-15 minutes at 350F or until just golden on the bottom edges.
Remove from the oven and cool completely before glazing.
For the glaze, whisk together the ingredients until smooth and drizzle-able. If your coconut butter is too thick, microwave it for a few seconds to soften.
Drizzle the glaze onto the cool cookies and then refrigerate them for 5-10 minutes to set. Enjoy!
---
Notes
For the oat flour option, replace the almond flour with 1 3/4 cup (210g) oat flour and omit the tapioca starch. They will be somewhat drier, so I recommend using almond flour for best texture and flavor.
CLICK BELOW TO PIN
SaveSaveSaveSaveSaveSave