Easy, ultra rich Double Chocolate Hazelnut Muffins with oats, hazelnuts, cacao, coffee, and dark chocolate chips – a decadent snack or healthy dessert!
Sometimes you need a mid afternoon snack that feels decadent like pre-dinner dessert, and answers your please send brownies! call, and fills that place in your heart that loves nothing more than biting into a soft chocolatey cupcake at the same time.
These Double Chocolate Hazelnut Muffins were crafted just for that purpose.
Decadent like dessert but made with good stuff like oats and yogurt so they're healthier too. Rich like a brownie but not too fudgy and fluffier inside. And perfectly single-serving sized like a cupcake but without being as extra as 3 inches of piped frosting on top.
I truly think we've struck a perfect balance here. Although not so balanced when it comes to level of chocolate, that = AGGRESSIVE.
In my (unbiased of course) opinion these muffins are better than other chocolate muffins for a few reasons:
Flourless. Or more specifically we are making our own "flour" by grinding a combination of oats and hazelnuts in the Vitamix.
Oil-free. The hazelnut flour combined with nondairy yogurt gives these muffins all the moisture they need.
Coffee. Yes there's some of that in here too…hello EXTRA richness.
DOUBLE chocolate. A.k.a. chocolate with chocolate chips.
And I may have added more chocolate chips on top pre-baking…triple chocolate? I take the job of chocolate chip allocation very seriously.
You will regret NOT making these, of that I am sure. So muffin-bake away my friends, but do come back and tell me how much you love them too!
WATCH HOW TO
Print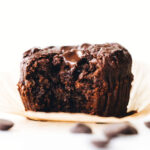 Double Chocolate Hazelnut Muffins
Author:
Prep Time: 00:15
Cook Time: 00:35
Total Time: 50 minutes
Yield: 12 muffins 1x
Category: muffins
Method: baking
Cuisine: american
---
Description
Easy, ultra rich Double Chocolate Hazelnut Muffins with oats, hazelnuts, cacao, coffee, and dark chocolate chips – a decadent snack or healthy dessert!
---
---
Instructions
Preheat the oven to 350ºF.
Line a muffin pan with paper liners or spray with nonstick oil.
Mix together the flax and water for the flax eggs, and set aside to gel.
Grind the oats and hazelnuts in a high speed blender to a fine flour consistency.
In a mixing bowl, whisk together the yogurt, coffee, maple syrup, flax eggs, and vanilla.
Add the oat + hazelnut flour, cacao (or cocoa) powder, baking powder, and salt.
Whisk/stir until you have a lump free batter.
Fold in the chocolate chips.
Fill each muffin 3/4 of the way with batter. Sprinkle a few extra chocolate chips on top of each.
Bake for 30-35 minutes at 350ºF.
Cool for 10-15 minutes before removing from the pan.
Enjoy warm, or I like them even better chilled the next day.
Store in the fridge in an airtight container, or freeze for longer storage.
---
Notes
*You can use almonds or another type of nut instead. Or if you don't have a high speed blender, use 1 1/2 cups oat flour and 1 1/2 cups almond flour.
**Brewed and cooled or use cold brew. You don't taste the coffee, it just enhances the chocolate flavor, but if you'd prefer to leave it out use nondairy milk instead.
---
Nutrition
Serving Size: 1 muffin
Calories: 158
Sugar: 11g
Fat: 5g
Saturated Fat: 3g
Carbohydrates: 27g
Fiber: 4g
Protein: 4g
Keywords: vegan, gluten free, nutella, snack, easy, baking, chocolate chip, yogurt, dairy free
CLICK BELOW TO PIN