With 2 kinds of oats, rice crisps, and coconut flakes this Oil-Free Chocolate Coconut Granola is the ultimate crunchy, cluster-packed sweet snack or cereal!
Oil-Free Chocolate Coconut Granola courtesy of yours truly. Falsely festive vibes courtesy of striped dishtowel. There is nothing holiday-flavored about this granola, but from the look of things you would think it was made of nothing but candy canes and fruitcake. In real life those stripes are actually much more magenta than Christmas red, so I wasn't going for the candy striped look. But hey, we started the week with gingerbread, why not keep the premature holiday mood rolling.
I suppose you could say homemade granola dressed up in a ribbon-wrapped mason jar would be a lovely holiday gift. Or you could say chocolate is always appropriate no matter the holiday. Or you could say that sprinkling on extra coconut after baking looks like snow flurries falling on granola ground.
But I really just whipped up this super easy snack/cereal because it is long past time I expanded on my original oil-free but oh so crunchy granola with some flavor fun! And chocolate seemed like the obvious place to start. And coconut seemed like the obvious mix-in match.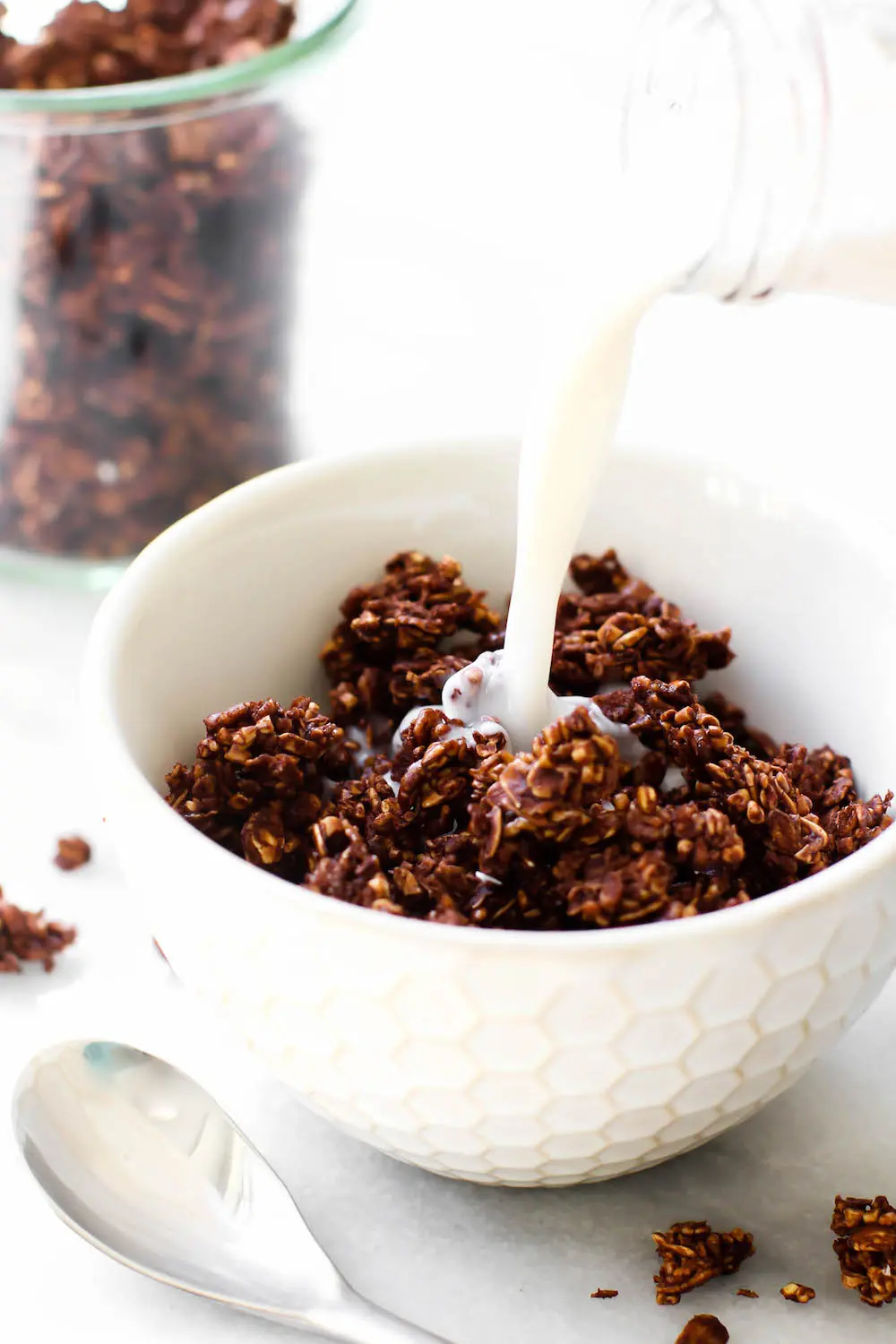 I have also found a new favorite granola addition: steel cut oats! I stand by my original combination of rolled oats and crispy brown rice cereal, but add steel cut oats in too and the texture is even better. Light airy crunch of crispy rice, chewy granola-familiar flakes of rolled oats, and crunchy little nubs of steel cut oats–that's a lot of textural diversity.
Take all that texture plus chocolate, coat it in my oil-free granola-crunchifying secret weapon, maple syrup, stir in the coconut flakes, and you have the perfect sweet snack-able cacao coconut clusters!
Or cereal. I'm usually more of a granola by the handful or as a topping for creamy things kind of person. But chocolate granola is a different story because 3 words: chocolate cereal milk.
Speaking of breakfast foods that can also be snack foods that are really easy to make (okay that was a stretch)…did you see the English muffin recipe I shared on The Big Man's World this week? Made with oats. Made without oil. Made in the microwave in 2 minutes (or there's an oven option!) Made to be slathered with jam or nut butter or frosting!
Print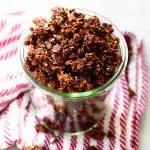 Oil-Free Chocolate Coconut Granola
Prep Time: 10 minutes
Cook Time: 10 minutes
Total Time: 20 minutes
Yield: 6 servings 1x
Category: snacks
Method: baking
Cuisine: american
---
Description
With 2 kinds of oats, crispy rice, and coconut flakes this Oil-Free Chocolate Coconut Granola is the ultimate crunchy, cluster-packed sweet snack or cereal!
---
1 cup rolled oats
1 cup crispy brown rice cereal
½ cup steel cut oats*
¼ cup cacao or cocoa powder
Optional: pinch of salt
½ cup maple syrup
¼ cup unsweetened shredded coconut or coconut flakes
---
Instructions
Preheat the oven to 375F.
Combine the rolled oats, steel cut oats, rice cereal, cacao/cocoa powder, and salt in a large mixing bowl. Stir briefly to combine.
Add the maple syrup. Mix to evenly coat.
Stir in the coconut.
Spread onto a baking sheet lined with parchment paper. Press into a solid rectangle.
Bake for 10 minutes at 375F.
Let it cool for at least 30 minutes before breaking apart for the most clusters.
Transfer to an airtight jar. It will keep for 1-2 weeks.
---
Notes
You could alternatively use buckwheat, seeds, nuts, or just more rolled oats instead of the steel cut oats.
Keywords: gluten free, chocolate, snacks, healthy, easy, dairy free, oatmeal
Click Below To Pin
SaveSaveSaveSave