If you can put bananas in pajamas, then you can put bananas in jam. And if you put bananas in jam then you can put less sugar in the jam. And if you put less sugar in the jam then you can actually taste the fruit. And if you actually taste the fruit in this Easy Strawberry Banana Jam then you will taste the happy sweet harmony of a classic fruity duo: bananas and strawberries!
A jam recipe, well that's nothing new! But I promise I have plans for this jam. Plans for a pastry that needs jam. And while I do almost always have a jar of store-bought fruit-sweetened jam nestled on the door of my fridge next to ketchup and almond milk and maple syrup, homemade is still my first choice.
Banana jam is actually a thing, but I've never had before. Strawberry jam is so commonplace it's almost boring, and I find it can be really tart unless you load up on the sugar. Now banana with strawberry–that's a joyous jam combination. Sweetness perfectly amplified with only a quarter cup of coconut sugar.
I just love the flavor of banana + strawberry! Just those two alone make for the perfect fruit salad in my opinion. You can leave this jam chunky, but I opted to blend it very briefly for a textured but not outright chunky consistency.
Jam making requires about 30 minutes of stove time, it's about the easiest 30 minutes in all of cooking. I personally stood by the stove reading a book enjoying the sweet scent of soon-to-be jam.
Sidenote…the book I'm reading is called Gutbliss and it's been quite interesting. Lots of good info about inflammation and the gut microbiome and hormones and all that good stuff. It's not specifically vegan, but the author is very pro plant foods. If you are wondering why I bring it up, then you can read this personal update post. Right in the middle of jam making might not be the ideal time to bring up digestive health, but I thought I'd share anyways.
From bananas in pajamas to digestive health, this was a strange post. I apologize for the weirdness, but I assure you the jam is on point. And the recipe coming up later this week using this sweet pink concoction will be just as excellent…
Print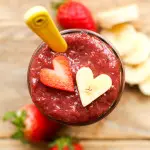 Easy Strawberry Banana Jam
Prep Time:

10 minutes

Cook Time:

25 minutes

Total Time:

35 minutes
---
1

lb . strawberries (about 15, sliced)

2

ripe bananas (sliced)

1/4 cup

coconut sugar
---
Instructions
Combine all the ingredients in a saucepan.
Bring to a boil over, reduce to a simmer, and cook for 25-30 minutes until thickened.
Cool, then blend briefly for a textured but not too chunky consistency.
Transfer to a jar and keep in the fridge.
---
Easy Strawberry Banana Jam. It's the perfect fruity topping, filling, or spread! #vegan
Click To Tweet