Sweet and creamy under a sugar-shell just waiting to be shattered by your dessert-hungry spoon. It's time we creme brûlée again…
After the deliciousness that was Pumpkin Creme Brûlée, I wanted to create a version that was suitable for all times of year. If you want to pumpkin in July, then I'm all for it! But this Vegan Banana Creme Brûlée is perfectly appropriate for any and every month.
In Feasting on Fruit standards, this is not one of the healthiest treats. However, in creme brûlée standards this is incredibly healthy. It's like the broccoli of creme brûlées. Because unlike your typical creme brûlée, this one contains protein from nutrient dense hemp seed, less sugar thanks to the natural fructose in bananas, and a serving of fruit!
For those of you who don't like bananas, I'm sorry not sorry. Just go make cookies instead or something because we're about to get our banana on over here.
So the custard. There are only three bananas in this recipe, one per serving, but baking really intensifies that banana flavor. When you steal a spoonful of the custard right after blending, it's a mild delicious blend of vanilla and banana. But after baking the the final flavor is rich and intensely banana. And the custard is crazy creamy too! So it's basically like banana cream pie hiding under a sugar shell. Mmmmm!
And I'm happy to report that no hemp tofu is needed this time either! What is hemp tofu made of? Water and hemp seeds and some gums and stuff. So, um, duh just use hemp seeds and some almond milk. Three month ago Natalie, why didn't you think of that??
It's quite an easy recipe–just dump, blend, bake, and broil. But I included a video anyways so you can see the sugar shattering for yourself…
Print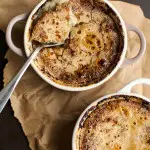 Vegan Banana Creme Brûlée
Prep Time:

10 minutes

Cook Time:

50 minutes

Total Time:

60 minutes

Yield:

3

servings

1

x
---
3

ripe bananas

1 cup

hemp seeds

1/2 cup

non-dairy milk

2

tsps cornstarch

1/2 cup

cane sugar

1 tsp

vanilla extract
For the topping: 3 tbsps cane sugar
---
Instructions
Combine all the ingredients in a blender.
Blend on high until smooth.
Stir or bang on the counter a few times to try to release as many air bubbles as possible.
Divide between 3 ramekins. Place the ramekins in a pan with tall sides. Fill the pan around the ramekins with boiling water so the ramekins are halfway submerged.
Bake for 50 minutes at 325F. Cool, then chill overnight.
For the topping: Sprinkle one tablespoon of sugar over the top of each ramekin. Place the ramekins in the oven on the broil setting for about 4-5 mins or until the top is browned and crystalized. Alternatively you could use a blow torch.
Serve immediately.
---