The easiest healthiest vegan Oreos with a 3 ingredient crunchy chocolate cookie and lots of filling options. You won't believe how simple and tasty they are!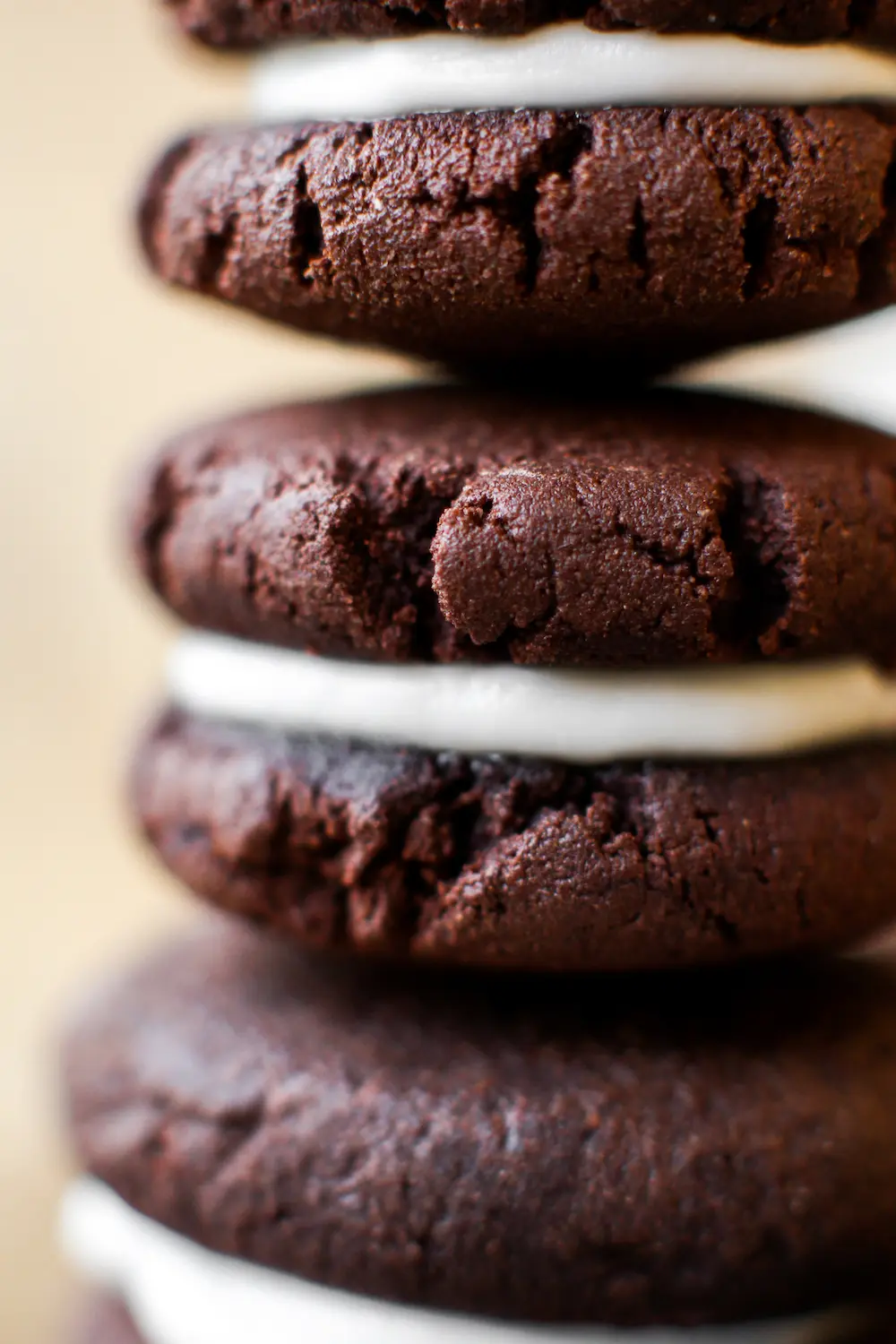 Did you ever watch the Magic School Bus? My fellow nerdy 90s kids where are ya? Do you remember the haunted house episode about sound? Well before I lose most of you, the moral of the story is less is more. You have to take things away. You have to start with simple and only add what is absolutely necessary. That is the approach I took with these cookies. The result: easy peasy perfect gluten-free Vegan Oreos made with only 5 ingredients!
My first concern when I got this recipe request was crispy cookie?….how to make a crispy crumbly oil-free cookie? We can't have soft chewy vegan oreos, then they'd just be whoopee pies pretending.
Based on these oatmeal cookies, I knew maple syrup had to be involved. And of course cacao powder is an integral ingredient too because chocolate. So from there, using my Magic School Bus knowledge, I added as few other ingredients as possible. And all they ended up needing was brown rice flour. Yep, just 3 ingredients and you have crunchy chocolate cookies–the 'bread' to our sweet sandwich.
Filling your Vegan Oreos
There's no better creamy white filling then coconut cream. However, since I know many of you are high carb vegans, I wanted to include some lower fat options for the filling as well…
–Powdered peanut butter. It sounds like a higher fat option, but with powdered peanut butter it's actually a lower fat way to go!
–Chocolate peanut butter. Utilize the thickening action of powdered peanut butter to make a chocolate filling. Powdered peanut butter + cacao powder + water.
–Banana. If you size your cookies just right, then one banana coin will sandwich in between two cookies perfectly. It's almost the right color too!
–Nicecream. Blend up some frozen bananas, dollop on a cookie, sandwich, freeze, you have an ice cream sandwich! And of course you could make the nicecream any flavor you want–strawberry, chocolate, cinnamon, gingerbread, chocolate chip, lemon, endless ice cream-abilities!
–Date caramel. My favorite sweet filling or frosting: dates + water.
I love these little sandwich cookies. Fresh from the oven: love them. Cold from the fridge: love them. With cream: love them. Without cream: love them. Three days old and starting to get a little soft: still love them. I hope you love them too!
The easiest healthiest #vegan Oreo made with just 5 ingredients! #glutenfree #oilfree
Click To Tweet
Print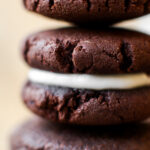 Easy Vegan Oreos
Prep Time:

20 minutes

Cook Time:

9 minutes

Total Time:

29 minutes

Yield:

8

cookies

1

x
---
Cookie
1/4 cup

+

1 tbsp

maple syrup

1/2 cup

cacao powder

1/4 cup

+

2 tbsp

s brown rice flour
Filling
1

can of full fat coconut milk chilled overnight

2

tbsps powdered sugar (store-bought or homemade in the blender)
Lower fat filling options
Powdered peanut butter
OR powdered peanut butter + cacao powder
OR

1

banana (sliced)
---
Instructions
Cookie: Preheat the oven to 350F.
Combine all the ingredients. Mix to form a thick cookie dough.
Roll into 16 balls. Arrange on a pan (or two pans) lined with parchment paper. Cover with a piece of wax paper and flatten with the bottom of a cup or jar to about 1/2 inch thickness
Bake for 8-10 minutes at 350F.
Let them cool, they will become crispy as they cool.
Filling: Scoop out the cream from the can of coconut milk leaving behind the liquid. Add the powdered sugar and whisk till smooth and creamy.
Spoon onto your cookie, smush, and enjoy! Keep any leftovers int the fridge for up to 3 days.
---